Playing a back three: What's the obsession?
After Chelsea have enjoyed such great success playing a back three, Arsenal, Spurs and others have adopted the approach. So what's the obsession all about?

Arsene Wenger is a notoriously stubborn man. Unwavering in his principles, steadfast and undeterred, even through troubled times, he rarely makes decisions of sweeping change. Yet, with his side languishing after a run with just four wins since February 11th and travelling to struggling Middlesbrough, desperately needing three points, Wenger did something he had done just once in his 21-year Arsenal tenure. For the first time in two decades, he played three centre halves.

The back three is a system Antonio Conte has canonised at Chelsea this season. Mauricio Pochettino is another who has applied the strategy at times this season, helping Spurs reach the FA Cup semi-finalists and continue to challenge the Blues for the Premier League title.

But what is the fascination with three at the back? Why is it so successful? Why are tactical intransigents like Wenger adopting it?

There are two key positions this system unlocks. While many chose to focus on the defensive organisation and solidarity a 3-5-2 or 3-4-3 brings, particularly when the two wing-backs drop deep into more natural full-back roles, they also provide freedom and fluidity in attacking areas. Primarily, the two players flanking the central striker are offered license to roam, influencing the game where they please.

Arsenal's first goal from its 2-1 extra-time win over Manchester City in the FA Cup semi-final on Sunday illustrates:
A well-worked goal is made possible by a beautiful Alex Oxlade-Chamberlain cross and powerful Nacho Monreal finish. However, check Alexis Sanchez and Mesut Ozil's positioning. The duo were initially flanking centre forward Olivier Giroud.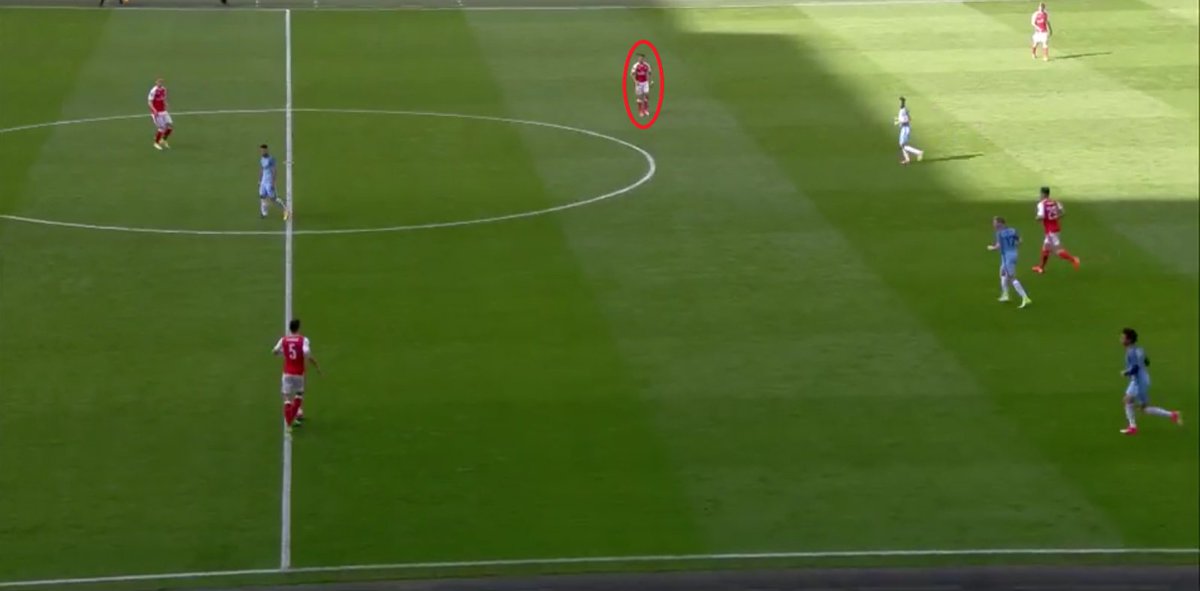 Similarly, look where Sanchez is (circled) in the move leading up to the first goal. He has total freedom to roam. Difficult to mark.
https://t.co/cXe4nyHA6w
Throughout the tie, both drifted all over the pitch, given their freedom by Wenger because the 3-4-3 afforded them lesser defensive responsibilities. With the two wing-backs marshaling either flank and the two wide centre-halves available as support both on the perimeter and centrally, neither Sanchez nor Ozil are shackled. Liberated, they can make runs into advanced areas, drop deep to receive the ball, or drift wide, all without worrying over a potential counter attack.

This freedom for the two advanced wide men helps unlock opposing teams in the final third, as it did here for Arsenal. It also allows an attacking team to break with great pace and precision, as Chelsea have consistently shown during its current title run.

Below you can see the Blues' positioning just before Nathan Ake makes a well-executed sliding tackle to win the ball against Spurs. The change in possession releases Pedro, who is subsequently fouled by Toby Alderweireld, Willian converting the free kick to open the scoring.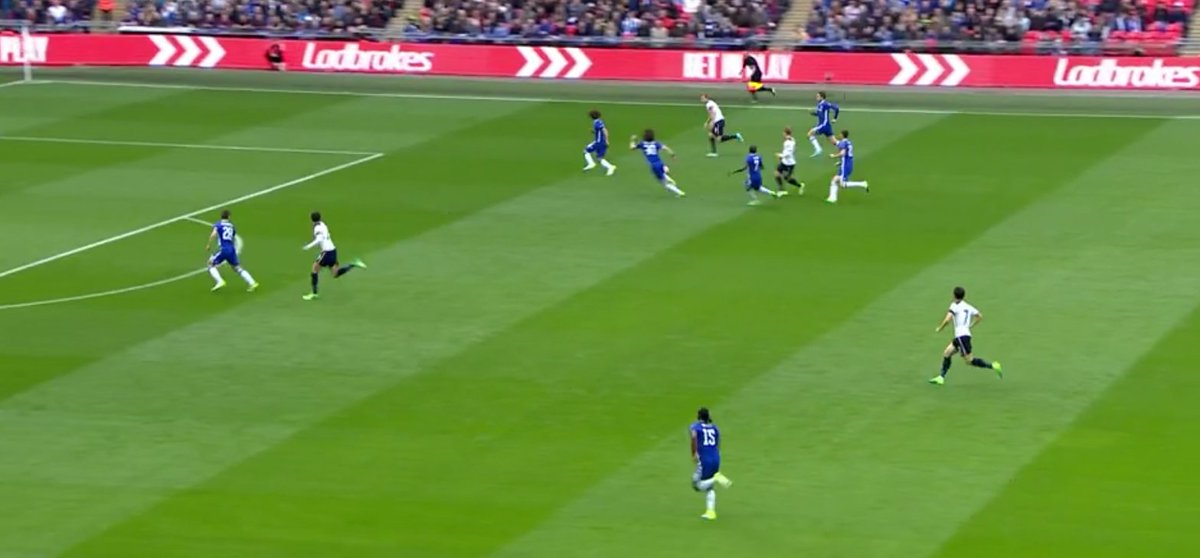 This is Chelsea before Pedro was fouled by Alderweireld. Notice you can't see any of the front three. The beauty of Conte's system!
https://t.co/wfn73XjKwx
While Chelsea are admittedly not in a defensively sound shape, the key is Willian and Pedro, the two players stationed to Michy Batshuayi's left and right, are not in the picture. They are not required to track back, so sit waiting for the ball to be played forward for them to break suddenly break upon a vulnerable Spurs defence. Perfectly tailored to Conte's system, Chelsea have exploited the tactic throughout the season.
Although there are clear defensive advantages to deploying a back three, freeing the two flanking attackers is the real benefit. Pochettino has used a back three to spring his two creative assets, Christian Eriksen and Dele Alli, on unsuspecting defenders. Conte uses one to exploit Eden Hazard and Pedro, Wenger to unleash Ozil and Sanchez. The back three is a brilliant system to which Chelsea, Spurs, and now Arsenal are tailoring themselves. Perhaps others will soon
follow suit
.