Can Aspas save Celta from relegation again?
Aspas rescued Celta from the drop before. Can he make it a habit?
It's that time of year. Celta Vigo finds themselves in the relegation zone, needing a hero to save them from damnation. Enter Iago Aspas. Their captain fantastic already contributes but it's time to turn things up a notch. Seven goals from his side's 17 in La Liga is hardly shameful, especially considering how little support he receives. Despite his heroics, Celta sit 19th, a point from safety
There's reason to remain optimistic. A single point is no reason to hit the panic button but slacking off could be disastrous. Leganes are back to winning ways. Mallorca possess enough quality to cobble a run. Espanyol's lavish January signings should make an impact.
The Sky Blues need to grind out results consistently. Over the next five games, the Celts face four clubs in La Liga's top ten. Relegation rivals Leganes bisect that run across the table's top half. First up is Sevilla at home. Then there are three matches away to Real Madrid, Getafe and Granada. Defeating Leganes is critical but manager Oscar must devise a strategy to eke out results in the other contests.
Aspas will be key to any strategy. The 32-year-old is a messiah in the Olive City. The thunderous ovation he received after a brace against Villarreal last season exemplified his status.
Last year, his return from injury created a memorable story, scoring ten goals in as many games in the final stretch, he engineered the Sky Blues escape from the drop zone. To reach the magical 40-point threshold from their current 17, Celta must win half their remaining 16 matches. They've taken all three points only thrice this term.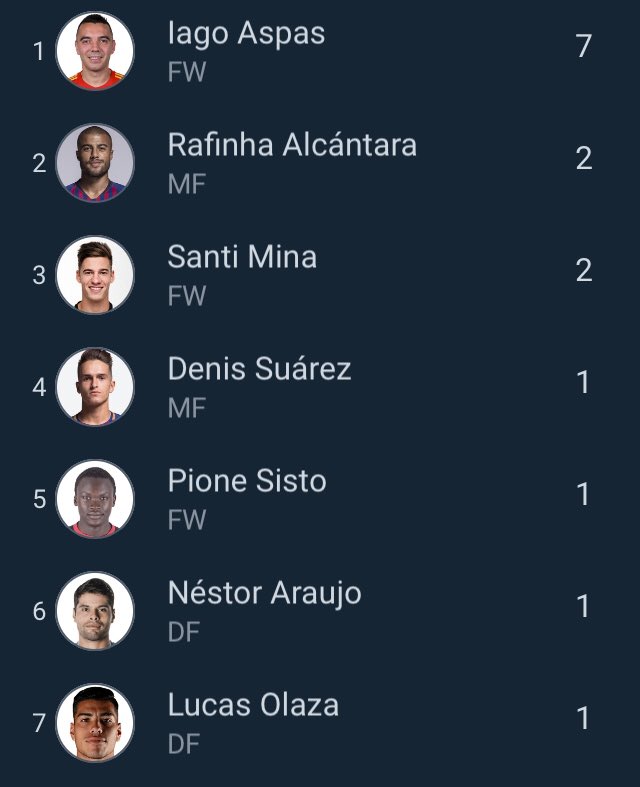 Well that just tells the whole story doesn't it…
1️⃣7️⃣ goals for Celta Vigo in LaLiga 19/20
7️⃣ goals for Iago Aspas in LaLiga 19/20
0️⃣ 0️⃣
#ValenciaCelta #
LaLiga
https://t.co/xZaQCmkEhG
The former Liverpool striker hasn't scored in 2020 but remains proactive in the danger areas, making clever forward runs, demanding the ball in space, trying to create chances for teammates. Even if he can rediscover the end product, Aspas will need help.
Santi Mina must justify his signing. Denis Suarez pulls strings, averaging 1.9 key passes per game but could do with more accuracy. Like the captain, Rafinha's cunning movement lacks the finishing touch. Pione Sisto needs to turn his campaign around as well.
In addition to rescuing Celta Vigo's campaign, Aspas has further incentive to start filling the net. Luis Enrique is yet to settle on his number nine for this summer's European Championships. Paco Alcacer revelled in his first match with new club Villarreal, scoring a goal and assist, but Alvaro Morata remains inconsistent with Atletico Madrid and Rodrigo Moreno's injuries at Valencia peg him back. The field is wide open.
After eight seasons in the top flight, relegation would be a bitter pill to swallow for Celta supporters. As a lifelong fan himself, it's difficult to imagine Aspas coping with the failure. Time runs out to produce another fairytale ending but the captain did it once. Everyone concerned must believe he can do it again.