Is it time for Gianluigi Buffon to retire from Italy for good?
You say "Yes," I say "No."
You say "Stop" and I say "Go, go, go."
Oh no.
Channelling Lennon and McCartney, Gianluigi Buffon made a stunning decision to come out of retirement and back into the Italian national team. He resumed his Azzurri career when Italy hosted Argentina on Friday night. Was it the right decision?
The veteran goalkeeper ranks among the greatest the game has ever produced. He has eclipsed Dino Zoff in Italian lore and rivals Lev Yashin in global annals. Italy's failure to qualify for the 2018 World Cup sent shock waves around the whole nation. It was the first time since 1958 the country had failed to make it to the quadrennial event. The Juventus captain did not take it well.
It is upsetting that my last match decided we didn't qualify for the World Cup. I'm sorry. Not for me but for Italy. We blew something that could have meant so much. The only regret was that it ended like this.
His announcement took the media by storm and made headlines around the world. The respondent tributes and accolades suited such a special player. He deserved to retire when the ovation was loudest.
Leading Italy to another World Cup triumph would have been perfect. But the Azzurri's failure to get past Sweden in the World Cup play-off, unable to score a single goal, meant it was not to be. The Swedes had won the first leg 1-0 at home. They were expected to be beaten in Milan but the Italians failed to produce the needed spark. The match at San Siro ended in a barren draw. Sweden had qualified for the World Cup at Italy's expense. The Swedes were making a return to the world stage for the first time since 2006 when Italy last carted home gold. It was an apocalyptic irony.
Bowing out on a high after an illustrious career is the desire of every legend who has accepted his time is ending. Phillip Lahm achieved the dream. Zinedine Zidane could not. It wasn't enough for the NBA's Michael Jordan, who came out of his Chicago Bulls retirement to fade away with the Washington Wizards. The question is whether Buffon is being like Mike by returning to the Azzurri net?
Buffon made his Italy debut in October 1997. He was in goal when Italy won the World Cup over France and Zidane in 2006. The shot-stopper had featured in every tournament from 1998 to 2014. In time he rose to his position as Italian captain and leader based on his consistent performance for the team. He holds the Azzurri record for appearances with 176 caps. His was a complete career.
It was surprising then to see the Juventus captain reverse his decision. He was back in goal for his country as they filed out against Argentina on Friday, a match in which he conceded two goals. Italy was brushed aside by an Argentine team that did not feature Lionel Messi nor Sergio Aguero. That hardly indicates a new beginning. Instead it seems the decline continues.
At 40, it may well be time for the veteran goalie to step aside. The squad must rebuild and he cannot be part. Another Gigi stands ready in Milan's number one, Donnarumma. It's time for both parties to move on, for the new coaching staff to build a new team capable of taking Italian football back to the summit. Maybe he has forgotten but Buffon said as much.
There is certainly a future for Italian football as we have pride, ability, determination and after bad tumbles, we always find a way to get back on our feet. I leave a squad of talent that will have their say, including Gigio Donnarumma and Mattia Perin.
It was a wise assessment unaltered by time. The 19-year-old AC Milan goalkeeper has come of age and is ready to replace the veteran. He, not Buffon, should be in goal for the Azzurri.
Needless to say, 40-year-old Buffon has paid his dues. He has earned the right to choose his own time to exit. But the right choice is to pass the gloves to the next generation. You want to walk away with your head held high.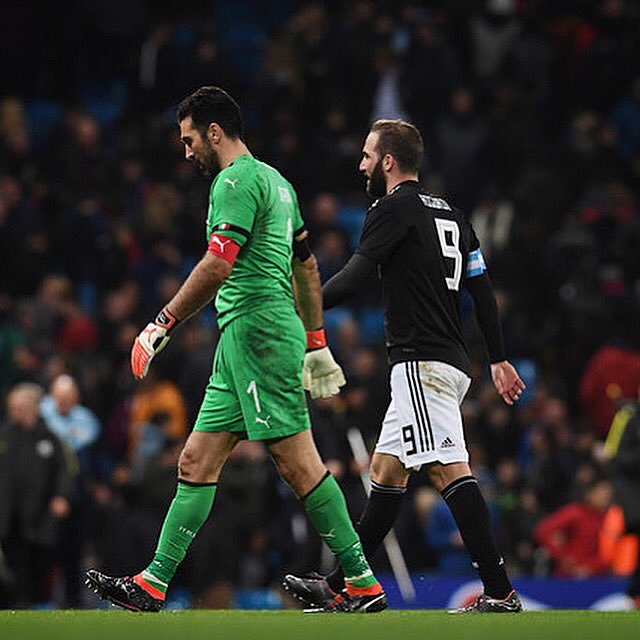 Gianluigi Buffon and Gonzalo Higuain | International friendly match between Italy and Argentina at Etihad Stadium [23.03.18]
https://t.co/OzHAlPKxOP