Can Sergio Romero match De Gea as Manchester United No.1?
Could things get any worse for Manchester United? How about seeing your two most critical players succumbing to injuries before the season's most important game?
Paul Pogba hasn't been able to recover from his ankle problems despite rehabbing in sunny Dubai for the past few weeks. In a more recent development, David De Gea limped off as Spain attained Euro 2020 qualification.
As much as United fans will be frowning at the consequences of the International break, life must go on. The last time the Red Devils hosted Liverpool at the Theatre of Dreams, a bizarre game saw a chunk of crucial stars injured before the half-time mark.
A similar situation is unfolding for the Red Devils before a ball can be kicked in anger this time around. With Mo Salah, Sadio Mane and Roberto Firmino bearing down, De Gea is a massive miss. The Spaniard saved United from derby humiliation on many occasions since arriving from Atletico Madrid.
To the Red Devils' credit, they possess a man with the reputation as the Premier League's best backup keeper. Sergio Romero's dedication remains his greatest attribute. He's barely voiced any displeasure despite having to play second-fiddle to De Gea every season since making the switch from Sampdoria in 2015. He stayed even after sacrificing his place on the international stage when Argentina opted for netminders with more game time.
It's not been all doom and gloom for the 32-year-old. He earns roughly £70,000 per week to train, be available for practice games and high-five starters when they come to the bench after being substituted. When called upon, however, he rarely disappoints despite arriving in England with a scruffy reputation.
Worried United supporters read that he was your typical error-prone South American goalkeeper, too ambitious for his own good. If that was true, those faults were coached out of him in short order. Perhaps the challenge De Gea poses and the example he sets played a part. Whatever the reason, Jose Mourinho stuck with him throughout the 2017 Europa League-winning campaign, benching De Gea in the final. The Argentine gave him no reason to regret the choice.
Now Romero must double down on his efforts to prove himself worthy. There's little doubting his ability between the posts. His shot-stopping skills offer United fans reason to hope.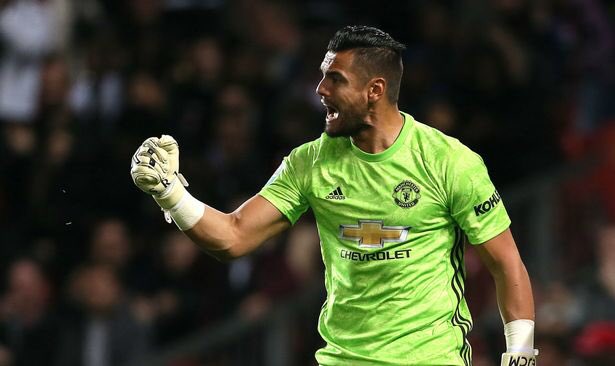 Sergio Romero's record for #
mufc
at Old Trafford:
• 22 starts
• 17 wins
• 5 draws
• 0 losses
He has 6 clean sheets in 7 Premier League appearances.
https://t.co/bgpIBpYK2u
Some may question his mental preparedness for such a pressurised environment. It's not just that it's Liverpool. It's Liverpool as good as they've ever been when United isn't. It's the pressure that losing will add to the weight on manager Ole Gunnar Solskjaer's shoulders. Mourinho was sacked after a poor performance in which he refused to play Pogba. The Norwegian hasn't the luxury of choice. A heavy defeat won't go down well.
Romero hasn't featured as much as he'd want to in the Premier League but has a surprisingly fantastic record in his short outlay. He's kept six clean sheets in seven appearances, conceded only two goals and averaged almost three saves a game. Admittedly, those games were against lowkey opposition. Regardless, he's always in the right places to make crucial saves and save teammates' blushes.
Despite that lack of big-match experience, there are some stratospheric matches in his memory bank. He's played through extra time in three major finals, 360+ minutes while allowing a single shot to beat him, that being Mario Goetze's wonder-strike in the 114th minute at the Maracana in 2014. In the same tournament, he outdueled the Netherlands' Jasper Cillessen in the semifinal penalty shootout. Romero has been here before.
As flexible as he is in parrying shots, the Argentine's distribution remains a worry. Having failed to average more than 65% passing accuracy [WhoScored] in his last few seasons, Romero's passes often go astray. That's not good against a pressing, opportunistic side with such dangerous forwards. Salah, Firmino and Mane don't have prolific records against United but there is no need to take pity on them.
If he wants to script himself into United folklore, Romero must pour his heart into holding the Merseysiders at bay on Sunday, ending their perfect record and proving himself truly more than a "B-Grade" keeper.