Why it's time to show Romelu Lukaku more respect
From the many players currently plying their trade in the Premier League, none polarise opinion quite like Romelu Lukaku. Like Marmite, you either love him or hate him. It's as simple as that. However, for those who fall in the latter group, it may be time for a change of thinking. The Belgian is deserving of far more praise than he receives.
First, and more importantly, there is his goal tally. Saturday's strike against Watford, which set United on their way to a very welcome 2-1 win, was Lukaku's fourth in five games this season. It was also his 105th in the Premier League.
To some that may be an insignificant number but to him it will have been special. Primarily, because it took him beyond the record held by his idol Didier Drogba. The Ivorian is ranked among the legendary strikers to have to have graced England's top flight. Yet, he doesn't even make the top 20 goal scorers.
In 254 games he managed 105 in total, that's less than Lukaku and worthy of 23rd on the list of the Premier League's all-time top goalscorers. Lukaku has bettered that tally in 29 fewer games by the age of 25. Other 'greats' he's managed more goals than Emmanuel Adebayor, Ruud Van Nistelrooy, Dennis Bergkamp, Fernando Torres and Cristiano Ronaldo.
For further context, Lukaku is currently one goal short of being in the top 20 goalscorers in the history of the division. That's some going for a player who many believe isn't a top-class centre-forward.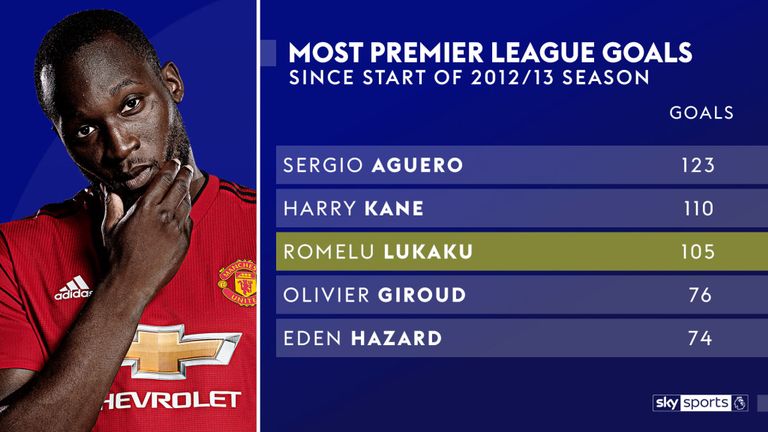 Over six full seasons in the league, discounting the current campaign, he has averaged 16 goals per season. Only Harry Kane and Sergio Aguero have scored more goals than him since the start of the 2012/13 term.
If he matches that number again this season his total will sit at 121 goals. That would put him ahead of Ian Wright in the standings. Lukaku has already outperformed several respected former players in terms of goals. It's a fact that deserves more credit than it currently gets.
It should not be overlooked that Lukaku plundered plenty of these goals playing for less than stellar sides also. Everton is a big club in terms of history but they do not find themselves in the elite clubs at this moment in time. For the majority of Lukaku's time there, they did not perform well.
A strong debut season under Roberto Martinez aside, most would agree they were generally dreadful. Yet, that did not stop Lukaku finding the back of the net with regularity. He managed at least 10 goals in every season he played for the Toffees, racking up 87 in total over his four years at Goodison Park. He remains their top goalscorer in the Premier League era.
It's often questioned about the best players in the world whether they could do it playing for smaller teams. Lukaku proved he could during his time with Everton. His goal record is a testament to that. Even his short spell with United deserves credit.
Last season he managed 16 goals in 34 games for them, that's a goal every other game. A decent record, particularly when you factor in he is doing it in a less than attacking team under Jose Mourinho. His overall record of 31 goals in 56 games is not to be sniffed at either. Some strikers would kill for a record like that.
Aguero has played for the team that has averaged 2nd place, Kane 4th and Lukaku 7th. Yet Aguero has averaged just 3 more goals a season than Lukaku and Kane less than one goal more per season.
Only Van Nistelrooy, Robin Van Persie and Zlatan Ibrahimovic better his goal per game ratio of 0.51 when it comes to United strikers of the past. Wayne Rooney's record of 0.47 tells you all you need to know. The Englishman is a club legend at Old Trafford.
His ratio is currently better than that of Andy Cole, Dwight Yorke and Teddy Sheringham. As is the case with the Premier League icons, his numbers put him up there with the best centre-forwards to have played for Manchester United.
Let's not overlook the fact he is only 25-years-old, too. These days most players haven't even got a handful of games by this age. He, though, has over 200 Premier League games and over 100 goals to his name. He's also on 77 appearances for Belgium and is their top goalscorer with 40 goals. That's impressive whatever way you look at it.
Statistically speaking he is also about to enter the prime of his career. The prime age for a Premier League footballer is 27-years-old, according to the BBC. Lukaku still has two years of football before he's that age.
That does not mean we should overlook his flaws. His finishing is still often suspect and his first touch leaves much to be desired. He also does go missing in the big games, something Drogba certainly did not do.
But these should not take away from the fact that Lukaku is a striker. His job is to put the ball in the back of the net and he has done that job for several years in the Premier League. The numbers do not lie, it's time he received more respect than he gets.