Do Manchester United, Ed Woodward, rate defenders by their release clause?
Centre-back tops the wishlist for many Manchester United supporters, just as it did for Jose Mourinho last summer. It has been eleven months since the self-proclaimed Special One asked the Red Devils to deliver an elite level defender. He's no longer at Old Trafford. The club is yet to sign one.
The Mancunian side conceded a club record 54 goals in the Premier League last season. That's the same United team which was amongst the league leaders in terms of least goals conceded in 2017/18. The side simply was out of gas and David de Gea can't always be a superhero to drag his side out of the mire. Although Victor Lindelof fought valiantly and put in performances worthy of Player of the Season in the first six months of 2018/19, the Ice Man ran also ran out of fuel. Heck, who can blame him as he single-handedly carried the Red's defence at times...
It's evident that Lindelof aside, Ole Gunnar Solskjaer's current crop of centre-backs aren't cut out for the highest level. Phil Jones and Marcos Rojo simply can't stay fit, nor do they have the quality to play for United on a week-in-week-out basis. Eric Bailly's another one who has shown promise, although he has also caught the injury bug. As for Chris Smalling, he's still the same clumsy, error-prone and sloppy defender he was when the Old Trafford club signed him in 2010. This inability to invest in United's backline simply cannot go on, despite the club having the chance to fix the issue just twelve months ago.
Enter Toby Alderweireld, who was into the last two years of his contract at Tottenham Hotspur. Mourinho identified him as a target. Meetings were held between representatives, but Spurs' £55 million valuation of the Belgian was considered too high by the Red Devils. Perhaps his £25million release clause, which was to come into effect on 1st July 2019, was always in the back of their mind. They could get the same player for half the price in a year. Over the twelve months since, Alderweireld regained fitness, made 50 appearances for Spurs and helped the Lilywhites reach the UEFA Champions League final.
United should have acquired him the moment his release clause was activated. At just £25million, it's a no-brainer. Alderweireld is as good as they come. The Belgian has consistently been among Premier League's best centre-backs and was arguably atop the pile until a certain Virgil van Dijk hit his insane purple patch. The 30-year-old is everything you could ask for in a centre-half. He has all the attributes of a modern defender but also possesses old-school qualities. Alderweireld is quick enough, physically imposing, an aerial monster, comfortable on the ball, has the vision as well as technique to break lines and can switch the play excellently; all qualities which Solskjaer's system requires...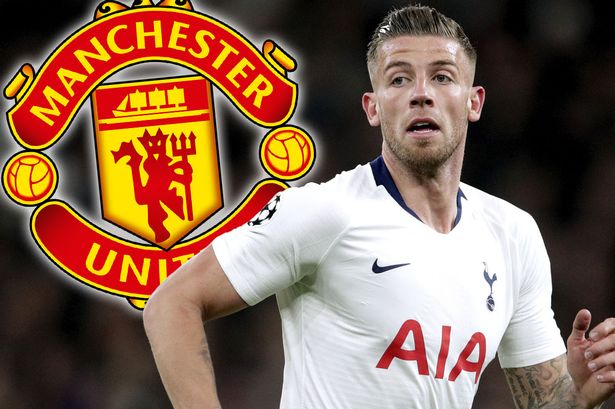 🤔 Not only #
mufc
, but I'm surprised nobody has activated Toby Alderweireld's £25million release clause yet.
💰 Such a bargain and would be superb alongside Maguire... Hope United go in for him 🙏
https://t.co/Wyz5cleDqM
Alderweireld doesn't rush into tackles, always positions himself well and is aware of exactly what's happening around him. The Belgian is a real throwback in the sense that he defends the penalty box with his life, possessing the ability clear and intercept crosses all day long. He's ready and willing to put his body on the line to block shots, something United haven't had since the Nemanja Vidic days. The 30-year-old had 22 shot blocks to his name in the league last season. He's also been named 'Lord of the Pings' because of the sheer volume and quality of his long balls to the Spurs full-backs/wingers. Alderweireld completed an impressive 240 long balls last season.
Mauricio Pochettino's side presses high and plays a high line, so does Solskjaer's Manchester United. Alderweireld will seamlessly fit in. Not only that, the Belgian has the experience and know-how which the Reds desperately lack at present. The 6'1 defender would perfectly complement Lindelof like butter to bread. Alderweireld would help out in several areas, including the first phase of the build-up, defending crosses and nurturing younger talents like Axel Tuanzebe. He'd also take on the responsibility, allowing Lindelof to grow at his own pace and play without pressure.
It's apparent that Solskjaer is targeting young, predominantly British players who fit the ethos, aka Harry Maguire. However, no team wins without experience. Even when Sir Alex Ferguson integrated the famous Class of 92 into the Manchester United first-team, he made sure that there were characters in that dressing room who would help the youngsters on and off the field. There is no problem whatsoever in acquiring Maguire as well, but Alderweireld is simply a MUST buy. He'll fit the system like a glove, is cheap as peanuts and will give you two seasons at the top level as United look to steady the ship before the aforementioned Tuanzebe, or another young defender is ready to take over...
Toby Alderweireld to Manchester United makes all the sense in the world. So why isn't it happening...?