How Tottenham Hotspur can throw a spanner in Manchester City's works
Manchester City is the Manchester United of the 1990 early 2000s. True, the red half remain a multi-billion pound empire. At present, though, they can't compete with their neighbours in regard to wealth, panache, or titles. This Premier League campaign, while United languish in eighth place after three losses and two draws, City are yet to taste defeat in third.
Monday night will truly test Man City's resolve. That challenge comes from fifth-placed Tottenham Hotspur. At one time suffering Wembley stage fright, Spurs are now at ease hosting in England's most coveted football edifice.
However, should Tottenham get swept aside on their make-shift turf, it won't come as much of a surprise. The last time the two teams met was on the same ground and City came away 3-1 winners.
On that occasion, the Citizens' impeccable 30-game unbeaten run had recently been ended at Anfield. Nine matches into the new season, they've begun another streak. One would expect them to give everything to stretch it as long as possible. At least beyond Spurs.
City arrive with flamboyance, craftiness and exquisite style. But this particular big-six fixture has the potential to sap them of vital points. Tottenham must get a few things right first.
Spurs need a water-tight rearguard
Stopping a side averaging almost three Premier League goals per game is rather daunting. Liverpool, championed by Virgil van Dijk, are the only top-flight team to shut out Man City this campaign. The Reds earned a point for their resilience. Riyad Mahrez's ballooned penalty also helped.
If Tottenham are to match Liverpool's feat, they must seal their backline. There's no room for errors like the one Toby Alderweireld made against PSV Eindhoven five days ago. The Belgian must be at best.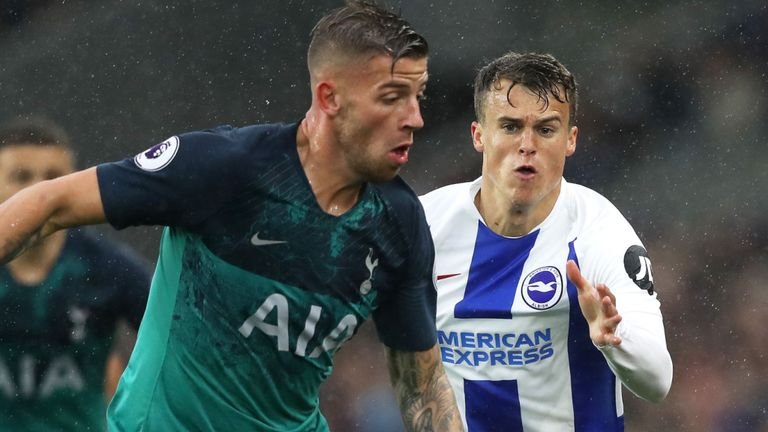 "I'm the old Toby again. I try to do my best and help the team."
Toby Alderweireld is happy to be back in the Tottenham team. But his future is less clear...
Hear from the man himself:
https://t.co/m5HWyg5rby
https://t.co/lmnf3e119Y
Spurs' poor Champions League form aside, it's encouraging they haven't conceded in last three domestic outings. That's performance they must build on.
Besides Jan Vertoghen, hamstring, and Danny Rose, fitness concern, Mauricio Pochettino isn't short on defensive personnel. The big question is, can Alderweireld and Co wade City's relentless drove of attacks?
Christian Eriksen's genius is required
Kevin De Bruyne is back fit for Man City and should start. On his day, the Belgium international is among the Premier League's best attacking midfielders. Tottenham can combat such quality by summoning their own trickster. Eriksen's nous and intelligence will both be vital.
Spurs will do well to frustrate City's attack, but they'll do even better to create chances themselves. There's no superior creator within their ranks than Eriksen. Should the Danish playmaker excel, Pochettino's side will breach the Citizens' defence, no doubt.
No substitute for being clinical
Pep Guardiola recently said he learns when watching Tottenham. This may be true. If so, it's down to the North Londoners' robust attacking style. The way they play, forcing goal-scoring chances is a natural byproduct. Against Man City, what Spurs do with their opportunities will define the game.
Thankfully for Tottenham, they have Harry Kane. Thumps up Sergio Aguero and Romelu Lukaku, but England's captain has been the best Premier League forward of the last four years. Nothing less is expected than for him to maximise every half chance. The same applies to all who adorn Spurs' attack.
Reports indicate Dele Alli is fit to compete. That's a big boost. With Lucas Moura and Son Heung-Min also both in the mix, Tottenham possess the quality to stunt City's glide.