Tottenham Hotspur stretching beyond zenith this season
Have Spurs already reached their peak?
It has not been a bad start to the season for Tottenham Hotspur. After 11 Premier League games, Spurs sit in fifth place, five points off leaders Manchester City. Considering their rocky patch in September, things could be worse.
However, Tottenham's current level is as high as they can go. Manager Mauricio Pochettino doesn't have the talent at his disposal to challenge the two title favourites, Man City and Liverpool.
On suffering a 1-0 defeat to City at Wembley eight days ago, it was obvious the best Tottenham can achieve this campaign is a top-four finish. They have managed that in each of the last three seasons. There is a feeling, though, that teams must improve their squads year-on-year in order to sustain performance. Spurs were the only side in England's top flight not to spend a penny in the summer. Without additional resources, winning the league is beyond their reach.
Only a fool would do the same and expect a different result. Sides can't compete for major honours when the gulf in class is so big. In the not too distant past, Tottenham sold two of their key players, Luka Modric and Gareth Bale, to more successful teams. Although the North Londoners have been keen to tie down best talent recently, there's no reason to suggest history won't repeat.
The way in which Spurs operate means building takes time. Will Harry Kane and Christian Eriksen both stick around until competing with the league's very best becomes possible? Toby Alderweireld, too, for that matter. The Belgian centre-back is consistently linked with a move away.
Some players, including Alderweireld, Eriksen and Danny Rose, are reportedly unhappy about Tottenham's wage structure. The three believe they deserve more. Refusing to pay out, on both existing playing staff and new signings, highlights the club's lack of motivation to reach new heights.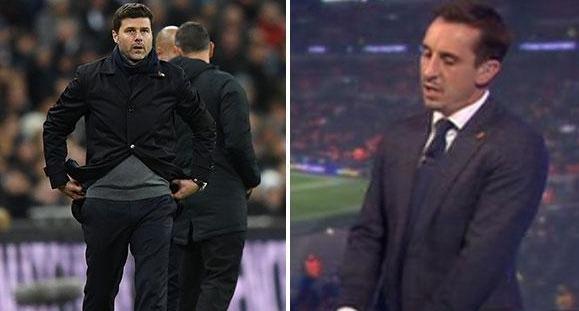 Pochettino has taken Tottenham to a level where most no longer view them as pushovers. During the Argentine's four-and-a-half-year reign, Spurs have beaten Arsenal, Chelsea, Manchester United and City all in emphatic fashion at one time or another. That proves they can rub shoulders with the known champions.
Tottenham is one of the main reasons why the term 'big six' is now used and not the big four. Their improvement has caused a shift in the Premier League, meaning fans' demand for more should neither be faulted nor ignored.
However, building a new stadium solely on the club finance will no doubt affect on-field performance. Spurs playing at Wembley when it was expected the newly-constructed White Hart Lane would be ready is a reason, perhaps even excuse, for any season disappointment. They must pass through this phase, similar to how Arsenal did.
What can Tottenham do to improve on current status?
Chairman Daniel Levy is the man to answer such questions. It currently remains unclear what direction the club will take once the new stadium is completed. Will Spurs possess the finances to compete with the likes of Man City and Liverpool, breaking the bank to make deals happen in order to improve their squad? If not, could top talent such as Kane and Eriksen be pried away in the near future? More importantly, perhaps, is Pochettino. With European heavyweights Real Madrid reportedly interested in his services, holding onto him is imperative.
All these things need resolving before Tottenham can break beyond their current zenith.