Mauricio Pochettino, Thomas Tuchel to put the squeeze on Ole Gunnar Solskjaer?
A chain is as strong as its weakest link.
To hear social media tell it, Manchester United has been nothing but weak links since Sir Alex Ferguson retired. First, there was David Moyes then Louis van Gaal. Next came Memphis Depay, Wayne Rooney, Ander Herrera, Phil Jones, Chris Smalling, Marcos Rojo, Marouane Fellaini, Henrikh Mkhitaryan,--breathe--Juan Mata, Anthony Martial, Luke Shaw, Matteo Darmian, Daley Blind, Romelu Lukaku, Victor Lindelof, Eric Bailly,--don't forget to breathe!--Paul Pogba, Antonio Valencia, Alexis Sanchez, Nemanja Matic and finally Jose Mourinho,--and exhale--an unbroken chain of managers "not right for the club" and players "unfit to wear the shirt". United might be better off with Anne Robinson as chief executive than Ed Woodward. Of course, many will tell you Ed is the weakest link of all.
Expectation makes a powerful sledgehammer but the Red Devils remain vulnerable despite Ole Gunnar Solskjaer's--knock on wood--perfect run as manager.
Fans wish for a top-class centre-back in the winter window, unlikely as that is to happen. Liverpool landed Virgil van Dijk last January but it must be remembered they'd been trying since the season before when Southampton forced the Reds to play possum for a few months by levying tampering charges with the league.
United aren't in a situation where a defender wants to come but his club is blocking the move. The closest is Toby Aldewiereld. Spurs triggered the option to extend his contract through 2020 but can lose him for £25 million in June. In addition to June not being January, rumours that the Belgian wants to come are less credible. Moving from title-contending Spurs to retooling United is a different proposition than Van Dijk escaping Saint Mary's for Anfield.
No saviour is coming. That said, United's defence isn't playing badly under Solskjaer. It took four games to manage a clean sheet but all three goals conceded came from set-pieces. Those are correctable errors which the Norwegian had a full week to address. Despite the test Tottenham represent at tea-time this afternoon, OGS should be confident in his centrebacks.
The worry comes out wide. United's wingers love to cut inside. Success came because the new boss gave midfielders the freedom to push forward in support and the fullbacks to overlap and deliver crosses at will. United hasn't faced a side that can really punish such liberties in Solskjaer's first five matches. Spurs can and Paris Saint-Germain almost certainly will in February.
United is especially unlucky to meet Spurs just as they've hit their stride and a day before Son Heung-min leaves for the Asian Cup. In their six most recent contests, Tottenham scored 23 goals. Seven came against League Two side Tranmere Rovers but eleven beat Premier League goalkeepers wearing Everton and Bournemouth shirts. When beaten 6-2 on 23 December, the Toffees were 11th. The Cherries were 8th when they came to Wembley on Boxing Day and shipped five.
Mauricio Pochettino almost always lines his team up in a 4-1-2-1-2 with Son on the right and Harry Kane the left. Like United, the attacking players will interchange, making it difficult to identify your man. Delle Alli and Christian Eriksen will support with Moussa Sissoko stepping up when the opportunity arises. In addition, Kieran Trippier and either Danny Rose or Ben Davies will overlap on the flanks when Kane and Son move inside.
For United, it's a dose of their own medicine. The questions is who does Solskjaer trust to start at fullback to combat Kane, Son, and the fullbacks?
In such a match, Jose Mourinho would usually send out Antonio Valencia at right back, Matteo Darmian if the captain wasn't available, and Ashley Young on the far side. Their mandate would be to defend. United's attack would suffer. At Old Trafford in August, he fielded a flat 3-5-2 with Valencia and Luke Shaw the wingbacks and Ander Herrera on the right side of the back three. The objective was still to defend and hit on the counter but Herrera struggled. United lost 3-1. Valencia and Shaw had their hands full, leaving Herrera, Smalling and Jones to their own devices.
Solskjaer's theory is similar to Pep Guardiola's. Opponents can't score without the ball. I'm writing that the day after Burnley beat Fulham 2-1 without a shot on target but there's always an exception to the rule and only a fool would rely on own goals. The point here is we should anticipate the Norwegian fighting fire with fire. He'll send Ashley Young and Luke Shaw. Young will babysit Kane on the left but Shaw will be told to keep Trippier busy. Of course, easier said than done, especially with the 12G/6A [in all competitions] South Korean also requiring attention.
While United should respect Spurs attacking prowess, it'll do Solskjaer's squad good to remember Tottenham surrendered two goals to Everton and three in defeat to Wolves during their six-match romp. They have a weak link or two themselves.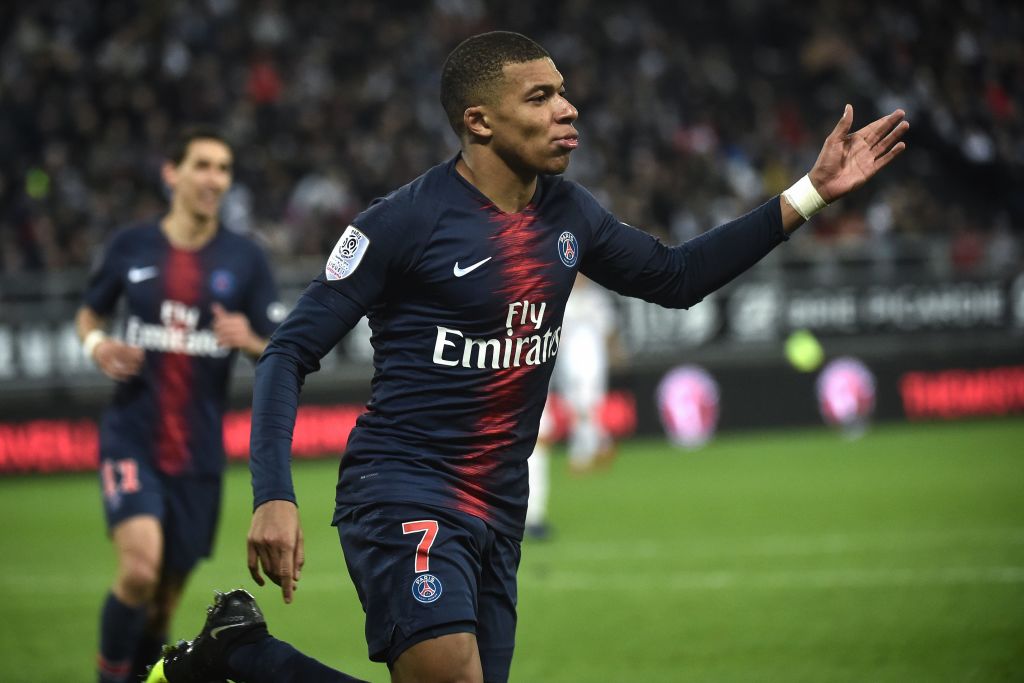 Paris Saint-Germain returned to winning ways in the absence of Neymar as Edinson Cavani and Kylian Mbappe inspired a 3-0 Ligue 1 win at 10-man Amiens on Saturday with Marquinhos also on target as PSG remains unbeaten in 18 matches
https://t.co/J53uH4mMSU
Whatever United can learn from their match at Wembley must be applied in spades when the Champions League Round of 16 rolls around in February. Paris Saint-Germain fields similar ingredients in attack to Spurs and United but on a level above both. Juan Bernat and Thomas Meunier are top-class fullbacks but wingers Neymar and Kylian Mbappe exceed world-class. They're otherworldly if you will. So is centre-forward Edinson Cavani. Thomas Tuchel will throw some combination of Marco Veratti, Adrien Rabiot, Angel di Maria, Julian Draxler and Dani Alves if you can believe it, at United's midfield.
Tuchel will spread United's defence across the pitch but like Pochettino, his rearguard can be exposed. PSG shipped nine goals in the Champions League group stage, easily the most of any group winner.
Both teams represent a test for United but not their doom. It's all about finding the other side's weak link before they chain you up in yours.