Transfer Analysis: Juventus acquire Genoa's Mattia Perin
Juventus signed Mattia Perin from Genoa for €12 million payable in 3 years with €3 million in add-ons. Club legend Gianluigi Buffon departs the Old Lady after 17 years, leaving a void that cannot be fully replaced. Juventus has made a real steal for the Italian international. He could have gone to another club for double the amount but his sheer eagerness to join the Turin giants cost his old club dearly.
"The club showed strong interest and when they contacted my agent, I couldn't help but say yes. These are chances that pass by only once in life and I couldn't say no to Juventus.
A Rossoblu youth product, Perin spent most of his time with the club apart from two loan spells early in his career. With Padova and Pescara, he began to earn regular minutes and was soon made the first choice man between the sticks. He returned to Genoa as a mature goalkeeper, quickly replacing Sebastien Frey. For the next three seasons, he made 94 appearances for Genoa, keeping 25 clean sheets. He lost the latter half of 2016/17 to ligament damage. He returned stronger, keeping 12 clean sheets in 34 Serie A appearances.
Often compared to Walter Zenga, the 25-year-old represented Italy in the 2009 European U17 Championship and World Cup, serving as the first-choice keeper. He was also included in Cesare Prandelli's 23-man squad in the 2014 World Cup, behind Gianluigi Buffon and Salvatore Sirigu. As the youngest player in the squad, he was the only one uncapped.
Style of play
Perin is not a sweeper keeper. He is more in David de Gea's mould than Manuel Neuer's. Standing at 6'2'', Perin is world-class shot-stopper with brilliant reflexes. He is an acrobatic keeper with eye-catching movements. Statistically, he is the second best keeper in Italy with 75% successful shots saved. Only Buffon bettered him.
Very early on in his career with Pescara, he saved 15 against Fiorentina. His physicality enables him to claim long balls, crosses and corners with authority. His performances have gone a long way to keeping Genoa in the Italian top flight.
His positioning, however, is strictly average. He relies too much on his reflexes. Entering his prime, Perin needs to improve on his distribution skills, too, hovering around 50% passing accuracy.
Perin is neither as good as Gianluigi Buffon nor bad as Willy Caballero. Juventus are gambling he will move towards the former.
Where would he fit at Juventus?
He will be competing with Wojciech Szczesny for the starting spot. The Pole was signed to provide cover when Buffon extended his career another season to chase the Champions League one final time. The 37-year-old needed more recovery time between matches.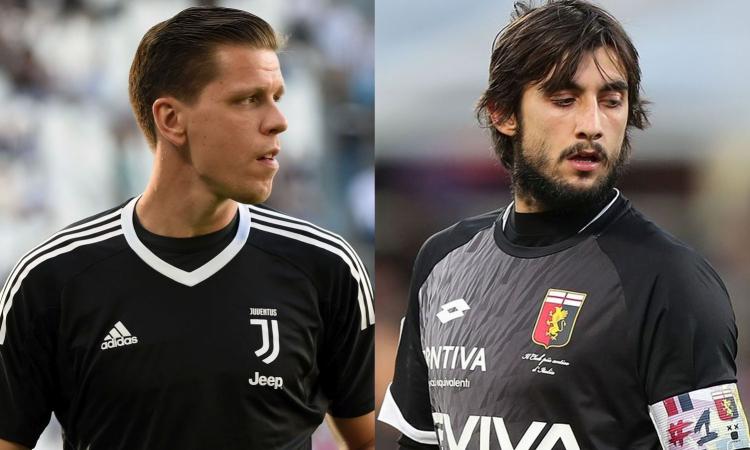 🎙️ | Marotta on Perin:
"Look, I've said this a lot. Buffon's natural heir is Szczęsny. But a club as great as Juventus must have two Goalkeeper of a very high level. Perin is a Goalkeeper of a high caliber."
https://t.co/3jPmzTLZna
The former Arsenal man has made 18 appearances and kept 11 clean sheets with a massive distribution accuracy of 81%. His debut season was memorable for all the right reasons. He had some calling for Gigi to step aside before season's end. Szczesny recently turned 28. He is in his prime and deserves top minutes. Signing Perin has made life tough for both. Both need game time to leave their mark in Italy. Additionally, neither of has the experience to unquestionably be the go-to man for Massimiliano Allegri in the Champions League's latter stages.
It will be very difficult for Allegri to leave the Polish international on the bench. He had a wonderful season in 17/18. But Allegri also faced Genoa enough times to know what Perin offers. In my opinion, Perin for €12 million is a great deal that doesn't make sense. There are not that many keepers like Sergio Romero, content to play behind a David de Gea. Szczesny came to Juve from Arsenal precisely to become the number one. You would think Perin arrived for the same reason.
Someone is going to be unhappy.