What does Dani Olmo offer RB Leipzig?
If Olmo only counts in horseshoes and hand grenades, the pressure is on the Catalonian midfielder to hit the mark at Red Bull Arena.
RB Leipzig signed young forward Dani Olmo from Dinamo Zagreb for an initial fee of €16 million until 2025. The German club beat European giants Barcelona, Arsenal, Manchester United and AC Milan to the Catalunyan's signature if rumours are true.
After leaving La Masia at 16, the 21-year-old embarked on an unorthodox career path. After joining Dinamo Zagreb's academy in 2014, he made his Croatian league debut in 2015. Two years later, he broke into the first team, climbed his way up the pecking order with sheer determination and became a regular last season. At the end of 2018-19 campaign, he was named best player and best young player in the Croatian First Football League.
Olmo's fine performances for the Spain U21s in that level's Euros won plaudits from several scouts. He assisted once and scored three goals, including one in the final against Germany that cinched Man of the Match honours and a senior team call-up. Olmo then scored on his debut, coming off the bench in a 7-0 win against Malta.
While Zagreb's Champions League campaign went awry with one win in six group matches, Olmo impressed with two goals and an assist. His brilliant volley in the 1-4 defeat to Manchester City ranks among the group stage's best goals.
Style
Olmo is frighteningly quick. He can dribble past defenders with ease, carry the ball and complete short, penetrative passes. In Europa League group stages last season, he completed 19 successful dribbles, the most by any player. This season in the Champions League, he completed 18, fourth-best in that competition.
His adaptability allows him to play across all three forward positions and in attacking midfield. His pace puts defenders on their heels. However, his trademark move is to drift inside from the right-wing, a la Arjen Robben.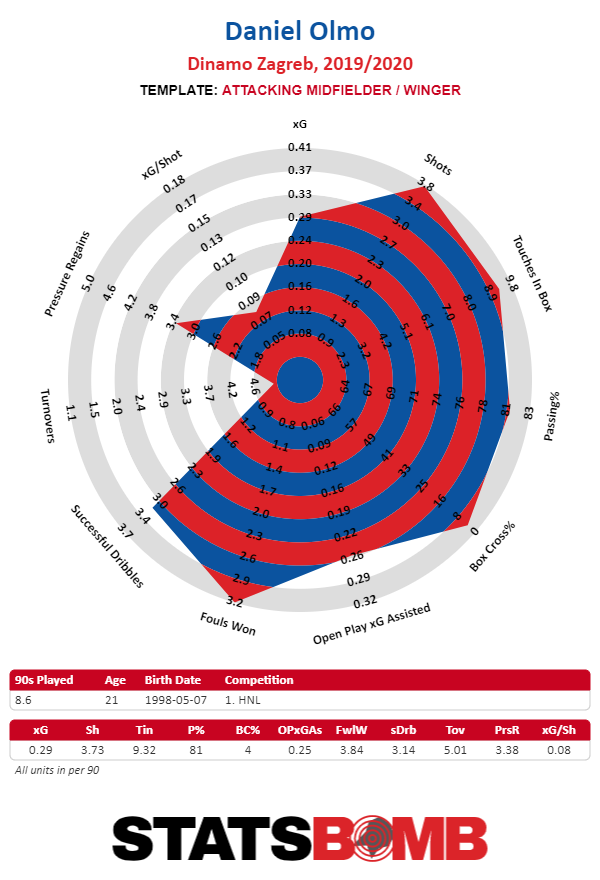 Dani Olmo, Dinamo Zagreb 2019-20.
Very impressive in the Croatian league (which we collect). Has not been quite as impressive at Champions League level, but given his age and the fact that he looks natural even there, he might be a future star.
https://t.co/WaFyyccM5a
Dinamo's attack went through Olmo. His multi-dimensional skillset and buttery first touch allow him to run or pass the ball with ease. He can stretch defences but can also operate in close quarters, whip in crosses from either flank, perform quick layoffs and shoot from anywhere in the attacking third. His adroit off-the-ball movement also carves space for his teammates.
On the other hand, his propensity to take risks makes him inefficient. He tries to do too much. Manager Julian Nagelsmann won't allow the Catalan to give the ball away so cheaply in the Bundesliga.
In Croatia, Olmo wasn't hindered by significant defensive responsibilities. He tracked back but it was relatively easy. At the Red Bull Arena, he will be expected to run tirelessly to press and win the ball back.
Future
Born and bred in Catalonia, his journey to the top has not been easy. There is a reason why young, intelligent players possessing untapped potential like Olmo or Erling Haaland choose clubs like Borussia Dortmund and RB Leipzig. They provide the perfect opportunity and environment to grow.
At Leipzig, Olmo represents an upgrade over Yussuf Poulsen and Marcel Sabitzer. However, regular minutes must be earned in die Roten Bullen's ultra-competitive structure. At 21, Olmo arrived at the proper time and place to advance his career. Nagelsmann's direct, attacking philosophy will suit the newcomer. If Leipzig are able to hold onto Timo Werner, the duo can pull off miracles.