Why Troy Deeney deserves England call-up
There are some unfortunate players who, for no fault of their own, never get to experience international football. It's not that they don't want to. They just never receive the call. Troy Deeney wouldn't want to be mentioned in such discussions.
The England national team is a colossus. The famous shirt has been donned by over a thousand footballers. There's no weighing or debating the matter - every call to represent the Three Lions is answered promptly, and with pride.
One player who has waited patiently but futilely is Troy Deeney.
Aged 30, the Watford striker is yet to feature for his country at any level. Sounds absurd, doesn't it? After all, he is good enough. Even players who eventually fail to break into senior national squads can boast appearances for the youth cadre. Not Deeney, though.
Unlike most footballers, ones who focus on the game in their early years, Deeney had a difficult childhood. It impacted his playing career. As a teen, he was expelled from school and was soon working a nine-to-five job as a mason. That much explains why he never represented England at youth level.
Deeney's troubles didn't cloud his talent, though. He went on to play regularly at Walsall. It earned him a £250,000 move to Watford in 2010, with a huge pay rise. Still, his problems weren't behind. In May 2012, he was imprisoned for two months after brutally assaulting a group of students.
Deeney returned from prison a changed man. Not long after, he nailed down position at Watford, plundering goals with aplomb. The Birmingham-born frontman was heavily involved in the Hornets' Premier League promotion four seasons ago. He struck 21 times that campaign.
Overall, Deeney's scored 114 goals for Watford. It puts him third on the club's all-time top scorer list.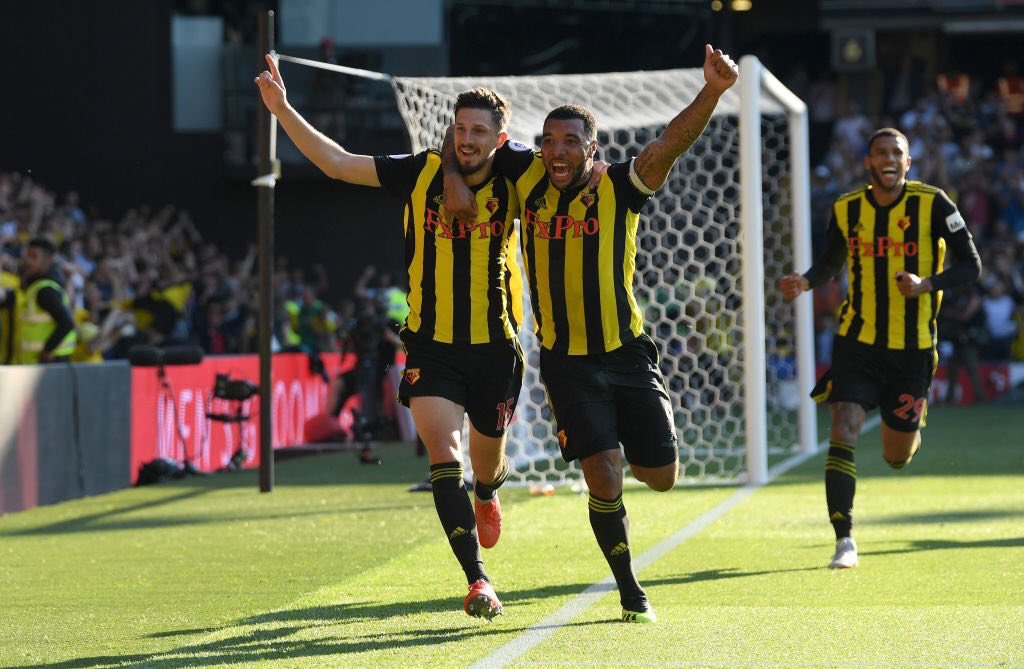 This season, Watford are flourishing in the Premier League. They occupy unfamiliar territory at present, sitting in fourth. Championed by Deeney, the Hornets maintained a four-game winning streak before the international break. Saturday's home defeat to Manchester United shouldn't dampen the mood too much.
Deeney has matured remarkably. Far from the stubborn, angry kid who once missed his trials and played a game half-drunk, the Watford captain transformed into a seasoned top-flight goalscorer.
Through his reinvigoration, Deeney remained a bully. That robustness continues to be put to good use. Strong in the air and capable with feet, he is a difficult poacher to come up against. Even for the division's top defenders.
Deeney can aid England
Since Emile Heskey, the Three Lions haven't featured a bulky, brutish centre-forward. Not for the lack of one, though. They can call on Deeney.
Jamie Vardy, who assumed second fiddle to Harry Kane before announcing international retirement in August, is a year older than Deeney. There isn't much disparity between the pair. The Watford man does little things well, like shielding and holding up the ball.
Danny Welbeck usually gets England nod. In all fairness, he isn't doing enough at Arsenal to justify regular invite to the national set-up.
With the UEFA Nations League underway and Euro 2020 approaching, the Three Lions need an experienced striker to replace Vardy.
Gareth Southgate will choose the most in-form players. If that's the case, there's no excuse to overlook Deeney. With two goals already, he is on course for another double-digit scoring season.
Deeney turned down the chance to play for Jamaica, hoping to someday receive a call from England. He's put in the work and proven his mettle. Three Lions selection would be a fitting reward.