Two dives that could impact the Premier League relegation battle
On Sunday, Swansea and Middlesbrough each fought bravely to earn a point against a Manchester club. However, both managers were aggrieved they did not secure all three points when two highly controversial penalties were given after dives.


Manchester United vs Swansea


The first half was fairly even and uneventful until Marcus Rashford darted into the box, then went to ground when Lukasz Fabianski dived at his feet. Referee Neil Swarbrick took a while to make his decision but eventually gave the penalty. Wayne Rooney converted the spot-kick.

Replays conclusively show the Swansea keeper pulling his hands away, Rashford falling before he is touched, the official's view impeded. There is the slightest contact on the youngster's shin but certainly not enough to go down. Simply put, Swarbrick did not clearly see the incident. He should not have guessed.

In his press conference, Swansea manager Paul Clement was unhappy, believing his side should have won the game.

The player [Rashford] deceived the referee; there's no other way to look at it.

Clement went on to lament video technology's continued absence from the modern game.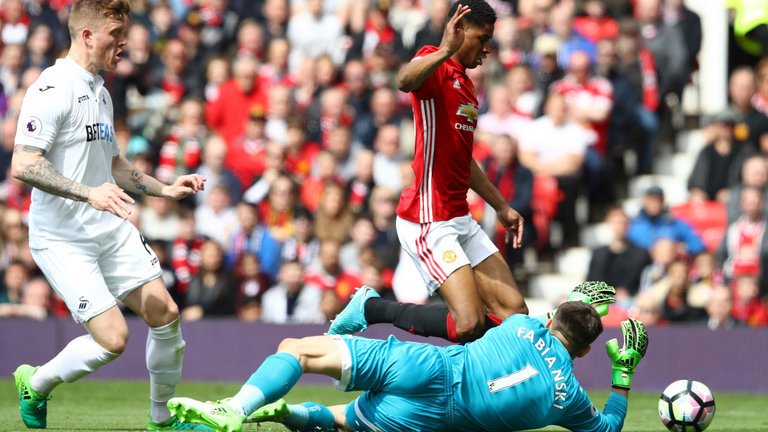 Middlesbrough vs Manchester City


After Alvaro Negredo gave the hosts a lead at the Riverside, Manchester City desperately tried to find an equaliser. Midway through the second half, an extremely controversial penalty was awarded. Leroy Sane broke into the box, running into Marten de Roon before hitting the deck. The Boro player's passivity emphasised how blatant the dive was but Sergio Agüero scored the resultant penalty to put City back in the game.

Sane's knee connected with De Roon's but he went down because his touch on the ball had been too heavy. The German knew he would not be able to get back on the end of it. Middlesbrough players' reactions said it all. You don't want to see a whole team surround the referee but when the decision is so shocking, their reaction is understandable. Captain Ben Gibson had to push players away from Kevin Friend as De Roon's teammates vehemently protested his innocence.

Like the Old Trafford incident, Friend's sightline was blocked. Again, a poor guess was made. Boro manager Steve Agnew claimed Sane went down very easily but was pleased by his players' resilience in claiming a draw.

He [Kevin Friend] didn't have a clear view. I think when you give them, you've got to be 100 per cent certain.
Rashford and Sane


Most disappointing is the fact Rashford and Sane are bright prospects with great careers ahead. Both have fooled a referee but I hope dives do not become a regular feature in their games. They are exciting, direct players with no need to con officials. Their ability should be the influential factor.


Where does this leave Swansea and Middlesbrough?


It will take a miracle for Boro to avoid the drop. The Teesiders face Chelsea, Southampton, and Liverpool to finish the season, needing to win at least two from those games to stay up. Signs from the City match indicate Boro are finally stepping it up a gear but it appears too little too late.

For Swansea, remaining in the Premier League is more likely. Its final opponents are Everton, Sunderland, and West Bromwich Albion. The trio haven't anything to fight for at this late stage. That said, these games will not be straightforward. The Swans must be at their best to achieve maximum points.

Arguably, both clubs should have taken all three points. Yet, the reality remains. Seemingly insignificant moments can have drastic effects on a club's future. It is bizarre to think: with the technology currently available, a team can still be relegated, suffering millions in lost revenue as a consequence, based on a correctable error in judgement.