Typical England overreact to Sterling, Gomez beef
The Three Lions get on the right track, only to let themselves down once again...
Background Image Via: Flickr/Paul Arps. CC BY 2.0.
On Sunday, last season's Premier League and Champions League winners went head-to-head in an early-season, potentially title-deciding clash at Anfield. Eventually, Liverpool would comfortably beat Manchester City, handing bragging rights to Jurgen Klopp's Red Men.
In the dying embers, there was a fiery clash between Raheem Sterling and Joe Gomez. After all, tensions were always going to be high when so much is at stake. What's the harm in a little domestic rivalry, eh? Well, usually, there is none. Typically, you'd expect the international teammates to hug it out with a laugh and a joke at full-time and all would be forgotten...
Well, now we know for certain there was more to it than a bit of friendly banter... Temperatures would still be high as the Three Lions met up for their final two EURO 2020 qualifying games on Monday, as Sterling didn't take too kindly when Gomez made a joke about what took place the day prior. The end result? Sterling is now no longer under consideration for England's game against Montenegro tomorrow. And for what? A bit of handbags.
As you'd expect, the English press jumped all over it like a pack of starving wolves. Who could come up with the stellar clickbait headline? Which media outlet could get the clearest picture of a small scratch underneath Gomez's eye? Who would be the first to report that teammates had to split the pair up after the minor disagreement? Again, everything would be sensationalised beyond belief, but at the end of the day, we're talking about two highly-driven individuals who just want to win high-pressure football games. I bet situations like this happen in training all the time...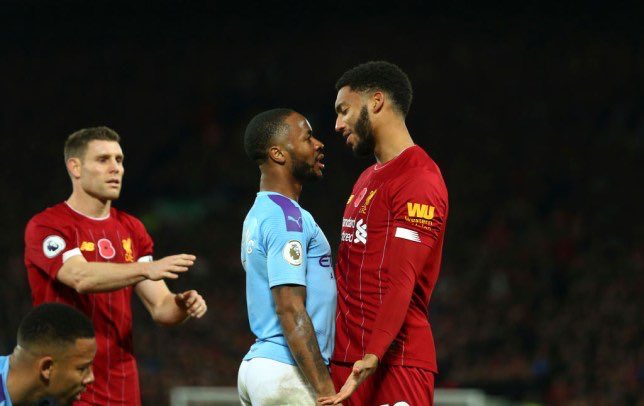 Raheem Sterling dropped by England for game with Montenegro after angrily confronting Liverpool's Joe Gomez at St George's Park today. [Paul Joyce] 🏴󠁧󠁢󠁥󠁮󠁧󠁿
https://t.co/QDpG569FBz
Then you have the in-house leak. I seriously hope that the England camp eventually find out who gave the information to the press and they too should be made to sit out for a little while. If that story wasn't given to the media, Gareth Southgate would have been able to cover it up by 'resting' Sterling. The journalists would remain none-the-wiser while the player would still be punished, albeit behind closed doors.
It's just oh so typical of elite-level competition in this country, isn't it? Every other province on planet earth would do their utmost to cover it up, not let it get out or use it as a tool of empowerment. Here in England, we like to use it as a weapon to poke fun at rival fans with, or use it to mentally beat up the two guys involved - which is only going to have a negative impact on the whole England dressing room. Come on now, folks, a bit of common sense please, we're all working towards the same goal - although sometimes it doesn't feel like it...
What's saddest, but also the most positive thing about this is the fact that the two men involved have shown themselves in the best light. Sterling apologised immediately with a classy social media post, while Gomez actually spoke to Southgate and told the England manager not to send the City man home.
Everyone else surrounding the 'drama' could learn a thing or two from these young professionals, so why not just let this non-story die and allow England to focus on sealing their place in EURO 2020? After all, everyone in ol' Blighty wants the same thing, right?