Unai Emery must shake up Arsenal's starting XI
Unai Emery knew replacing Arsene Wenger wasn't going to be easy. The August Premier League fixture list didn't help. Arsenal's first two opponents were the past two champions. Only the most optimistic Gooners expected results in both matches. Realists thought a draw or maybe a smash and grab win could be had at Stamford Bridge. Arsenal came away with nothing. That shouldn't surprise. In recent years, Arsenal always struggled versus top-six clubs.
The truth is, Unai Emery needs time. Even in defeat, the signs were positive. Emery wants Arsenal to play out from the back, remain compact in defence, press high, control possession and create scoring chances. The new Arsenal manager hinted at a formational change this week but remains reluctant to play two strikers.
His scepticism isn't merely philosophical. He doesn't have the personnel to match his preferred method. It's evident what the Spanish tactician. The plan is right; the execution isn't.
Emery is not afraid to let his players know they don't pass muster. He substituted Granit Xhaka at halftime against Chelsea when the Swiss International struggled on the pitch [again]. Xhaka's proven a liability too often in big games. I am not sure what he offers beyond one long-range goal every 10 games or so.
The 25-year old is known for a bad tackle. What else will he do when dispossessed so often? There is a class player buried in that body, one with the vision and technique to launch perfect passes, diagonals and through balls, but a reckless brain is at the controls. If he's anything, it's immature. At 19, Matteo Guendouzi turned in more big game performances this month than Xhaka has in two years. The veteran hasn't improved. He shouldn't start for Emery's Arsenal until he does.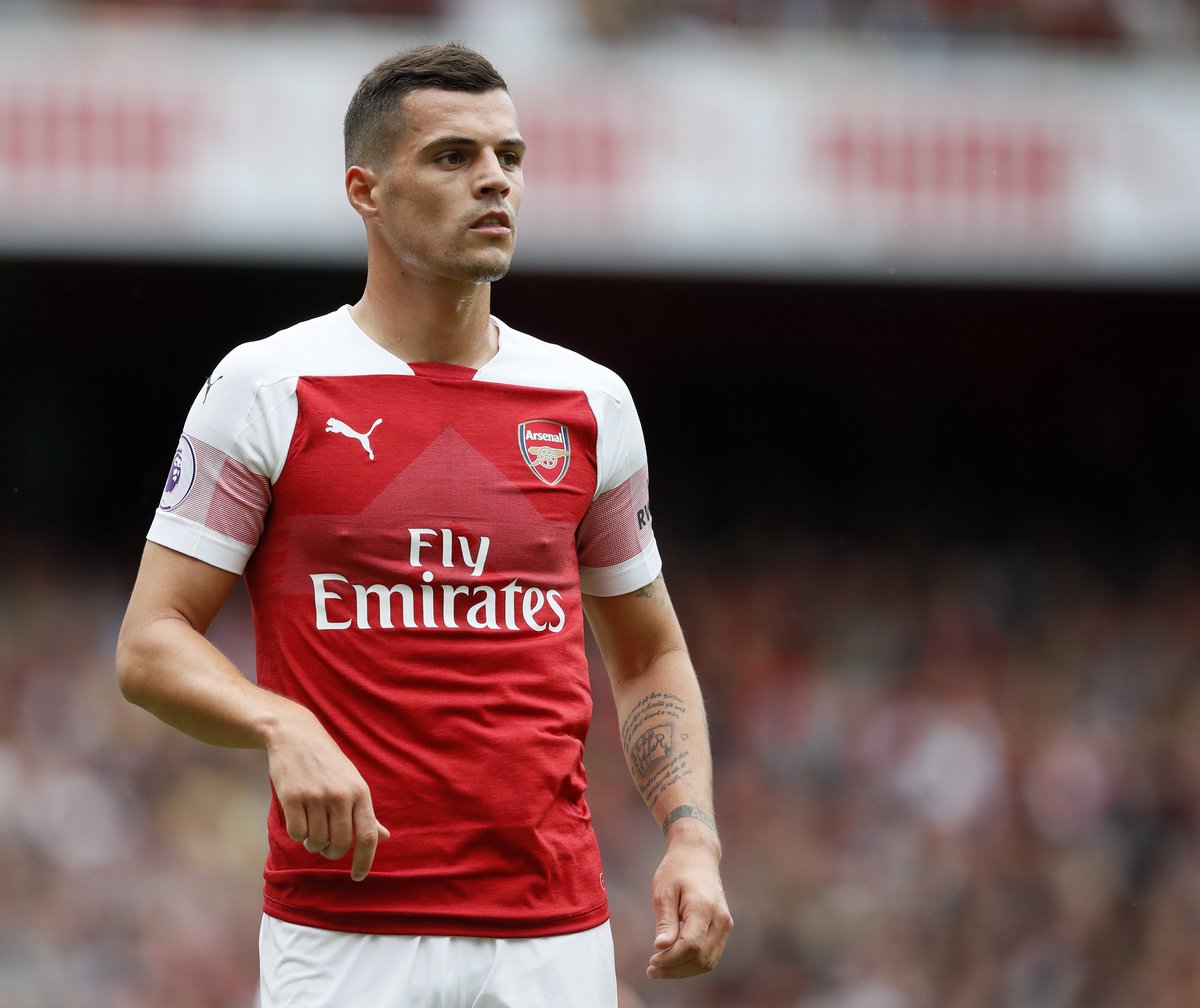 Granit Xhaka has been booked more times (12) than any other player in the Premier League since the start of last season.
Arsenal bingo. ⚠️
https://t.co/1mRafmRZX6
Behind him, Lucas Torreira looks like the real deal. The Uruguayan retains his impressive World Cup form. He flashed glimpses of his talent as a substitute in both matches. Torreira has presence. He demands the ball and stamps his authority in midfield. Pairing him alongside Guendouzi or Aaron Ramsey offers Emery a guileful midfield duo.
Bernd Leno is another youngster who should be starting for Arsenal. Petr Cech proved his experience against City and Chelsea, making crucial saves, single-handedly keeping Arsenal in both games. He can't build attacks, however, too easily pressured into long clearances that end in 50/50 aerial duels. Arsenal lost possession too often. Emery's men were always on the back foot.
Leno excels one-v-one with the ball at his feet, exactly what Emery requires in a system with a high line. Cech's career is well into its twilight phase. If Joe Hart couldn't adapt, he won't either. The youngster is familiar with the system. All he needs is a run of games to prove his worth and iron out his weaknesses with experience. Yes, he's a bit error-prone, but remember all the points Cech cost Arsenal last season. Arsenal now face an easier run of fixtures. It's the opportune moment to introduce the 26-year-old.
While he's stated his reluctance, Emery also should be looking to fit Alexandre Lacazette into his starting XI. Whether as the second striker or leading the line with Pierre-Emerick's pure speed on the wing, the Frenchman is too good to sit. He came on late in both matches to date. The attack had much better structure and explosiveness with Lacazette playing.
Emery uses Aaron Ramsey and Mesut Ozil as no.10s. Key to that role is relentlessly pressing high to win possession. Aaron Ramsey and Mesut Ozil. You see the problem. Lacazette oozes the energy the other two lack. They are midfielders used to letting the game come to them.
If Emery chose to shift Aubameyang to the left wing and let Lacazette lead the line, the combination play between the duo guarantees goals. People talk about being on the same page. Auba and Alex are two syllables in the same word.
Arsenal's problems stretch beyond the talent available. Wenger's shadow lurks. His successor must be ruthless in bringing Arsene loyalists in his squad out of the dark. While the schedule favours him, Unai Emery must let the entire group know who's in charge.