Unai Emery's Resurgent Arsenal Shaping Up As Future Title Contenders
Unai Emery hopes his art will stand up to past Arsenal masters.
Déjà vu struck Arsenal fans while watching their side lose their first two matches under Unai Emery. Questions arose regarding Emery's unique style. Fans' willingness to support their manager despite their doubts was tested. Emery's start to life in the Premier League was uneasy although defeats against Manchester City and Chelsea proved a blessing in disguise.
After losing to Chelsea, the Gunners fired off a nine-game winning streak thus far only interrupted by the international break. The run includes six Premier League matches. It took Arsenal two years to carve out a matching stretch. During the run, Arsenal scored 29 goals while playing beautiful attractive football. The Spanish manager understands the 'Arsenal way'.
The squad knows their limitations under Emery, which works in their favour. Emery isn't flying for the skies so much as restoring harmony and long-lost belief in the squad.
Due to personnel limitations, tactical emphasis remains on moving forward. Pierre Emerick Aubameyang and Alexandre Lacazatte, signed for £56 and £46.5 million respectively form a destructive partnership in the final third. Not so long ago, the duo was pitted against each other, viewed as rivals for the lone striker's position. Emery ended the rivalry.
Despite rarely playing together, they possess complementary styles. They've also become best mates, seen as often away from the park as in it. Their goal records are nearly equal; Aubameyang's netted six times, Lacazzette five across all competitions. When together, they are perfectly synchronised. Both have taken nine shots to date. Each plays off the other.
Emery uses the pair cleverly, encouraging their personal relationship to flourish. Their excellent work lifts pressure from Mesut Ozil. The retired German international's rediscovered his majestic touch in recent weeks. He completes a terrorizing attacking trio for Arsenal.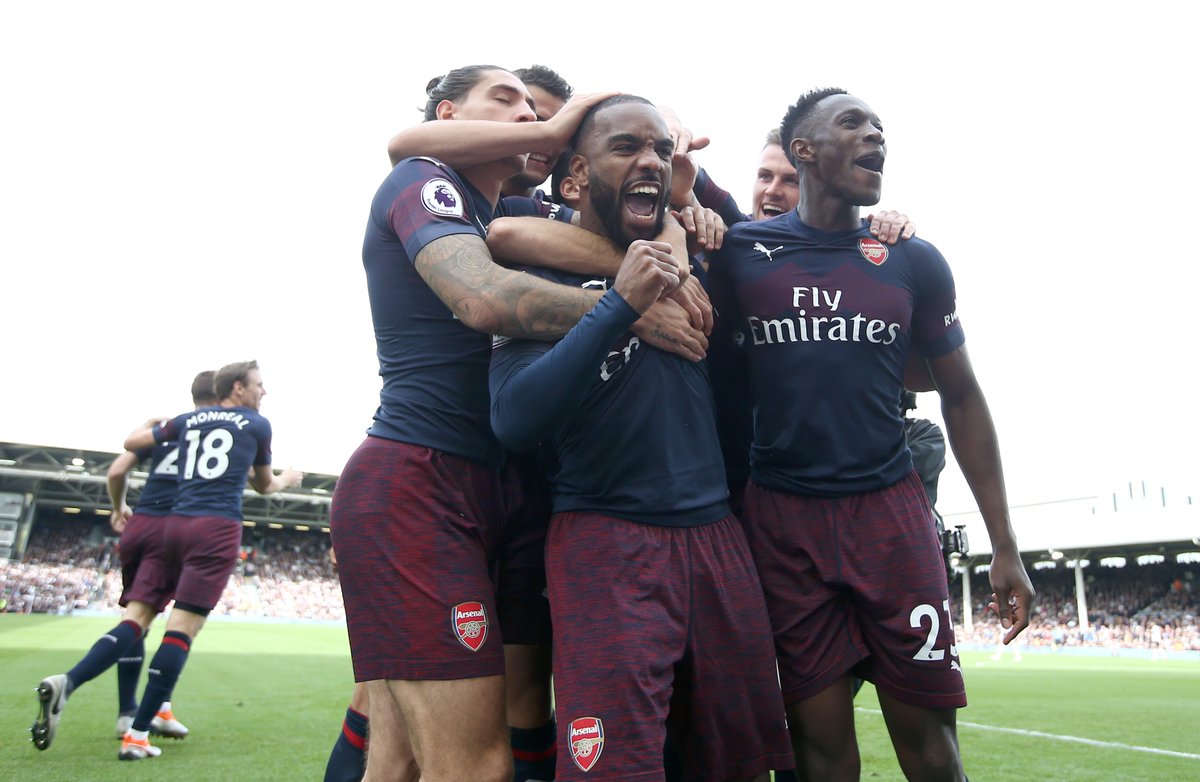 Arsenal have won nine consecutive games across all competitions for the first time since March-April 2015:
WWWWWWWWW
Goals: 27
Conceded: 8
Clean sheets: 3
Unai Emery making an impact.
https://t.co/0Z3WjM2F3P
The erstwhile Paris Saint-Germain boss deftly rotates his midfield.
Despite disagreeing on a new contract, Aaron Ramsey remains productive. He might leave next summer. While here, the Welshman roams the pitch, stitching together chances for the Gunners. He's provided three assists and an exquisite team-goal against Fulham proving both his confidence and professionalism.
Ramsey brings flair to Arsenal's midfield. Matteo Guendouzi and Lucas Torreira supply the long-absent steel.
Guendouzi's acquisition demonstrates Emery's eye for talent. Brought along from Paris, the youngster is already a boon to the side. His energy, sleek passing and hard-hitting defensive work allow the Gunners to dominate possession. He knows how to cover for his defender, too.
Lucas Torreira is more experienced and versatile. While bedding in slowly, the Uruguayan reveals his future as the Gunners' midfield general. More creative than physical, Torreira always finds the cutting edge pass. He reads opponents like a veteran, intercepting balls all over the pitch.
With more license and less defensive responsibility, Granit Xhaka also looks compelling this season.
Arsenal's bane remains their defensive work. Even after signing experienced defenders Sokratis Papastathopoulas and Stephen Lichsteiner, the rearguard hasn't improved. Arsenal are as at sea in their third as they were under Arsene Wenger. They've only obtained two clean-sheets from eight Premier League games,
Defending isn't necessarily Emery's strong-suit. Can you say Remontada? That said, he does prefer a compact, organised group. His players struggle for cohesion in a high line at the moment. The centre-backs drift too wide covering space left by the fullbacks, exposing the middle. Opponents average five shots on target per match. The gaffer needs to put a cap on that.
Emery is most like Mauricio Pochettino among Big Six managers. He doesn't have a distinct style No Kloppish heavy-metal football. No Sarri-ball, tiki-taka or Mourinho-esque parking the bus. He's a dedicated student of the game who understands the need for balance and flexibility. Maybe it's too soon to expect a title run in 2018/19 but Emery has all the tools to shape the Gunners into Premier League contenders in the near future.