Is Norwich the second coming of Huddersfield?
David Wagner and Daniel Farke's Championship sides aren't all that different.
Background photo: Evelyn Simak
Norwich City sealed a return back to the Premier League after a three-year absence, and if you say that you expected it at the start of the season then you're a liar.
If the pre-season predictions were to be believed, the Canaries were in for another season of mid-table mediocrity. The previous campaign was not a memorable one, recruitment seemed uninspiring (on the face of things, at least) and they powers-that-be stuck with a manager whose first year had yielded only a 14th-placed finish in the Championship.
But Daniel Farke learned, he adapted and a new campaign that began much in the same fashion finished with delirium and, most importantly, promotion.
This surprise campaign has turned many heads, and reminded a few of another second-tier season in recent memory – Huddersfield Town's shock play-off success under David Wagner in 2016/17.
There are a number of similarities between Norwich's promotion push and that of the Terriers two years ago, hinting at a recipe for success in the Championship.
Gaffers
Obviously, the simplest comparison to make is that they are both German. Admittedly this is not ground-breaking analysis, but it does play an important role in the pair's success at their respective clubs.
Their time playing and managing in a different football culture is at their heart of their coaching styles, tactics and transfer policy (more on these later). More than this, they both arrived in England fresh from a stint as manager of Borussia Dortmund II where they worked with the hands-on sporting director Michael Zorc.
Zorc's counterpart at Huddersfield in 2015, Stuart Webber, is a firm believer that a man in his position should have a close working relationship with the manager, which is said to be part of the reason why he chose to hire Wagner in the first place.
Two years later, Delia Smith cooked up a plan to convince Webber to work his magic at Carrow Road following a decline in fortunes for the Canaries. When he arrived, he brought that same policy with him and went back to Dortmund to poach Wagner's successor, Farke. As they say, if it ain't broken don't fix it.
It's a match made in footballing heaven. Both want to take risks Both have an open mind when it comes to recruitment and wanted to get creative when it came to implementing a certain tactic. Both are champions of providing youth with first-team opportunities, a policy which has paid dividends for the likes of Jamal Lewis, Max Aarons and Dereham lad Todd Cantwell.
Although relieved of his duties in West Yorkshire after a poor run this season Wagner's reputation has rocketed in the last few years. Farke's seems set to do the same, no matter how their Premier League adventure goes.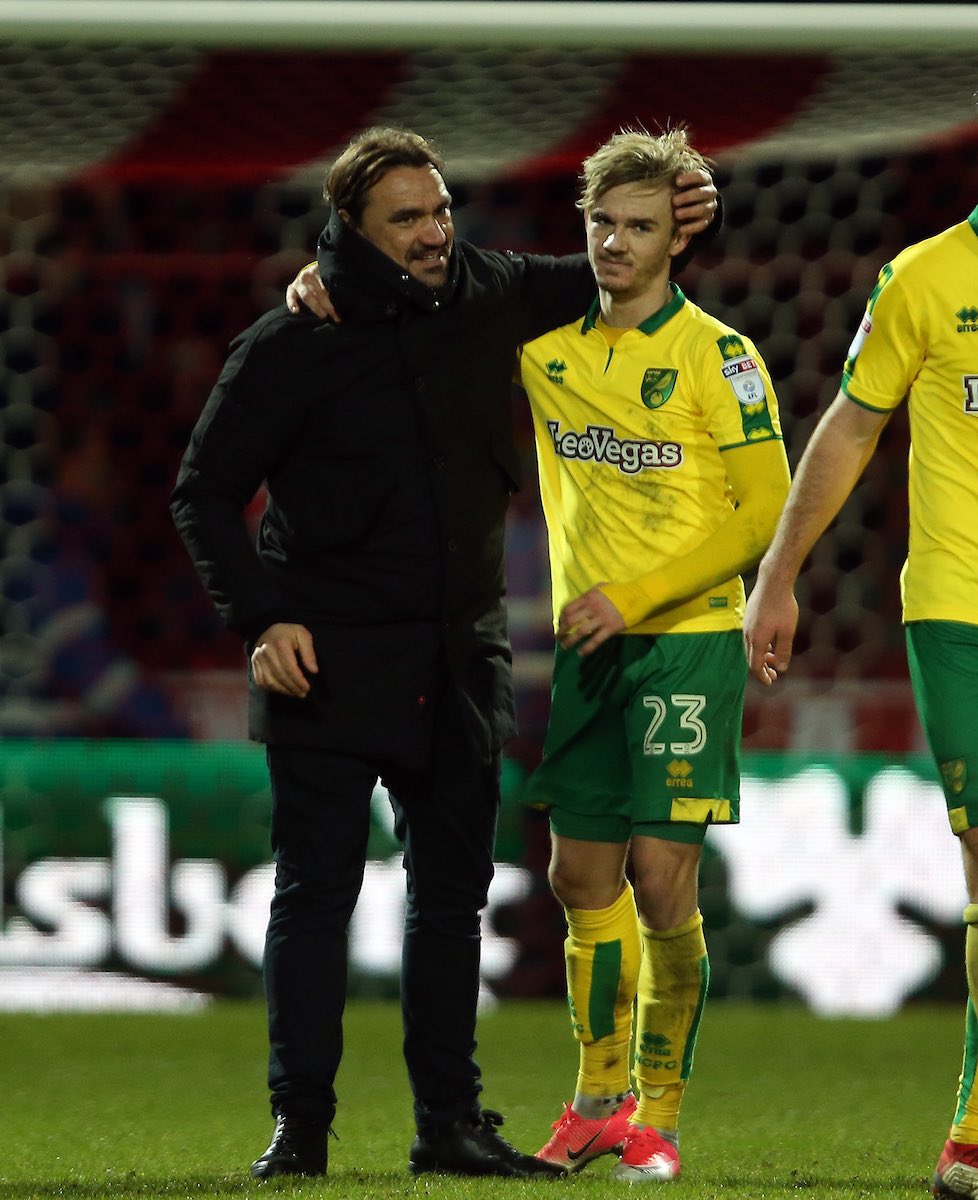 Unbelievable achievement for my former club @
NorwichCityFC
. Great scenes to watch🙌🏼 Daniel Farke and all the lads have been Breathtaking to watch all season. See you at the Carra next year canaries 💛💚 #
NCFC
https://t.co/jyRtW2iEWj
Tactics
Jurgen Klopp's gegenpress won trophies and no small amount of admirers during his time at Signal Iduna Park, and has transformed his current Liverpool since arriving at Anfield. Having worked under 'The Normal One' in western Germany, Wagner took inspiration from his tactics when implementing his own style of play upon arrival at Huddersfield.
They had to play long periods of some games with little possession of the ball, but their pressing was so disciplined and effective that they were often much more efficient with the ball than other teams. This, of course, is a very tiring way to play and requires tremendous fitness levels to make it work, but the Terriers had a squad both capable and willing to put in the hard yards.
Farke's style is also based on a pressing game, but has been refined and is less heavy-metal football than a stylish rock and roll. Instead of an all-out attack of pressing intent, the Canaries' approach is more methodical and situational. The players use their judgement to decide when (and when not) to get tight and apply the pressure, a risky tactic but one which has paid dividends.
This Norwich tactic is also much more possession-based than that of Huddersfield in 2016/17. Farke prefers his team to have more of the ball and so instructs midfield players and full backs to push high up the field to apply pressure and win the ball in the attacking third when possible.
As mentioned, the two styles are different in the way that they go about business, but high fitness levels and a willingness to play with hearts on sleeves is at the core of what both Huddersfield and Norwich have tried to do. It's a philosophy that led to both sides securing promotion, proving that it's a great way to go about things when it's executed well.
Recruitment
Perhaps the greatest similarity between the successes of these two clubs is how they managed to gain promotion to the Premier League against all the odds and on a shoestring budget. Huddersfield's squad was supplemented by an army of players on loan, while Norwich have a net spend of around -£50m over the last two seasons.
In the summer before their successful promotion, the Terriers signed no fewer than 13 new players in preparation for a campaign in which many expected them to be fighting for survival at the foot of the table. Aaron Mooy and Elias Kachunga were loan signings crucial to their promotion push, and both were later signed on permanent deals.
But many of their recruits were signed from the lower leagues in Germany. It was a huge risk to rely on untested players but one that worked a treat. Christopher Schindler and Michael Hefele stood out as they formed a strong defensive bond and went on to be useful players in their top flight adventure.
Norwich also plundered Bundesliga 2. Webber trusted Farke enough to sanction moves for the likes of Marco Steipermann and Onel Hernandez, while Tom Trybull and Christoph Zimmermann are also compatriots of the manager. None were household names, but have all proven to be excellent signings.
Emi Buendia has been a key player in their promotion push and cost just £1.5m, while top scorer Teemu Pukki was free. City haven't thrown money at a charge for the Premier League, but have done their homework and spent shrewdly.
Future?
Plenty of similarities between the respective adventures of the two clubs, but how will the Canaries' Premier League efforts compare to those of the West Yorkshire club?
The Terriers did extraordinarily well to survive in their first season in the big time, but recruited poorly last summer ahead of a dismal campaign. They will return to the Championship next season and Jan Siewert, incidentally another hired from Dortmund II, has a very tough job on his hands to make this team competitive once more.
Norwich look to have a stronger squad than Huddersfield did when they went up, so Farke has a better core to build upon. However well their low spending policy has worked for them up to now, though, they must take advantage of the huge prize pot they get for promotion and bolster the team where needed.
A couple more mysterious acquisitions could once again prove to be a success, but they must augment this with players of proven Premier League quality and experience. This is especially important in attack, as Huddersfield have this season proven that you have no chance if you can't score goals.
Farke must be prepared to alter his tactics, too. He enjoys seeing a lot of the ball, but matches where this will happen will be limited in the top flight, and so he much ensure that his players are efficient with the ball and take the chances that come their way. The atmosphere at Carrow Road and results there will also decide how their season goes.
Following Huddersfield's recipe for success has served the Norfolk club well so far, but they will be hoping they can learn from their mistakes as they look to consolidate and cement their place as a Premier League side.