Uruguay's tactics at the World Cup and where it went wrong
Uruguay's 2014 World Cup dream ended in the Round Of 16. This year, they went a step further.
Los Charrúas breezed past the group stages, picking up wins against a spirited Egyptian side, deadweight Saudi Arabia and in-form Russia. They didn't concede in a single goal in Group A.
Then came Portugal in the Round of 16. The Selecao were similar to La Celeste in many aspects. The Portuguese defended in numbers, played on the counter and relied heavily on individual brilliance to score. But Portugal had one brilliant individual to Uruguay's two, and so the score ended.
France was the toughest challenge. Les Blues had far too many brilliant individuals and Uruguay had lost Edinson Cavani to a calf injury. The French were among the favourites to win the tournament due to their insanely talented roster, but les individuels were looking more like a team day by day.
Without Cavani, Luis Suarez's hold-up play had no beneficiary. Cavani's replacement, Cristhian Stuani, didn't have the understanding that eight years playing together develops.
Two errors cost La Celeste. Raphael Varane was left open for a free header off a set piece. Fernando Muslera allowed Antoine Griezmann's straightforward shot to carom off his hands into goal.
In the end, Uruguay's legendary tactical discipline failed them due to poor execution. Their strength was exactly that. Every one performed up to the mark, if not over it. Except on this day.
Coming into the tournament, Oscar Tabarez had the team attacking through a 4-4-2 with a narrow midfield diamond. Their strength ran up the middle: Muslera in goal, Diego Godin and Jose Maria Gimenez in central defence, Lucas Torreira and Rodrigo Bentancur in midfield, Cavani and Suarez in front. The Sky Blues defended in a low and compact block. A striker dropped off to form a 4-5-1. The fullbacks tucked in to support the central defensive partnership. Godin and Gimenez fought valiantly and displayed old school defending in the best way possible.
Suarez and Cavani initiated the press, charging the opposition centre-halves so they couldn't build from the back. Bentancur would follow, marking the defensive midfielder or block a passing option. Matias Vecino and Nahitan Nandez pressed space instead of men. Opponents invariably went long, giving Godin and Gimenez to win back possession in the air.
When Uruguay won balls with the press, they would switch quickly to the opposite flank. Either Suarez or Cavani would have drifted out there to find space. It was how Suarez created Uruguay's opener vs Portugal. Nandez and Vecino pushed inwards whenever opponents broke through the press.
One of the most intriguing players in this setup was Lucas Torreira, linked with a move away to Arsenal. Playing as a traditional no.6, the youngster screened the back four to near-perfection. He dropped deep when crosses came in and stepped out to intercept balls. The 22-year old announced himself on the world stage.
Bentancur was just as impressive. His press resistance and hold up play was vital. The Juventus midfielder didn't shy away from doing the dirty work. He is Uruguayan, after all. His finishing was not the best, but the other aspects of his game were up there.
Suarez and Cavani proved they aren't just box players. Each contributed with and without the ball. Cavani would often drop deep when Uruguay defended. He would then look to pick up balls and launch counters. Suarez kept the centre-backs occupied and dragged them to the wings with his runs into the channels. The two showed a telepathic connection thanks to their long history together. They have long been Uruguay's primary goal source. The duo scored five of La Celeste's seven in Russia.
Oscar Tabarez also put in an emphasis on set pieces. He had physical players and a quality delivery man in Torreira.
But against France, Uruguay faltered. There was no Cavani to link everything together. Suarez was left isolated more often than not. Paul Pogba switched the play frequently to counter the Sky Blues' compact shape. Diego Laxalt blanketed Kylian Mbappe but left space for others to run into when the teenager dragged him out of position. Varane dragged the Charruas defence too, especially after Griezmann hesitated for a second on the free kick to make the defence push backwards.
One moment of individual brilliance from the Real Madrid defender put Uruguay on their heels for the first time in the competition. They hadn't faced such quality before. Nonetheless, he was not marked. Uruguay had switched off one time and paid for it.
Of course, Muslera should have saved that effort from Griezmann. There are simply no excuses for that. No tactics in the world can save you from those.
Hope was lost at that point. Gimenez was in tears in the 86th minute. The press wasn't as eager. When you beat yourself against such an opponent, it's hard to keep believing.
Over-reliance on the Cavani-Suarez axis cost them, just like Portugal's dependence on Cristiano Ronaldo cost them. There was no other goal threat.
Uruguay's full-backs did not push up to support the attack. Los Charruas looked alright till Varane's goal. Then they began to doubt themselves. Martin Caceres had a great header saved by Lloris and Godin failed to tap it home from three yards. That was the only clear-cut chance Uruguay created. They should have taken it. Still, you cannot expect to beat France with just one goal.
In the end, however, it came down to confidence. Uruguay's famous resolve proved more fragile than most believed. It will be a long way back. Tabarez is 71 and in failing health. Giodin is 32, Caceres, Suarez and Cavani 31. This is likely their last World Cup. Over the next four years, it will be a struggle for Uruguay to maintain their standing and identity. Maybe it was time, rather than France, La Celeste could not defeat.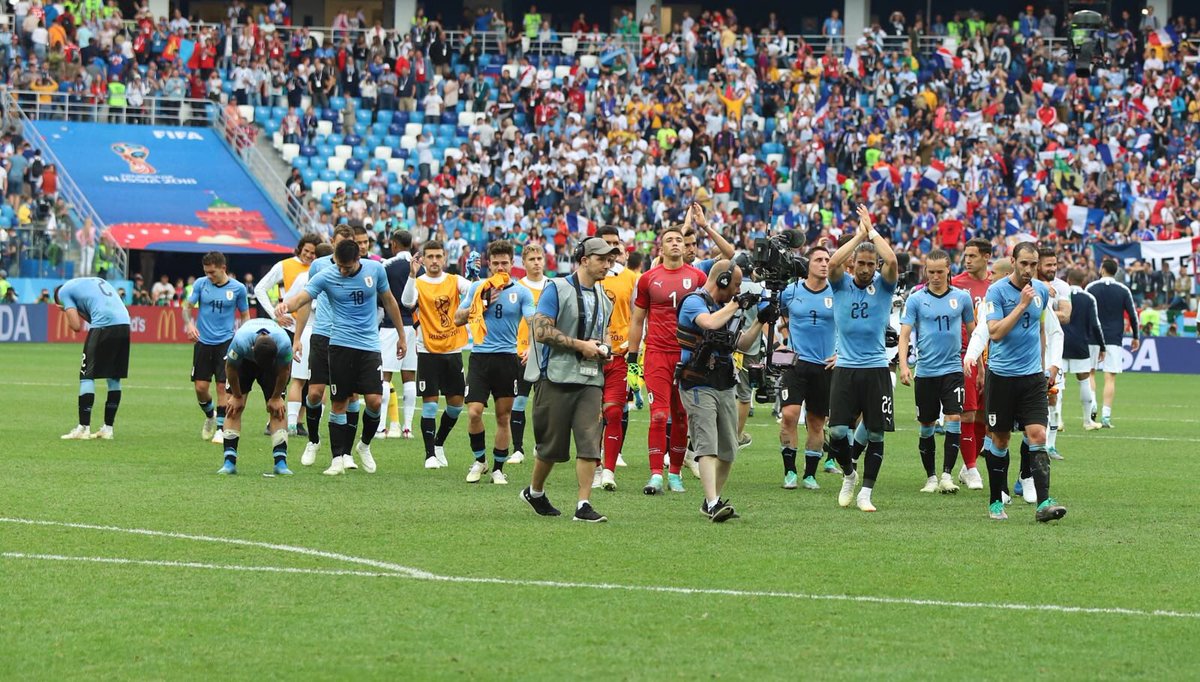 I thank everyone for helping us not to miss anything (MEDICAL PEOPLE, UTILITY AND KITCHEN). We gave the most we had to fulfill the dream, we couldn't make it but we feel great SATISFACTION FOR ALL THAT GAVE THIS GROUP AND COACHES!Vamos Uruguay TODAY AND ALWAYS! 🇺🇾🇺🇾🇺🇾🇺🇾
https://t.co/PddeM6QHpX