Watford must tread carefully against hungry Wolves at Wembley
The biggest game in Watford's season awaits them at Wembley. Eying an opportunity to recreate FA Cup history, the daunting Wolves pose a stern roadblock in their path to paradise. However, having fought so hard to reach the podium, there's no going back.
Javi Gracia revolutionised football at the humble club. Yet his scariest challenge awaits in front of eighty thousand roaring fans. The Spaniard made the Hornets gain a reputation for playing fast-paced, attacking football. Using the same philosophy against a cunning side like Wolves could bring unprecedented repercussions.
While he had Nuno Espirito Santo's number the last time they met, repeating the same isn't easy. The Portuguese' moved on with the times to change up his tactics, the Spaniard also needs to pull out a special trump card. He cannot risk a typical possession based, free-flowing style and expect an easy win. If the Wanderers' recent victories against Manchester United are any proof, they crave for opponents to gain superior possession and consequently dance to their tunes.
Indeed, The Golden Boys have to go with a much more cautious, intelligent approach to come out on top. For one, they should remain extra careful when dealing with Wolves' menacing attacking duo. Raul Jimenez, Diogo Jota's partnership is booming, with their telepathic understanding, dangerous movement able to carve up any defence. Adrian Mariappa and Craig Cathcart need to show solidity in disabling the attacking duo from capitalising on offside traps or sailing through on goal.
Etienne Capoue has to sit ahead of his defence, protecting them with his ball-winning ability. He needs to be extra careful tracking his oppositions' overlapping runs, bullying them out the game. However, Abdoulaye Doucoure's presence is even more vital. A prime skilled individual, Doucoure needs to stamp his authority with his relentless nature. Primed to drive the Yellow Army forward, he sparks counter-attacks as well as powering his way past midfielders.
In an expected intense midfield battle, Watford's midfielders have to remain grounded. Against a 3-man pack, they'll need to track their movement better, make interceptions, stop their flow through their middle to catch them napping on the counter-attack. Ruben Neves and Joao Moutinho are both extremely creative as well as dangerous in the final third, as the 'Orns can't allow them much space to threaten through.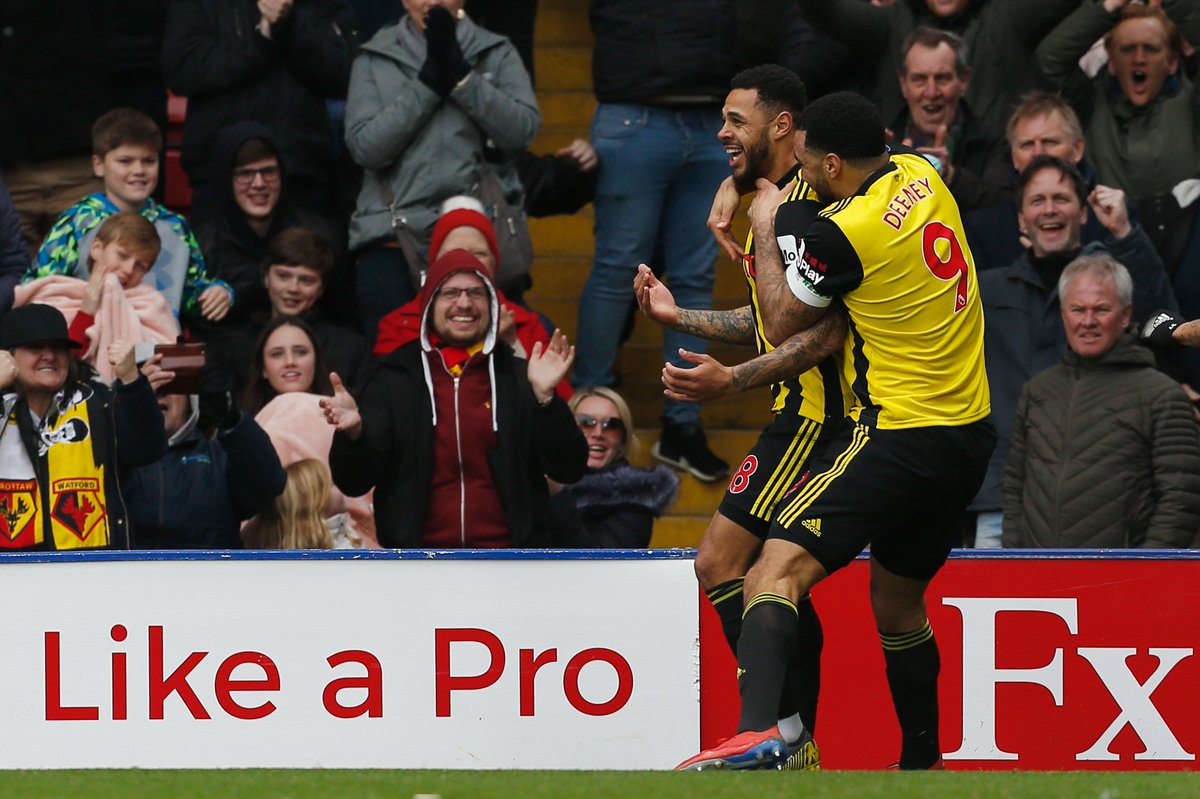 Watford have reached the semi-final of the FA Cup for only the 7th time in their history.
✓ 1970
✓ 1984
✓ 1987
✓ 2003
✓ 2007
✓ 2016
✓ 2019
Wembley bound. 👏
https://t.co/G0tjs69Jxc
Gracia should replicate his tactics which worked wonders against Crystal Palace in the last round. By playing the creative 4-2-2-2 formation, they're scope for playing different styles magnifies. In a unique display, The Hornets allowed the Eagles to enjoy superior possession, yet swift counter-attacks, incisive moves forward helped them create more chances to eventually nick the game. Similarly, they should allow Santo's men to dictate the tempo, pouncing on their errors to move forward in numbers to cause chaos.
However, for that, they need to be commanding with their defending. Not only the usual suspects but even captain Troy Deeney will have to peg back to help his side avoid danger. Error-prone Heurelho Gomes cannot be risked. Ben Foster needs to show his experience to sustain the unrelenting shots thrown at him. Moreover, the Golden Army have to procure ruthlessness in tucking away their created chances.
They've already proven their effective counter-attacking mechanism, scoring some swift goals from out of nothing. Doucoure marauds them forward, yet Roberto Pereyra's panache and Will Hughes determination are key to breaking the Wanderers' stubborn defensive shape. To break open their unmovable opponents, their devilish front-two hold the key. The incisive movement, link-up play between Deeney, Gerard Deulofeu is key towards destabilising their defence as well as opening spaces for Watford to pry on.
However, signs of complacency can result in disaster. Watford cannot be overeager on dominating the game or being desperate to gain the winner. It's possible a two-hour long encounter. Javi Gracia needs to take into account its longevity and preserve energy. Going in as underdogs, the Hornets cannot afford the ghost of 2015 to haunt over them. A road to redemption awaits against a hungry Wolves side, beyond which awaits in an elusive FA Cup final berth.