What awaits Bury in the North West Counties League?
Bury's new life, if it comes into being, will be vastly different...
Background image: Martin Thirkettle, CC BY 2.0
A phoenix club, Bury AFC, have applied for a place in the North West Counties League. But what can they expect if they do start in the ninth or tenth tier of the English football pyramid?
The North West Counties League has divisions at two steps in the non-league game, but compared to League One, this will be a six or seven league drop for The Shakers.
I saw my team Darlington plunged into the ninth tier of the game in 2012 following financial struggles. That's the same level that Bury AFC are hoping to play in next year. While on the surface it might all seem bad, the truth is they have a lot to look forward to from my experience. Here are some of the good and bad they'll face in the 2020/2021 season if they are placed in the North West Counties League...
Local games
While every club has a host of die-hard fans that go to every game home and away, for the majority of fans, it's simply not possible for one reason or another. Last season in League Two, Bury faced lengthy trips to sides such as Yeovil Town and Exeter City. Being deep into non-league the divisions are much more localised. The North West Counties is based almost solely around Manchester and Liverpool. It means for the majority of Bury fans they could see their team play close to home week-in-week-out and for the groundhoppers among Shakers supporters, it's a new 20 stadia that could be ticked off the list.
Winning
Bury were able to achieve promotion from League Two last season, but unless you support Liverpool, winning every week is a rare occurrence for fans. However, it's likely that if Bury start again near the bottom of the ladder the spending power alone should see them achieve victories more often than not.
As much as fans of clubs nearer the top of the English game won't admit, dropping down and having that winning feeling, regardless of opposition, is pretty good. Darlington found that. Hereford are another. The Bulls managed to get past the 100-point barrier three seasons in a row and even at the top Newcastle United fans have had huge feel-good factors in both of their Championship promotion seasons. Winning is never dull.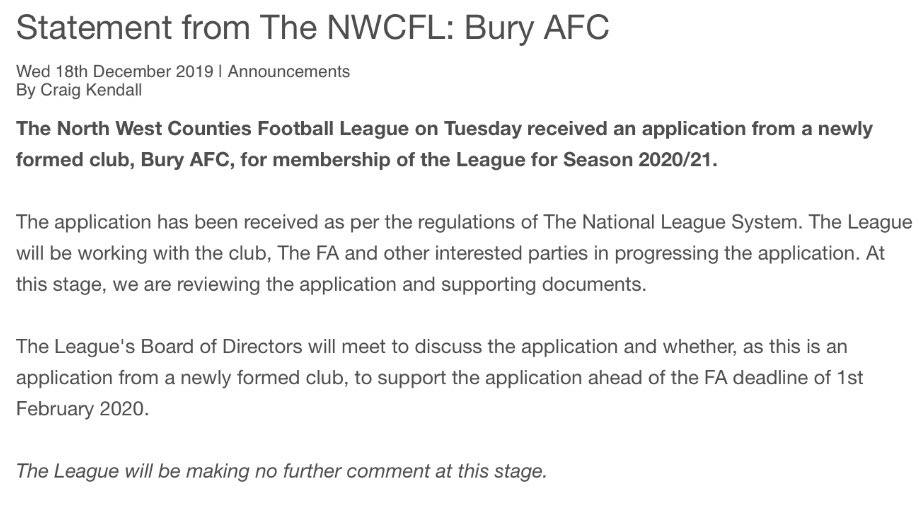 BREAKING:
Bury AFC have applied to join the North West Counties League for next season.
The leagues sit in the 9th & 10th tier of English football.
Full statement from The @
NWCFL
:
https://t.co/iStXcz4HER
Cup finals every week
One thing that's guaranteed is Bury AFC will be travelling to club's who normally might only get 100 or 200 people at their games on a very good day. Despite best preparations, some will simply not be able to cope and their facilities certainly will not!
There is bound to be some exceptions, but on the whole they will get a great welcome. For some of the local sides, fixtures vs Bury will make them more money from one game than they have made in years.
While off the pitch is one thing, on it is another matter. Whoever plays against Bury it will be their cup final, big crowds, more media attention and players who'll want to knock them down a peg or two. Opposition teams will be filled with ex-pros, non-league journeymen and youngsters trying to move up in the game. Every game they will have eleven men who'll want to get one over on an established club.
Looking forward
There is still plenty in the air. The current club run by its controversial owners are still are in existence, hoping to be placed higher up the pyramid and back into League Two for next season. The new club just want to be playing under their own ownership and if they have a league place confirmed, they have ample time to get all the other plans in place. One of which would where they would play their home games, but having a place in a division needs to come first...
If the phoenix club do start again in the North West Counties League it will be a different world from anything any Bury fans have seen before, but having been through similar with Darlington, those fans will enjoy the ride more than they could imagine. It's a long, tough road back, but if their fans stick together they could do it, just ask AFC Wimbledon...