What does Toni Kroos' resurgence mean for club and country?
Background image: Terry Kearney
Germany's shock World Cup elimination in the group stage confirmed the regression among the nation's ageing stars. In an act of self-preservation, manager Joachim Low visited the Allianz Arena to inform three Bayern stars, Mats Hummels, Jerome Boateng and Thomas Muller, that their services were no longer required. Despite the midfielder drawing much of the criticism for the failure in Russia, the boss did not continue on to Madrid to deliver similar news to Toni Kroos.
The match-saving winner against Sweden wasn't enough to save Kroos' blushes. It was the only impact he made on three matches. Doubts surfaced. Could he provide the influence required in the middle of the park for die Mannschaft's next generation? In the Spanish capital, a sizeable share of Real Madrid supporters wondered the same regarding their club.
Some wanted him out. Paul Pogba became the object of their desire. The rumour mill worked overtime but, with the odds stacked against him, the 29-year-old silenced his doubters with a spectacular turnaround.
He took more control, dictated tempo and proved he was still the complete package in midfield. Between club and country, he's contributed ten goals. He laps teammates at the Santiago Bernabeu with three key passes per game [WhoScored]. Fans praising Karim Benzema's resurrection can thank the Merengue's No.8 for providing precise through balls.
More aggressive, Kroos can be found lingering around the penalty area looking for shooting opportunities. Goalkeepers cannot relax when he puts boot to ball from 25 or 30 yards out. As well, his set-piece prowess continues to create an ample number of opportunities.
As with Benzema, the rest of Real Madrid's attacking players and Germany's can enjoy the freedom to express themselves, knowing the puppetmaster will pull the strings that create gilded chances for them.
At the international level, Kroos ranks among Jogi Low's most senior figures. Yet, the veteran looking 30 in the eye rarely shows exasperation with the young talent surrounding him. By developing an understanding with the likes of Joshua Kimmich, Leon Goretzka, Kai Havertz, Julian Brandt and Serge Gnabry, he's both passing the torch and keeping the fire burning.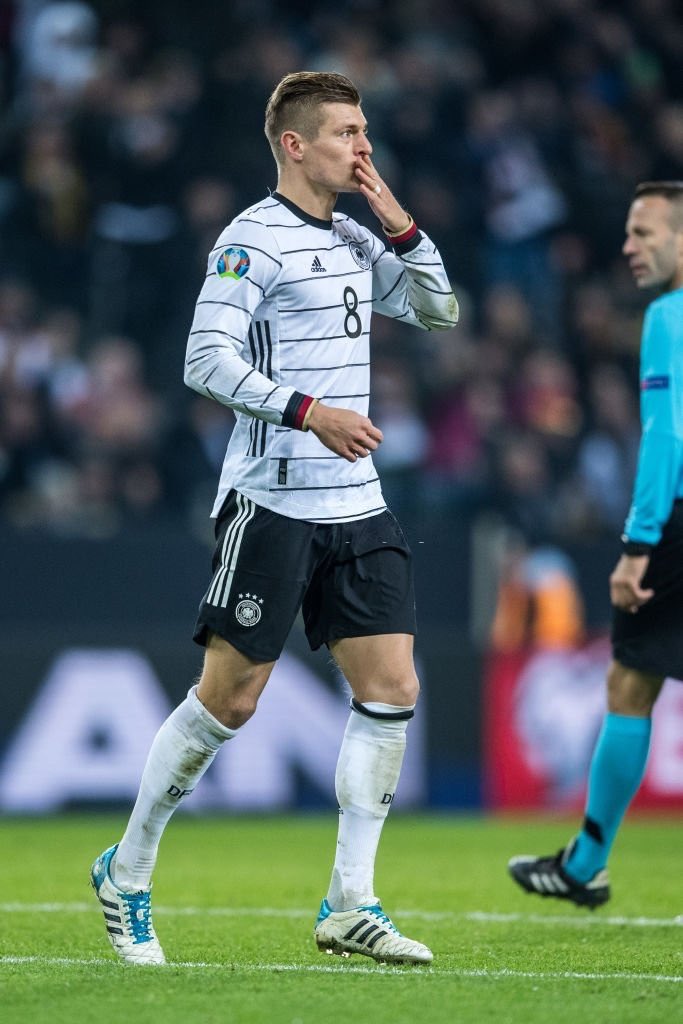 Toni Kroos' game by numbers vs. Belarus:
6 accurate long balls
5 chances created
5 shots
2 goals
1 assist
Complete performance. 👏
https://t.co/YMB2m0t7OM
Kroos' even temperament teaches younger players how to cope with pressure situations, to resist the urge to panic, calmly find the correct pass and execute it with confidence. When youngsters arrive at training to find him already working on some aspect of his game, they are challenged to raise their commitment level. There's a reason Low calls him the "consummate professional".
In March, he didn't seem to be, shrugging off criticism as part and parcel for someone so successful. He made the point that his game isn't meant for lung-busting runs and hard tackles. But, whereas some players wouldn't accept the challenge, Kroos' pride was stung. His tackling and interception rates are on the rise as he makes an effort to be more involved out of possession as well as in it. A midfield master himself, Real Madrid boss Zinedine Zidane can only approve.
Kroos' evolution does give Zizou a selection headache. Should he sacrifice Luka Modric to make the German his primary orchestrator? At 34, the Croatian can't cope with an elite club's gruelling schedule anymore. Inter's flirtation hasn't helped the World Cup hero focus either. With Federico Valverde also waiting in the wings, moving the Ballon d'Or recipient may be the best option.
At this point, both Real Madrid and Germany invest in youth. Each is happy to have a leader like Toni Kroos serving as a mentor.