What has gone wrong at Barcelona?
Despite boasting a seemingly insurmountable 4-1 advantage over Roma in the Champions League quarter-finals, Barcelona came crashing down in completely unexpected circumstances. They lost the reverse fixture 3-0 away in Rome. Goals from Edin Dzeko, Daniele De Rossi, and Kostas Manolas stunned the Catalans, knocking them out at the quarter-final stage for the third tournament in a row.

Most Barcelona fans and even neutrals have been sceptical about the expectations surrounding the team this term. Ernesto Valverde's style of play has not been in sync with the model that made the team so successful in the past decade. What could have gone wrong at the Camp Nou? Here are three possible explanations.
The board
The Barcelona hierarchy is not an ideal group. Club chairman Jose Maria Bartomeu is not the most likeable character in Catalonia. Many fans believe he has moved the club away from the La Masia mantra of developing academy players and that his new transfer policy has not worked. The Blaugrana buy established players at premium prices without actually considering whether they are the right fit for the club.
Barcelona have splashed out cash on the likes of Phillippe Coutinho, Paulinho, and Ousmane Dembele. Paulinho has contributed eight goals and two assists in just over 2,300 minutes for the club. Involvement in one goal every 230 minutes is hardly impressive for a midfielder on any team. On Barcelona, it is disappointing. Coutinho has put up better numbers with three goals and five assists in 976 minutes. Valverde seems reluctant to use him, however. Dembele has lost too much time to injury to fairly judge his impact. He has potted one goal and created six in 773 minutes. People want the goals he scored at Borussia Dortmund but Barcelona is not a direct counterattacking team.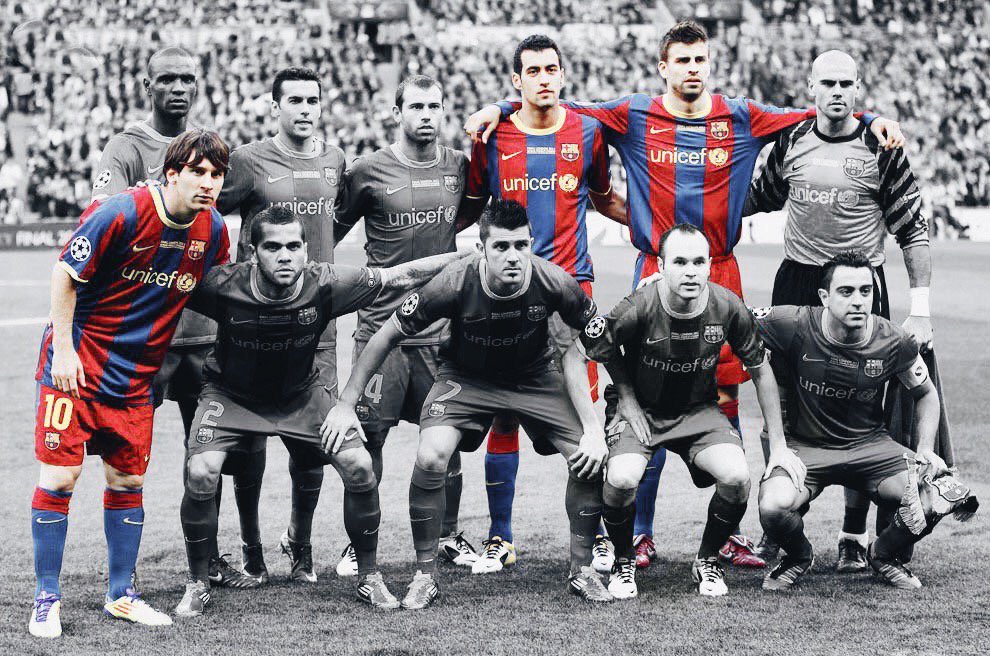 This is so sad. Iniesta, captain, legend. Undoubtedly the greatest midfielder of all time, accompanied by Xavi.
This isn't just sad for Barcelona. A whole generation of football is about to end - maybe the greatest generation there has been.
Brings a tear to my eye.
https://t.co/2jglsQE9Pb
Addicted to Messi
In the Champions League this season, Lionel Messi has scored six goals. No other Cule has more than one. The Catalans have benefited from opponents scoring five own goals. That admittedly skews those numbers a bit, but the gap is significant nevertheless.
When Messi doesn't play well, Barcelona do not play well. The first leg against Chelsea proved that even though Andres Iniesta teed him up for the equaliser. The second leg against Roma drove the point home. Luis Suarez has not stepped up when it mattered this term. Neymar's absence is keenly felt. The Brazilian would have weighed in with a fair amount of goals and assists by now. Instead, he went off to strut his stuff in Ligue 1.
The manager
Ernesto Valverde is not the archetypal Barcelona manager. Hs playing style is more pragmatic than the traditional method at the Nou Camp. His failure in the Champions League will be compensated with a La Liga and Copa Del Rey double. At Barcelona, that is not enough. Bitter rivals Real Madrid continue to steal a European march on the Catalans, a bitter blow for everyone associated with the side.

The obsession to go the entire league season without tasting defeat has affected Valverde. He has not given the top players enough rest between matches to recover. Messi, Iniesta, and Suarez look tired in Rome. That sounds like an excuse but how else do you explain Barca's listless performance?

Barcelona will always have quality. Coutinho and Dembele should settle next season and help the club fight for the major honours. For the people that hold the club dear, however, Barcelona should be doing better now.