What has gone wrong with Olympique Lyon?
Olympique Lyon are struggling right now, but why?
The season is heading towards the midway point. Many clubs will be happy when they reflect on how they fared in the first phase of the campaign. Others will be biting their fingernails. French giants, Olympique Lyon belong in the second category.
Les Gones enjoyed a decent run last season. They impressed on their way to reaching the Champions League last sixteen, with their 2-1 victory over Manchester City a particular highlight.
Lyon also finished third in the Ligue 1 table with 72 points, which ensured their continuity in the tournament for the 2019/20 term. A strong finish gave the fans some encouragement that the French giants could kick on this time around.
A busy transfer window followed. Some superstars departed, others came in. Jeff-Raine Adelaide, Joachim Anderson, Thiago Mendes, Youssouff Kone, and Jean Lucas are some of the notable names that arrived at the Groupama Stadium.
New manager, Sylvinho, who took over from Bruno Genesio in May - certainly has a competitive squad at his disposal. The expectations rose high when the Brazilian led the club to a 3-0 victory at Stade Louis against AS Monaco to kick things off. Another impressive result followed as they battered Angers 6-0 at home to reach the Ligue 1 summit after two matches played.
However, the road wouldn't continue to be a smooth one as they learned in their next fixture. Reality struck when Lyon visited Montepellier, with the hosts putting in a resilient display, handing Sylvinho and his squad their first loss of the season. The game finished 1-0. To compound the situation, Lyon followed up that defeat with back-to-back draws against Bordeaux and Amiens. Then, they'd take on Paris Saint-Germain and lose that fixture 1-0.
That was followed by two straight draws against Bordeaux and Amiens before Paris Saint-German handed them their second loss of the term. Things kept moving in the wrong direction. After winning just two of their first 11 Ligue 1 fixtures and finding themselves in the relegation zone as a result, the club decided to part ways with Sylvinho.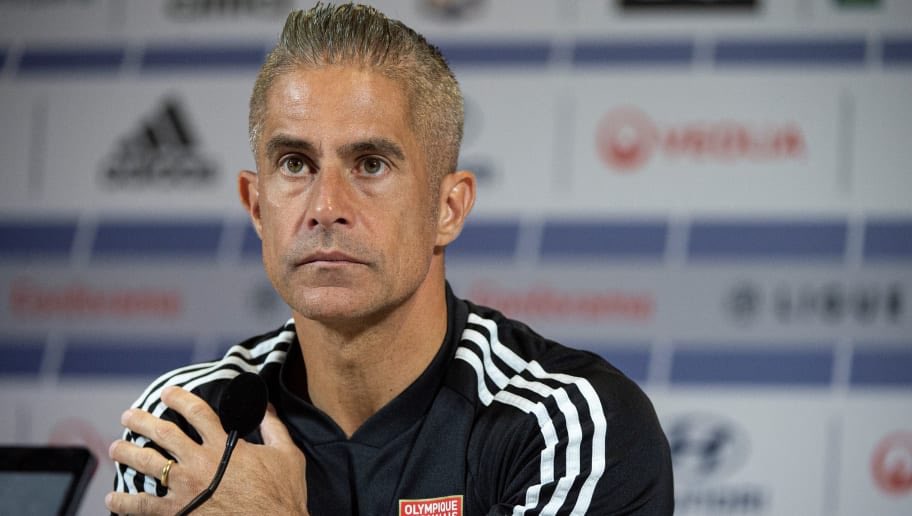 Rudi Gracia was brought in to replace the Brazilian. There was a little sigh of relief when the manager won his first two games in charge, but the 2-1 loss to Marseille suggest the underlying problems are still persisting. At this stage, one could be forced to wonder where it all went pear-shaped for Les Gones.
To start with, it must be noted that the team lost significant strength before the season kicked-off. Their best player, Nabil Fekir, left for Real Betis while other key figures such as Tanguy Ndombele and Ferland Mendy also departed the Groupama Stadium.
Letting go of Bruno Genesio at the back, particularly after an impressive campaign, also doesn't look like a wise decision. Moreover, the appointment of Sylvinho was a huge gamble. The Brazilian didn't have any experience as a first-team coach and that move definitely backfired. The closest he came was acting as an assistant manager to Tite in the Selecao setup.
Sylvinho was brutally exposed, even during pre-season. Lyon lost to newly-promoted Swiss Super League club, Servette, and were also humbled by Genoa in their first two fixtures. There were plenty of complaints amongst fans, most notably surrounding the style of play.
The full-backs were restricted from penetrating into advanced areas. The two wingers, Memphis Depay and Adama Traore, were also told to move inside - which denied striker Moussa Dembele quality service from the flanks. It seemed inevitable that several poor decisions were going to cost Sylvinho his job.
Even the appointment of Rudi Gracia is debatable; at least as it appeared to the fans who revolted against it. Giving the nod to a manager who just concluded an embarrassing outing with Marseille still doesn't seem like the wisest strategy.
However, with two victories and a draw from his first four games, the club should give him some time to see if the positive results can continue. At the end of the day, football is a results business. Failing that, Lyon will be forced to search for their third manager in twelve months, while the likes of Laurent Blanc and Arsene Wenger both look like attractive options. All the pressure shouldn't be on the manager, though. The players have to take some responsibility...