Could Mourinho ever play against type?
This is an exercise in futility. When Jose Mourinho reviews the final 20 minutes from the Newcastle match, he won't think maybe, just maybe, Jurgen Klopp and Pep Guardiola are onto something and he has the talent in-house to experiment along the same lines.
No. He'll keep rewinding that delivery into the box when Mo Diame fluffed a free header that should've provided the Magpies' third. He'll burn it into his mind it can't be allowed to happen. It would've strangled all the belief from his squad, he'll say. Had it gone in, he'd probably be sorting his CV rather than watching the miss with nihilistic obsession.
When he sees the moment at which Paul Pogba stopped playing defence, he'll reach for his blood pressure medication. Newcastle won the ball, springing instantly into counterattack. The Frenchman was in their half, near the left touchline. As the ball travelled up the far flank, Chris Smalling stood alone in the middle in United's end. Nemanja Matic and Ashley Young were falling back, albeit yards to either side. Toon had acres to exploit while Pogba walked back, confident Smalling would handle the problem.
He did, little as it matters. Mourinho must be justifiably livid his no.6 wasn't rushing back to his teammate's aid like Gandalf on Shadowfax, descending on Saruman's orcs in Helms Deep with the light of righteous wrath burning in him and the Third Mark at his back. Okay, I don't know if Jose's into Tolkien, but that's the level of urgency in tracking back he expects from his attacking players. I know I was screaming at Pogba to get on his horse.
Again, Mou will repeat in his mind; those situations should never be permitted. Being caught up the pitch in attack against weaker sides is an acceptable risk for Jurgen and Pep. Both are supremely confident their sides can peg the goal back to restore their dominance. Mourinho lacks such faith. If you gave him a combined XI from his squad and theirs designed to attack without mercy, he'd still demand they prioritise defensive responsibilities. It's who he is. You'd have as much success expecting a hobbit to hand you the plates from the top shelf as witness the Portuguese come out of his shell.
Here's the thing, though. The last 20 minutes against Newcastle revealed the most talented XI in Mourinho's current squad are sufficient to dominate the Premier League. Without realising as much, Jose admitted it.
In his post-match interview with BT Sport, amid the "manhunt" metaphor that kept the focus on him, he revealed his talk with the team.
We did not promise to each other that we're going to win the match because you cannot promise that. We promised to each other that we are going to give absolutely everything without any fear, without any pressure, just the pressure of give everything and, of course, they gave everything. I don't want to say we were lucky because I think the boys, they deserve.
The boss may not want to say United were lucky but he's thinking it. Even now, he's questioning whether Pogba gave everything, among other concerns. The best that can be said is he's keeping such thoughts away from the press, as he should.
On the other hand, Mourinho isn't thinking about what his instructions meant to the squad. "Give absolutely everything without fear, without pressure."
An interpreter might tell him what the players heard. 'Don't worry so much about your responsibility. Do your job but also trust your instincts. Believe in each other. Be there for each other.'
Taken in that context, Mourinho granted the freedom so many critics complain he withholds from his players. He let loose his dogs of war. Roaming the pitch at will, they rained terror on Rafa Benitez's hitherto organised defence.
Chances went begging at first, following the restart. Regardless, Pogba distributing the ball from centre-half was a revelation. Yes, I know Mourinho said the role suited him in 2016.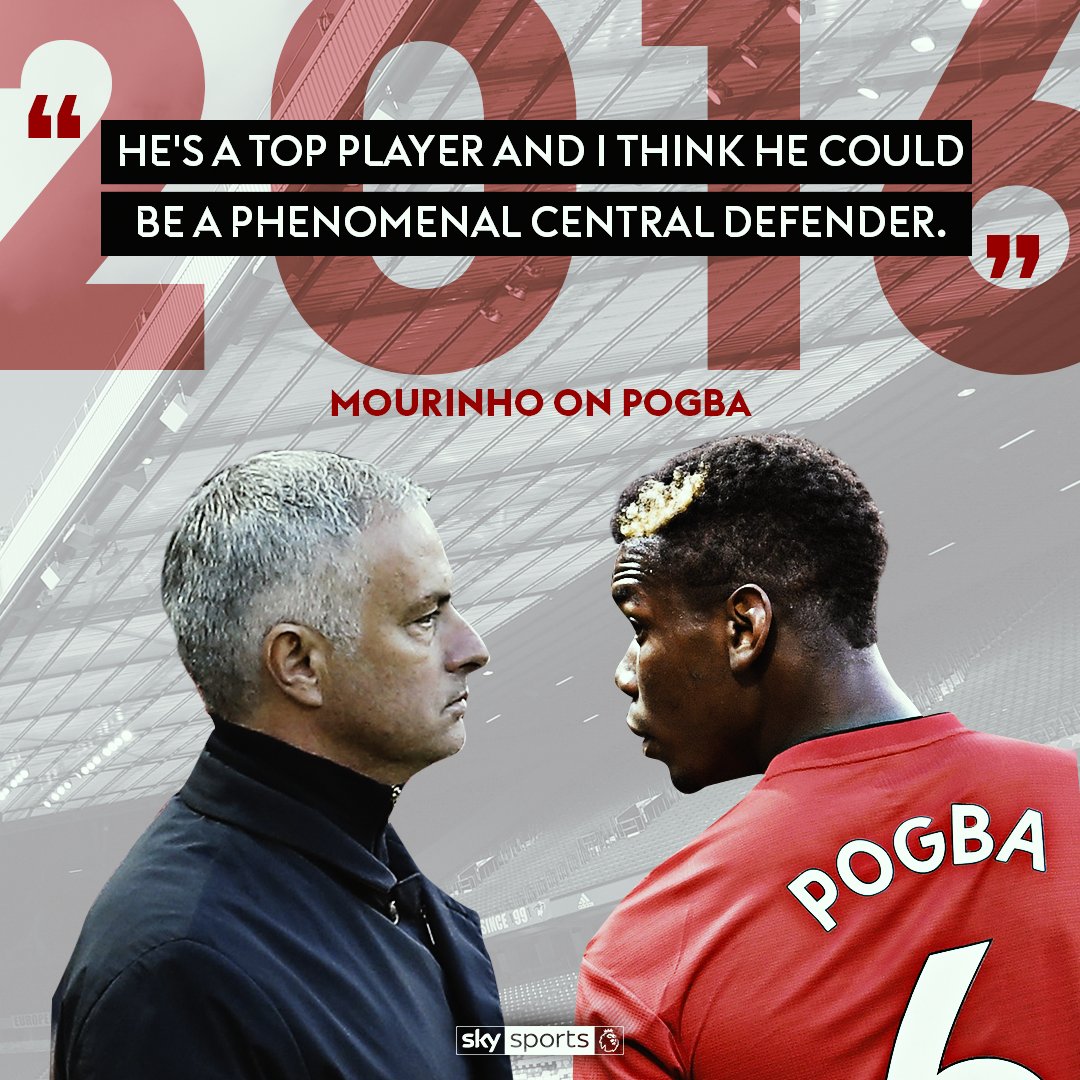 2016 - Mourinho says Pogba has all the attributes to be a centre-back...👀
2018 - Pogba plays part of the game at centre-back for @
ManUtd
as they beat @
NUFC
! 👊
What a shout! 😂
https://t.co/kr5zR6b3Ba
With a precise 40-yard pass here, a triangular keepy-uppy with Matic and Smalling there and a run up the pitch when the Magpies began to retreat, United seized control through the Frenchman.
Then Juan Mata's free-kick opened the floodgates. Not on Newcastle, however. The perfect strike allowed belief to rush into the United XI.
Reading the scene, Pogba moved up into his preferred place on the left. From there he worked a movement with Luke Shaw and Anthony Martial, ending with the other Frenchman cutting inside, parallel to goal, accepting his compatriot's backheel and unleashing a near-post volley that stunned Toon keeper Martin Dubravka.
Matic dropped into the left centre-back role. Ashley Young shifted between right centre-back and wingback with Marouane Fellaini a box-to-box force ready to provide cover. Juan Mata pulled strings as either the midfield diamond head in a 3-4-3 or from Fellaini's left when in a wider phalanx.
Finally, on the brink of added time, Alexis Sanchez put his head to an Ashley Young cross, completing the reversal. He and Romelu Lukaku rotated between the central forward's role and the right flank.
At one point in the second half, before Martial equalised, Mourinho dropped to his knees in the technical area, begging the Frenchman to play better. Granted an audience with the Special One, I'd do the same, pleading he play this lineup with this mentality every match from now until he's sacked.
There'd still be defensive problems; that I don't doubt. The system only works because one centre-back, Young on the right, joins the attack while leaving two, Smalling and Matic, behind. Against more dangerous sides, that's a big risk. Most opponents would be far more preoccupied protecting their goal for the full 90's majority to exploit them, though.
When United sit back as they so often do, it invites the probing that allowed Newcastle to score twice in the first ten minutes. They've already shipped 14 goals in their first eight games. Jose can call this approach insane but I'm with Albert Einstein, who [sort of] defined the term as persisting with the same failing tactics while expecting results. Change is needed.
The manager's centre-backs are failing him. Ed Woodward won't replace them. At long last, Jose replaced them with an XI designed to make opponents think three or four times about leaving their defensive third. One of us is willing to believe that might work as the primary plan. Unfortunately, it's me.
Mourinho's going to ask where I expect everyone to play and how I'll convince Paul Pogba to remain at centre-half for an entire match? No one can, it's true, but that's the beauty in this particular group. When freed from rigidly assigned roles and patrols, there's an interchangeability that recalls Dutch total football. The last 20 minutes against Newcastle answered where they'll play: where needed.
There are risks.
Young's pace is no better than Antonio Valencia's, but the Ecuadorian's lost all interest in crossing into the box. Happily, it's a transitional role. Diogo Dalot waits in the wings.
Mata lacks pace [and size] to respond effectively to counterattacks, as well. Expect Fred to push the Spaniard for playing time as he acclimates to the English game. He's a set-piece wizard, too, although Old Trafford's yet to witness his magic.
Jesse Lingard and Marcus Rashford will be the impact subs, injecting pace as defenders tire. Eric Bailly and Victor Lindelof are left to prove themselves in FA Cup matches.
It's a system with loosely defined roles that'll require tightening against top opponents. Fellaini and Pogba's movement without the ball is critical to its success. Mourinho might trust the Belgian to handle the responsibility. Pogba's another story.
As I said at the outset, it's an exercise in futility, but seeing United play with such abandon consistently is a wonderful dream.