What is Maurizio Sarri doing differently with Eden Hazard?
Eden Hazard always seems to fall short of one thing when discussions about the best forwards in Europe is raised. He just doesn't score so many. Added to the fact he hasn't won any major European trophy bar the Europa League, the Belgian has remained on the fringes of the Ballon d'Or nominees since his burst to limelight in 2010.
In 2012, Hazard arrived Chelsea with much grandeur. Prior, he had turned down advances from Manchester City and Manchester United to sign for the then Champions League holders. Famed for his trickery and dribbling nous, Hazard was touted to lead Chelsea into a golden era of European dominance. That bit is yet to happen.
Flashes of brilliance have never been beyond Hazard. Chelsea fans and in fact those of the entire Premier League have on numerous occasions been beguiled by his fine displays. Howbeit, the Chelsea star has never truly been prolific when compared with his contemporaries – Neymar and Cristiano Ronaldo. We're yet to witness Hazard score 20 goals in a season. He's never notched more than 16 in a League campaign either. At one point between 2015 and 2016, he went 29 League appearances without registering a goal.
One man has started the 2018-19 season quite brilliantly for Chelsea. Hazard has scored five and assisted a couple in the League after his first quintet of games. Since joining Chelsea, the 27-year-old has played under five managers prior to Maurizio Sarri. This prolific start is the best he's had since moving to London.
Every Chelsea manager since Roberto Di Matteo had been tasked with getting the best from Hazard. It's normal with football nowadays: new managers are responsible for mining the best from their best players. In the case of Hazard, no manager has really refined him into a poacher. His tremendous performances aside. Under Sarri, though, Hazard's demeanour is changing. Early days or not.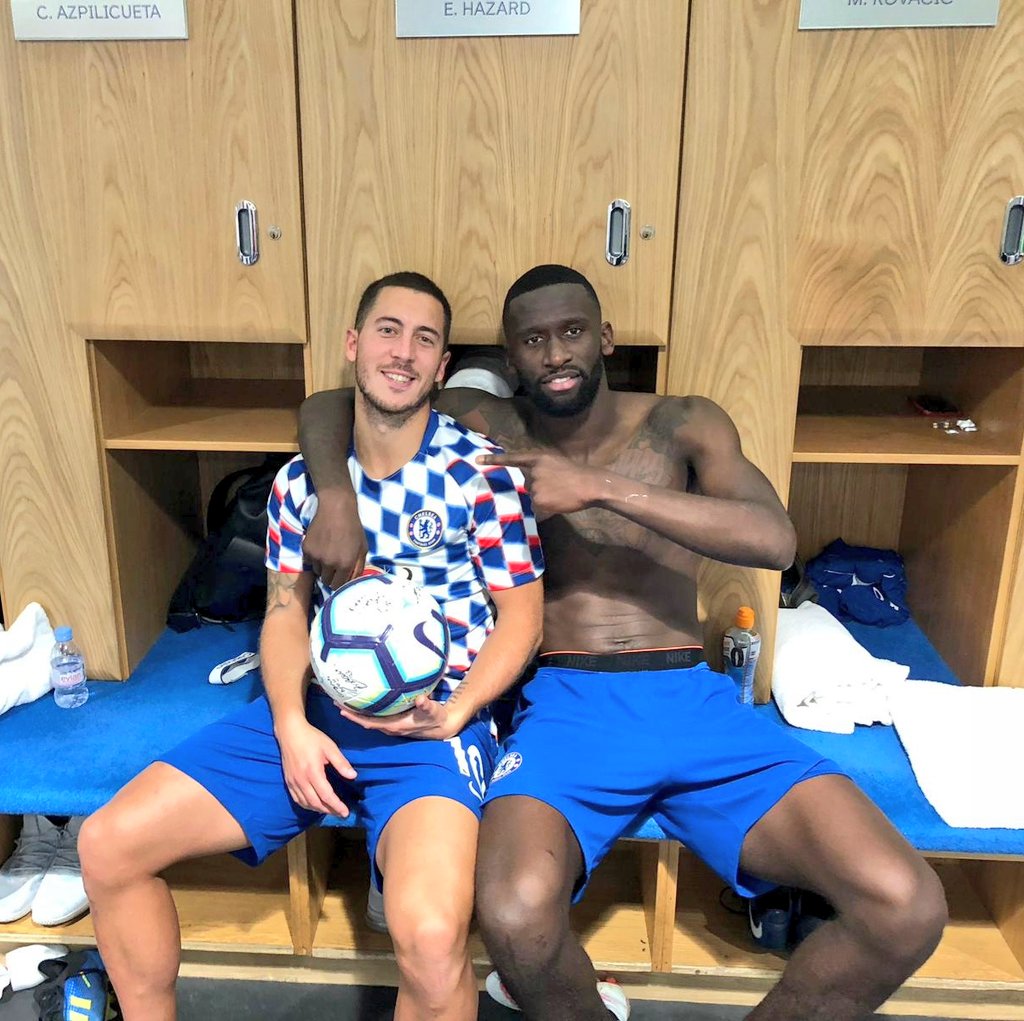 Following his match-winning display against Cardiff, Sarri asserted he was wrong in thinking Hazard was one of the best in Europe. The Italian now feels Hazard is the best forward in the continent. Furthermore, Sarri thinks his star man can score 30 or 35 goals this season. Both perspectives are somewhat outrageous. The second, however, looks more achievable.
It all makes one wonder what Sarri is feeding Hazard.
Besides Antonio Conte and Jose Mourinho (who almost turned Hazard into a defender) the Belgium captain has always been given the freedom to roam in the final third and do as much damage as he can. It hasn't really resulted in him scoring so many. His best goalscoring season with the Blues was in 2014-15. He found the net 19 times but did it in 52 games. It helped Chelsea win the Premier League that year. Hazard could play half-a-century games in 2018-19. That gives some credence to Sarri's second assertion. More game-time would mean more chances to score.
As can be seen already, Hazard isn't tasked with any defensive duties under the new Chelsea boss. Sarri opined he wanted the winger to spend less energy in midfield. The idea is to get the best out of the superstar in the final third.
The former Napoli coach deploys an all-out attacking style that favours beautiful interchanges, marauding runs and ceaseless pressing which Hazard thrives in. With 3,757 passes completed – the most in the League – Chelsea has never played such attractive football since the days of Luiz Felipe Scolari. It looks like Hazard's reaping the most from Sarri-ball.
The major bane for Hazard has always been consistency. Those blackout periods have always haunted his career and denied him European recognition. If he can overcome that under Maurizio Sarri then Eden Hazard would be for Chelsea what Mohamed Salah was for Liverpool last season. If that happens, a big thumbs up must go to the gaffer.