What lies ahead for Manchester City's Kevin De Bruyne?
Lifting the so-far elusive European cup could well be key to De Bruyne's career plans...
Pep Guardiola's biggest risk in a glittering career was leaving Bayern Munich for Manchester City. The gaffer felt it was worth testing his tactical nous on English soil though... It took two seasons before conquering the league and the former Bayern boss owes his success to his brilliant, jam-packed squad; but Kevin De Bruyne's outstanding quality was extremely influential.
De Bruyne's 18 assists kept City in the Champions League places during Guardiola's first season. Another 16 in the following term was enough to laud the Catalan his first Premier League trophy as a manager. The Barcelona legend capitalised on De Bruyne's quality and built a team around the Belgian, while the player established himself as City's most important with his unrivalled on-ball quality. His style was perfect for the new-look Cityzens set-up.
The Belgian's talent assures he ranks amongst the finest midfielders modern football has to offer. His excellent passing accuracy propelled him as a huge attacking threat, while De Bruyne's exceptional vision will leave you asking the question 'how is that even possible?' at least once per game. That's not all, though, as his pinpoint crossing ability adds another jewel to the crown. Whether it's high or low balls into the box, De Bruyne's passes often finds their intended target.
Dribbles and shots add to his already-stacked arsenal. He knows when to run with the ball and the exact time to release it - there aren't many better decision-makers within the beautiful game. When both in and out of possession, De Bruyne is a hungry beast. He epitomises what Guardiola football is all about and quite frankly, it's a joy to watch him play at this point in his career.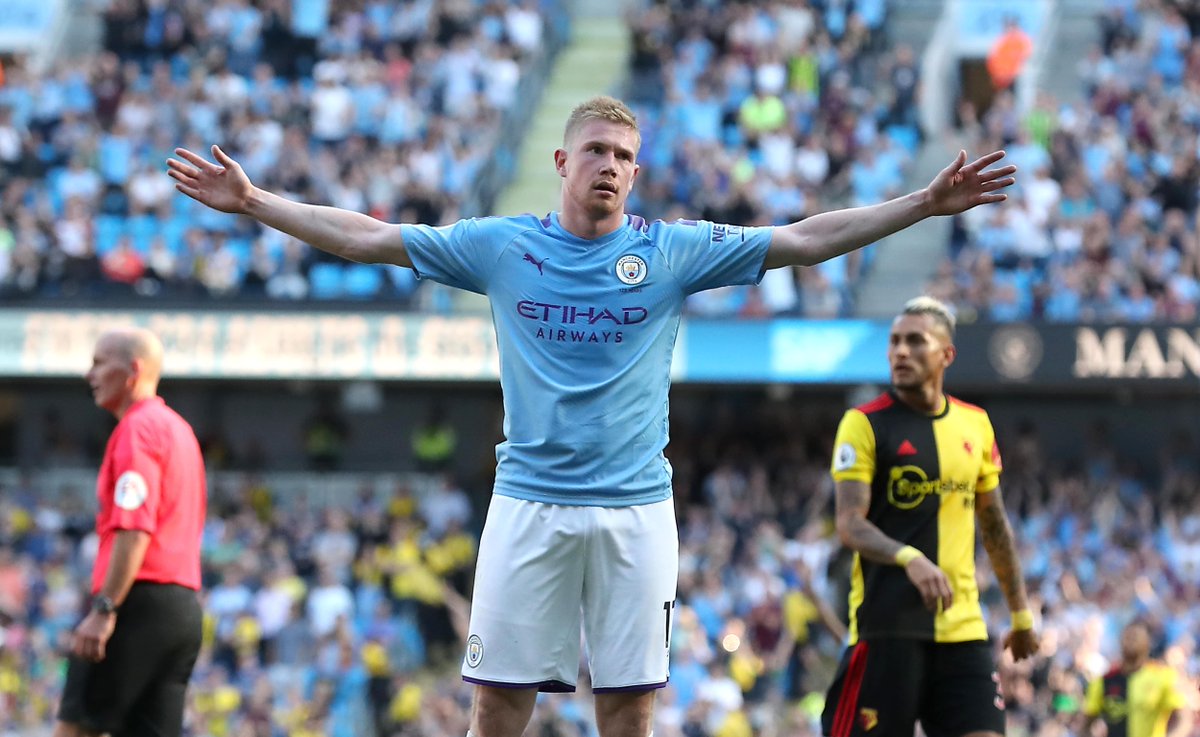 Kevin De Bruyne has now provided more than 50% of the assists needed to win the Premier League Playmaker award in 2018/19 (15).
8 assists. 7 games.
https://t.co/QRgze2eINF
Injury altered his performances last season but the free-flowing De Bruyne is back. Despite the fact that Guardiola is spoilt for choice in the middle, his main man was handed his place in the side almost instantly upon return. Bagging eight assists and two goals in just seven Premier League matches is no joke. If he continues this way, he'll break, then set the world's highest assist record.
It goes without saying, a player with this ability deserves to win major trophies year-in-year-out. With time, De Bruyne's ambitions will widen and perhaps he'll set his sights on glory beyond English shores. That's when Champions League titles and perhaps Ballon d'Or awards make their entrance...
With Lionel Messi and Cristiano Ronaldo entering their final years, De Bruyne is amongst the possible candidates to sit atop the throne when they do eventually depart. Don't forget that in 2017, The Guardian actually voted him the best player in the world after an exceptional individual season. For years, the talk has been about Neymar sitting atop the football pyramid when the two aforementioned legends call it quits - but don't forget about City's main man.
If Pep fails to bring City to Europe's zenith like with his former employers, De Bruyne will be tempted to make another move in his career with a move to Spain the most likely. La Liga's juggernauts have often been considered the most promising when it comes to chasing both individual and collective accolades across the continent. Spanish teams have produced five of the last six Champions League winners and that's exactly why Eden Hazard chose to switch Britain for Espana just this summer. Perhaps his Red Devils counterpart would look to follow suit.
Luka Modric temporarily interfered with Messi and Ronaldo's Ballon d'Or dominance just a year or so ago. Why can't another midfielder pick up that mantle? For now, nothing would mean more to De Bruyne than lifting the great trophy in City's sky blue kit, but if that isn't achieved over the next year or so, a departure from Eastlands could well be on the cards. With that move away, potential greatness could follow.
http://www.thesportsman.com/football/fixtures