What next for Leicester City defender Harry Maguire?
Well, the dream is over; for now anyway. England did their country proud. Russia 2018 will always live-long in Three Lions fans' memories. It was the year when Gareth Southgate brought relevance back to international football, as his young superstars made their mark on the footballing world.
Perhaps the biggest beneficiary from this World Cup is Leicester City centre-half, Harry Maguire. Although I'm sure The Foxes would have been watching his commanding performances with a mixture of pride and worry. They know Premier League and European powerhouses will have taken notice aplenty. The crows are beginning to circle.
Aged just 25, Maguire is nowhere near his peak. Defenders are lucky in that regard, their careers tend to be extended, particularly centre-halves, they usually exert less energy than the rest. The Englishman is already showing a maturity beyond his years, though. His tall, physical frame allows him to go toe-to-toe with the big, gangly strikers both in the air and when the ball is on the ground. The Leicester City defender is pretty quick for his size, too, and his positional awareness is near-on perfect.
This World Cup has also highlighted his presence in the opposing box. If the delivery is right, the one they call 'slab head' will always be a threat. Then, you have his willingness to bring the ball out from the back with no fear. You often find defenders cower away from moving up the field. Not Maguire. He leads from the back and he is willing to take calculated risks when the opportunity presents itself. Maguire's also a vocal leader, he will not shy away from barking orders at his teammates when under the cosh, when the going got tough against Colombia, he led by example. That's captain material.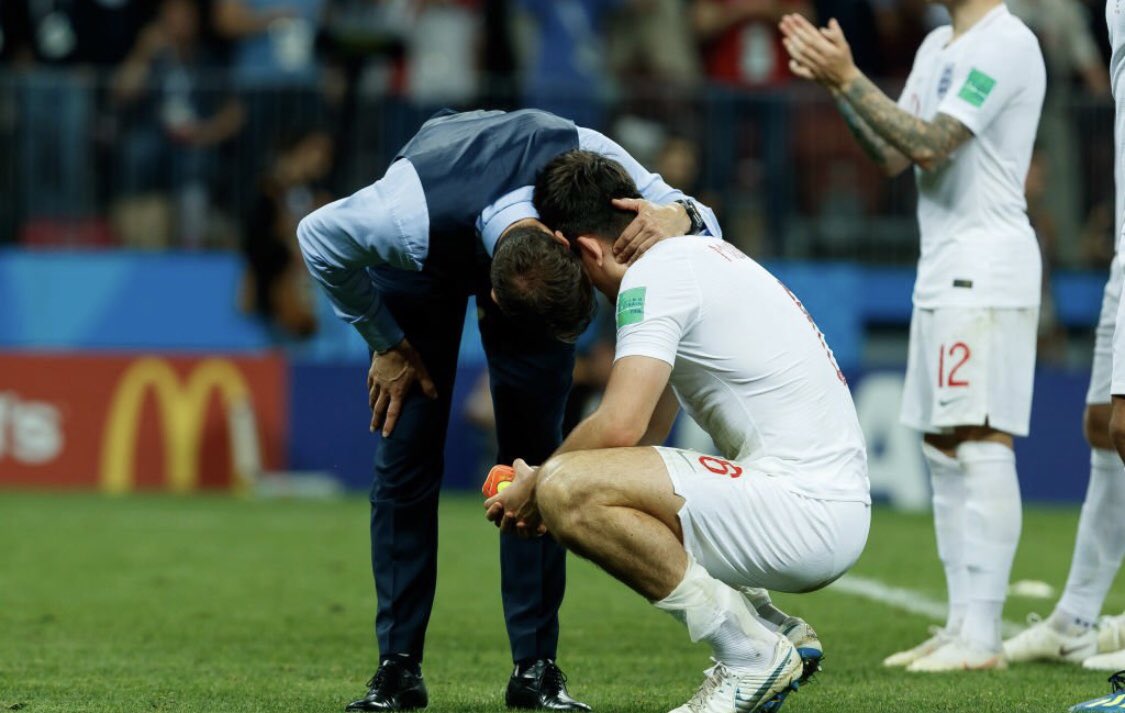 So, what next for Maguire? I'd be surprised if there aren't any bids for him between now and the season's start. I look at Manchester United, they need at least one new centre-back. Ideally, a partner for Eric Bailly. They've struggled when keeping composure playing out from their third. Leicester's #15 would improve their overall defensive outlook from day one.
Then you have to consider United's cross-town rivals. Under Pep Guardiola's tutelage, the sky's the limit for Maguire. He'd grow with each passing training session, and his on-ball ability would become ridiculously good. Plus, they'd be adding a set-piece specialist; which was arguably their biggest weakness in 2017/18.
To be brutally honest with you, I could make valid points as to why each 'top six' club would improve by bringing in Maguire. Everyone knows that by now. But, call me old-fashioned, I'd love to see him stay at Leicester for at least another year or two. He's only been there twelve months, and it was The Foxes who gave him that platform to shine when the lights were at their brightest in Russia.
Loyalty is a rare thing in this game we love. Maguire's got the perfect opportunity to prove that he's an even better man than he is football player. I think he'll remain in the Midlands, so fear not, Foxes fans. Your unsung hero is here to stay, and I'd be surprised if he didn't get applauded at every opposing ground he visits over the next year or so. It's the absolute least he deserves.