Is Gonzalo Higuain finished at the highest level?
It's been a bad past five days for Gonzalo Higuain. After reports suggested Chelsea doesn't intend on making his loan deal permanent this summer, the striker returned to parent club Juventus only to realise he's not needed there either. He is left searching for a new home.
The Higuain on show at Chelsea isn't good enough to front a trophy-contending team. He netted only five times from January-May, with three of those strikes found against sides which got relegated, Huddersfield Town and Fulham. His average reads a Premier League goal every 218 minutes. Compare that to a fellow Argentine forward, Sergio Aguero's goal every 118 minutes fired Manchester City to the title.
Higuain never properly settled at Stamford Bridge. Unaccustomed to English football's fast-paced tempo, he looked sluggish throughout, struggling to find any space in which to make his mark.
The Higuain on display in Italy is good enough to lead a silverware-chasing team. Having first grown his reputation at Real Madrid, he joined Napoli for a club record £35 million. The French-born produced two noteworthy seasons before delivering his best to date in 2015/16. An assured first touch, ability to make space, and composed shooting all came together as he recorded an incredible 36 Serie A goals in 35 matches. Such performance convinced Juve, the country's undisputed dominant force, to part with £75 million for his service, making him the then third-most expensive player ever.
Playing a crucial role to help the Bionconeri pick up consecutive domestic doubles, Higuain was surprisingly shipped out on loan to AC Milan last summer. It proved a disappointing five months.
Now, adding to his woes, it seems Juve's Maurizio Sarri wants to be rid. If Higuain can't convince a manager who he's worked with twice previously of his worth, can he anyone?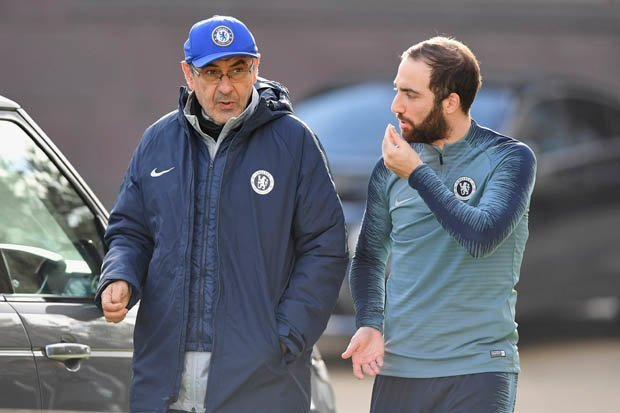 Juventus want to sell Higuain, But he & His agent/brother have not considered any exit options, Gonzalo has offers from China as well as Roma, But he wants to stay in Turin, The final decision will be taken by Sarri. [Di Marzio]
https://t.co/FWwaFxGeaD
Juventus need to eliminate Higuain's high wages. Their Champions League dream has been boosted in this transfer window by acquiring Luca Pellegrini, Aaron Ramsey, and Adrien Rabiot. Mauro Icardi could also be on his way to relieve Cristiano Ronaldo's goal-scoring burden
Chelsea changing their tune is unlikely. Despite a transfer ban in place, they could use a loophole, one which made it possible to sign Mateo Kovacic permanently from Real Madrid last week, owing to Higuain already being registered with the club. Frank Lampard's appointment as manager on Thursday means the Blues are expected to go in a different direction, focusing further on youth.
Atletico Madrid presents a more realistic lifeline. Higuain's compatriot, Diego Simeone has a squad to reconstruct after losing five key players since this past season's end. Antoine Griezmann will soon depart as well. The Argentine coach has addressed his striking issue by signing Joao Felix for £113 million as well as securing Alvaro Morata earlier today. He may still want an additional option.
Should Higuain wish to continue his Italian job, returning to Napoli is a possibility. Up top, Carlo Ancelotti's charges require something extra alongside Arkadiusz Milik's threat in order to bridge an 11-point gap to Juventus next campaign.
Higuain rejoining AC Milan is doubtful under new boss Marco Giampaolo, but what about city rivals Inter? Antonio Conte has to replace Icardi's goals. If anticipated moves for Romelu Lukaku and Edin Dzeko fall through, the gaffer must turn elsewhere.
Bookmakers currently have Roma as favourites to secure Higuain's signature, reportedly on a one-year loan deal. Like Juve, Inter and AC Milan, the Giallorossi recently had a leadership change. Paulo Fonseca has an eye on replacing Dzeko's considerable striking power.
Feeling so downbeat Higuain feels he must leave the continent, South America is a rational destination. Argentina's former marksman, who retired from international duty in March, was brought up through River Plate's academy before playing 41 games for the senior side. They'd surely show him more warmth than what others are.
Other options away from Europe include China along with the United States. The Chinese Super League has enticed some notable frontmen in recent times, namely Odion Ighalo and Cedric Bakambu. MLS has its own world-renowned strikers in Zlatan Ibrahimovic and Wayne Rooney.
Similar to those two veterans, age is catching Higuain up. He's still capable of racking up big numbers in the US', China's, or Argentina's top domestic league, although relocating to either will send him completely off the radar. Likewise, choosing to see out his Juventus contract, which runs until June 2021, and he'll quickly become the forgotten man.
Should a move to Roma materialise, it would signal Higuain's gradual demise. Italy's sixth-best team won't compete for major honours anytime soon. Napoli and the two Milans will struggle in that regard, too.
Ruling out Chelsea, Atletico is Higuain's best hope. He's far better suited to La Liga than the Premier League. Yet, even performing well in Simeone's set up won't be sufficient in returning his status to the height it once was.