Can Peter Cech extend his career with a January move from Arsenal?
Background photo: Arsenal mjh
In 2013, Thibaut Courtois bragged he would oust Petr Cech from the Chelsea first team in two years. He achieved it in 2015's summer, thanks to Jose Mourinho's resolve.
Cech ended 2015 with a Premier League winners' medal, but he had made only seven appearances in the League. The writing was on the wall, the veteran had to make way for the recruit. Similarly, he's made seven League appearances this term and has fallen behind in the pecking order. Any ideas?
Legends don't live forever
There's no disputing the fact Cech is a Chelsea legend. Over a spell with the West London side that lasted well over a decade; Cech was an integral member of the squad that wrote the best part of the club's history.
Cech's best performance in a Chelsea shirt came in the 2012 Champions League final in Munich, gifting the Blues their maiden Champions League triumph.
Before the end of the 2014-15 campaign, the Chelsea net-minder had won three Premier League titles, four FA Cups, a Europa League and the Champions League. He'd won a handful of other domestic titles too. He did so as Chelsea's number one...
Within the period, Cech was arguably the best goalie in the English top tier and he had the records to back it up; he remains the Premier League keeper with the most number of clean sheets – 202 shutouts. He reached 100 clean sheets in record time too.
We could do a lengthy piece detailing Cech's personal achievements. It'll fit better as a Wiki article. For this piece, it's enough to highlight the fact that the Czech Republican is indeed an icon.
But icons aren't flawless. He's conceded some cheap goals during his time with some truly horrible gaffes to forget.
With the young and vibrant Courtois tearing up the La Liga, the ageing Cech was always going to get dislodged.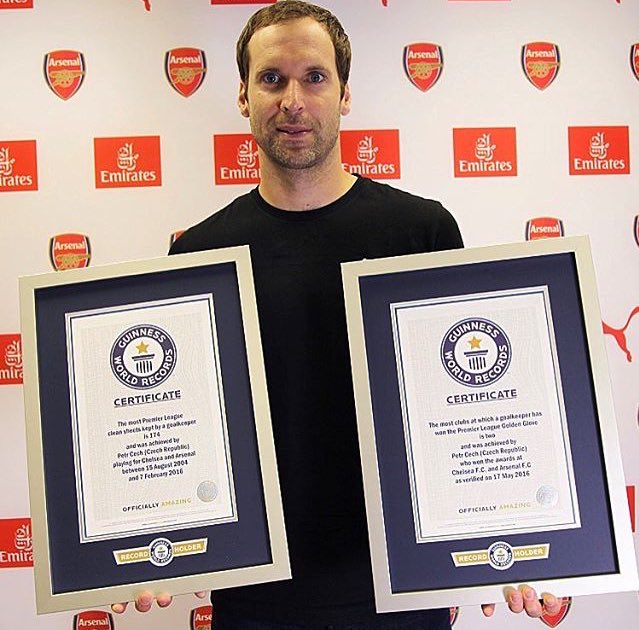 Petr Cech holding his 2 Guinness World Records for the most clean sheets in PL history and the most Golden Glove awards with 2 PL clubs!
https://t.co/PSj7DuWUpy
Arsenal no longer a haven
Cech left Chelsea in 2015 but didn't stray far from London. Arsene Wenger's Arsenal embraced as installed him as the club's first choice.
In the aftermath of his move to the Emirates, Cech re-staked his claim as a Premier League great by winning the League's golden glove – it made him the first goalie to win the award at two different clubs.
Cech has now spent three years at the Emirates. In that time he's not won half as many trophies as he did at Chelsea, but he's allowed nearly as many League goals.
The ex-Chelsea deputy skipper had waded off all challengers to his number one spot at Arsenal until now. However, the signing of Bernd Leno threatened Cech's position just as much as Courtois did in 2014.
Unai Emery stuck with the ageing keeper at the start of the campaign but didn't get many assured performances from the 36-year-old.
Then injury struck in October. Arsenal confirmed their shot-stopper would be out for no less than four weeks. Cech has since returned from that injury but not to the first team. His place taken by Leno. It's quite unlikely he'll ever wrestle it from the exciting German.
Where next for Cech
Cech finds himself in a similar position as one stellar veteran when he was 34 – Iker Casillas. In the case of the Real Madrid legend, he moved to one of the smaller leagues in Europe and stretched his illustrious career further.
Nothing stops Cech from doing something similar. Without question, he's still good enough to play in any of Europe's big five leagues. There's nothing left to conquer in the Premier League. We should get one thing straight, though – Petr Cech is too big to warm the bench wherever he plays.