What should Barcelona do with Ivan Rakitic?
Barcelona caught one of the biggest fishes in the ocean once again this summer. Contrary to the name you could have in mind, it's definitely not Antoine Griezmann. This is to take nothing away from the masterstroke the signing of the Frenchman represents - but here we are talking about another player and his name is Frenkie de Jong...
Barca are well recognised for their ability to attract the finest talents across the football world and the Catalan giants pulled their weight once again by luring the Dutch midfielder to Camp Nou. Everyone saw it coming with the deal eventually manifesting back in January, with a fee agreed early enough to keep other potential suitors at arms-length.
De Jong was an influential figure in the Ajax team that caught the attention of the universe with an attractive brand of football last season. Pulling the strings from the centre of the pitch, the 21-year-old showed his class as The Lancers ran riot on their way to claiming both the Eredivisie title and the KNVB Cup - as well as reaching the semi-finals of the Champions League. If not for a last-minute winner from Lucas Moura, who knows, they could've gone all the way.
His precise passing, brilliant turns, press resistance, and amazing vision won him admirers aplenty; Barcelona fell in love. The Catalans were so convinced that they quickly finalised a deal for the midfielder halfway through the season, although not until this summer before he was officially unveiled as a Blaugrana.
De Jong was given the privilege to showcase his talent in Barca's recent preseason games against Chelsea and Visel Kobe - and he grabbed his chances by the scruff of the neck, slotting into the team effortlessly and displaying tremendous understanding with his new teammates.
His personal highlight came in the match against Chelsea, where he attempted 42 passes and completed a whopping 100% of them in just 45 minutes. He was also impressive as Barca earned a 2-0 victory against Visel Kobe. These promising performances have only added more fuel to the fire. As it stands right now, one Barca player is being threatened heavily by the arrival of the Dutchman; Ivan Rakitic...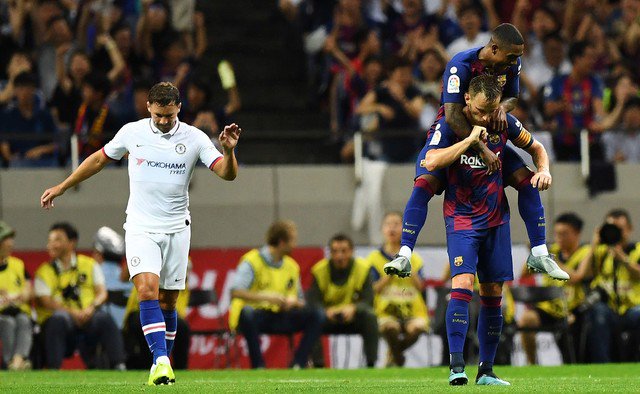 "#Rakitić has been an important player, I don't know if he will be this season. New players are coming and he will have to win his place," said #
Valverde
.
Do you think #
Rakitic
will leave #
Barcelona
due to lack of playtime?🤔
https://t.co/dFSve5aGXL
Alongside Sergio Busquets, Rakitic has been a constant figure in Barca's midfield since he switched to the Nou Camp in 2014. He has enjoyed enormous success in Catalonia, notably winning the treble during his debut season. With a Champions League winners medal, four La Liga titles and four Copa Del Rey triumphs to his name, the Croat's time in Barcelona has been immensely prolific.
Although he has been an indisputable figure during all the years he has spent at the club, Rakitic obviously doesn't belong in the mould of technically-savvy midfielders Barca are well-known to utilise. That's to take nothing from his all-round ability and what he brings to the table, obviously.
With Arthur Melo gradually developing into the next Xavi and Frenkie de Jong appearing a perfect fit to the club's philosophy, Rakitic's place in the lineup is definitely far from certain. According to rumours, Barcelona is considering letting him go this summer, contrary to the player's desire to remain at Camp Nou. Should they keep him or force him out? This has given birth to a conundrum.
Exploring the first option, it's important to note that the Croatian maestro is a world-class talent who has proved himself at the top for many years. Although he isn't Xavi or Iniesta-esque, what he offers to the team physically and technically cannot be overlooked.
He is an extremely hard worker an overall complete midfielder. He can pass, shoot, dribble, mark and even defend - combining several qualities that make him balanced and relevant for any team. With that said, it wouldn't be a poor decision if Barca decides to keep him. As a matter of fact, letting him stay as the first option, while gradually introducing de Jong to blend well into the team next season sounds like the correct play.
But, if Barca decides to remain fully focused on their future, moving Rakitic on could be the better long-term solution. The ex-Sevilla man is now 31, while moving him on would create room for young promising midfielders to step up and fight for their place in Catalonia. By doing that, the club could restore its identity and kick-start a new era.
Will Ivan Rakitic eventually be sold by Barca this summer or will he be given the privilege to continue plying his trade in Catalonia? Let's wait and see.