What should Barcelona do with Philippe Coutinho?
When Philippe Coutinho arrived at the Camp Nou for a reported fee around £145m, every Barcelona fan was in paradise. The Brazilian midfielder had delighted the Premier League with his extraordinary skill set for five consecutive seasons. The club record transfer fee was paid and he seemed like a perfect replacement for club legend, Andreas Iniesta.
His debut was delayed due to a minor injury. Ernesto Valverde made changes according to his style, shifting between 4-4-2 and 4-3-3 and interchanged Coutinho's role between midfield and attack. After Iniesta left, Valverde got to know about Coutinho's lack of defensive output. That led them to the purchase of Arthur Melo in 2018's summer. Coutinho was then shifted to the left to link up with Jordi Alba and Luis Suarez. This suited his right-footedness and he ended the campaign with eight goals and five assists in La Liga. A promising start.
After hitting the ground running, Coutinho's numbers rapidly fell. Now, he doesn't feature regularly. In fact, he's yet to score once in the league this year. The player who used to terrorise Premier League defenders once has become a shadow of himself. Ousmane Dembele and Malcom are now in direct competition to get the starting job. Coutinho feels like an afterthought; in Valverde's eyes anyway...
With Frenkie de Jong's purchase, Barcelona clearly hinted that they are going to play a 4-3-3 formation. Arthur's brilliance is visible and it is inevitable to say that he won't progress next season. The midfield trio of Arthur, Sergio Busquets and de Jong sounds wonderful, on paper at least... And Coutinho showed in the 2018 World Cup that he cannot play as a midfielder, as, once again, his defensive incapabilities reared their ugly head.
Valverde faces a tough time mobilising his playing XI with three options on the left: Coutinho, Dembele and Malcom. It is not a healthy sign for the dressing room. Some suggest it is better to sell him. If the Catalan club tries to put him on the market, even half of the investment amount is not guaranteed.
So, what should Barcelona do with Coutinho?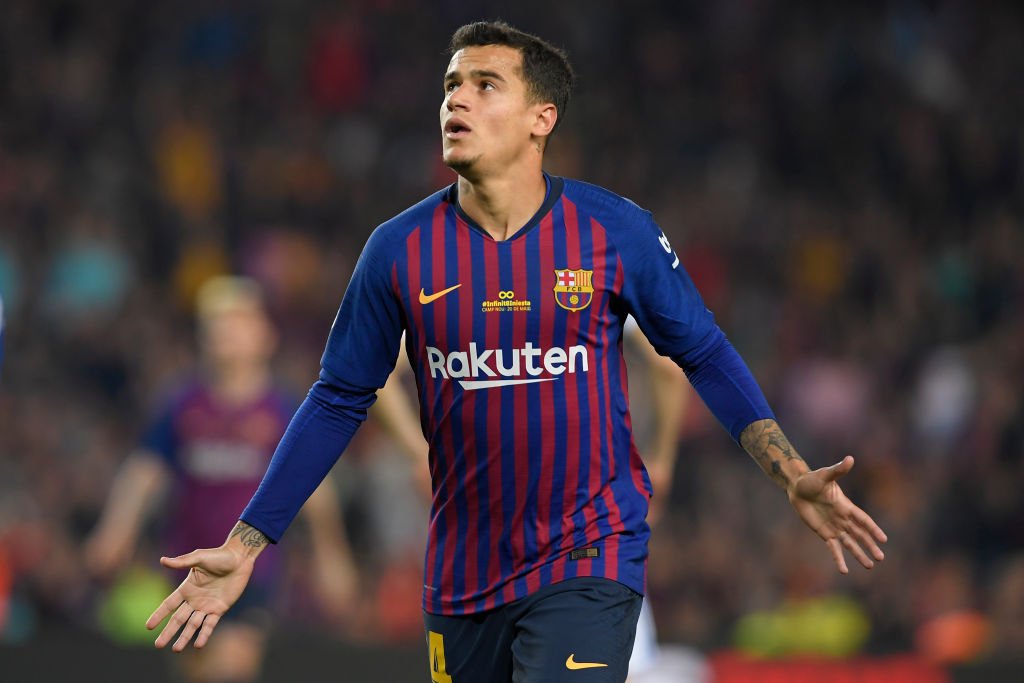 4. Philippe Coutinho
26 taken
5 scored
19% conversion rate
"Still a useful alternative for the Blaugrana in Messi's absence" 👌
https://t.co/rRvhiuF7qB
Patience is the key. Coutinho is not a bad player. When he starts, talent-wise, he's amongst Barca's best. He still has the skill-set that should thrive in Spanish football, but it's a tough decision that Valverde now faces.
Time will come when we will start to see Lionel Messi getting more rest as he gets up there in age. The closest player to the Argentina international in the team is Coutinho. Both are agile, dribble past players for fun, likes to cut inside from flanks and create for opponents. We are known of his quality when given a free role. No, he is not going to replace Messi. But, he will make the transition much less worrisome. However, waiting for Messi to fade away is not exactly a plan Coutinho should have. He is 31 and shows no signs of stopping at this juncture.
Another way out for Coutinho can be determined by Malcolm's exit. Reports suggest that the former Roma winger is not happy with the game time he is receiving. His agent expects things will be better for him at Catalonia next season, but, it doesn't seem likely. Barca are not going to sell both Coutinho and Malcolm. It'll be a case of who is the last Brazilian standing.
Sure, it hasn't all been plain sailing for the ex-Liverpool man at Catalonia, but the world-class performer is in there somewhere. Given a good run of games, with confidence under his belt, Coutinho can still make an impression at the Camp Nou. All he needs is an opportunity.