How can Christian Eriksen improve Inter?
Can Eriksen help Inter pip Juventus to Serie A title?
Inter Milan have been picking up all the Premier League wantaway stars, but their recent coup could be a game-changer. Christian Eriksen's plight at Tottenham Hotspur is over. What is Spurs' loss is a big gain for the rejuvenated Italian giants.
Considering how Romelu Lukaku has turned into a goal machine under Antonio Conte, while Ashley Young has slotted in seamlessly, it feels like Eriksen is unlikely to fail. Their system is almost tailor-made for the Danish midfielder.
The Nerazzurri have struck slight issues after the winter break. Juventus capitalized on the slip-ups to form a comfortable lead at the top. Injuries haven't helped Conte's side, but they've lacked creativity in the middle, forcing the focus moving down the wings which has become predictable.
Now with a playmaker like the Eriksen, Inter have perhaps found the fitting piece to their midfield puzzle. As the Italian boss is determined to dethrone the Bianconeri's rule, he'll take no time integrating his new signing into the starting XI.
There should be optimism that Eriksen can fit right in straight away. He's suited to a middle three where he gets better support to dictate the tempo. If Marcelo Brozovic manages to limit his defensive contribution to the bare minimum, the sparks should fly from the get-go.
Of course with creative players like Stefano Sensi and Nicolo Barella partnering alongside, he won't be burdened with the complete load of weight in churning out opportunities. But he'll be expected to lead from the front, delivering those incisive through-balls to Lukaku and Lautaro Martinez; fuelling their devastating partnership.
The striking duo have an intuitive link, but now Eriksen must also feed them genuine chances to kill off games. That being said, his responsibility is more than just encouraging his strikers. Knowing his wits, Eriksen will probably be responsible for transitioning possession quickly from defence to attack.
He'll need to find those surging runs from Inter's wingbacks, granting them enough space to put in quality crosses. Of course, the Dane himself can deliver inviting ones, but that'll be utilised on set-pieces. Then you factor in his heroics from a dead-ball situation... the Nerazzurri's defenders must be licking their lips at getting more chances to score.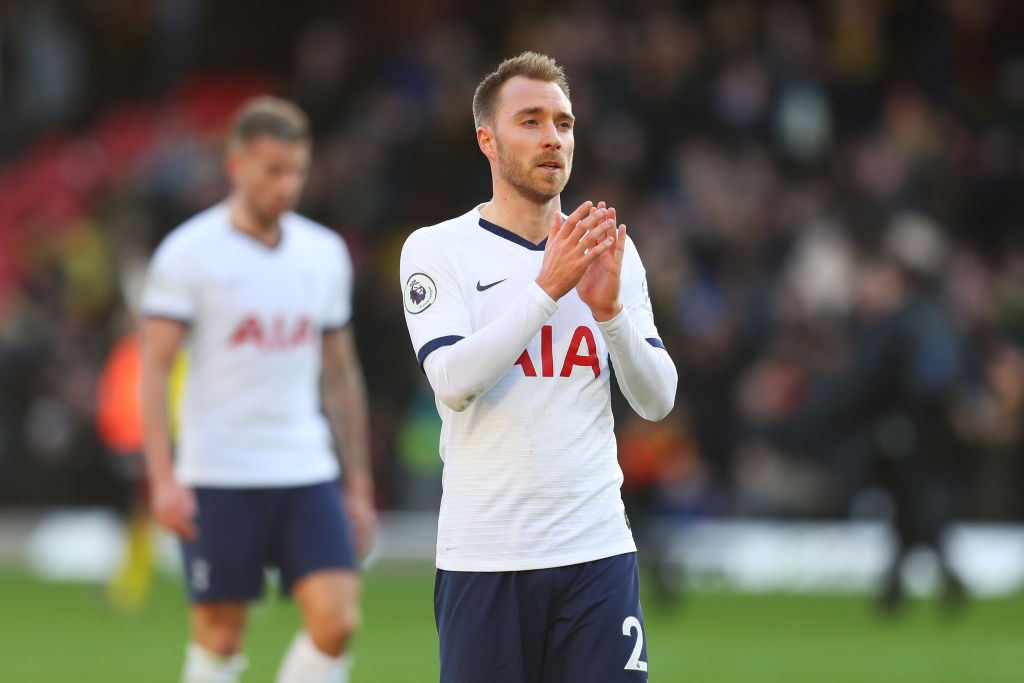 Christian Eriksen joins Inter Milan for £17m
Tottenham Record (all comps)
305 apps
69 goals
82 assists
@premierleague record since debut in Sept 2013 (PL rank in brackets)
5️⃣7️⃣1️⃣ Chances created (1st)
6️⃣2️⃣ Assists (1st)
2️⃣3️⃣ Goals outside box (1st)
8️⃣ Free-kick goals (1st)
https://t.co/Yx7wOEA6fY
The former Spurs man had a reputation for being an avid goal-seeker in the final third. His ability to pick out an inch-perfect long-ranger or slither into the box to curl one in from close will continue to amplify Inter's unpredictability. So will his direct free-kick skills. Granted the Dane's recent record statistically isn't good. He's just managed three goals and three assists in twenty-five appearances (in all competitions), with certain sour performances frustrating the fans.
However, that's warranted with just not having the passion to perform for the Lilywhites anymore. While a section is arguing how a transfer from Spurs to Inter - a Premier League top-four strugglers to Serie A title contenders - is a "downgrade", it's quite the opposite.
Now at a club matching his ambition, Eriksen's true colours should start flourishing sooner than later. The midfielder has scored the most goals from outside the area, created the most chances and recorded the most assists in the Premier League since his debut in 2013. He should rediscover his mojo very soon.
At 27, he's approaching his peak. After being undermined for his failures this season, Eriksen is determined to silence any doubters. Mid-season acquisitions like him are rare but they could fuel the fire in the Nerazzurri's title race.
Indeed, he's the strong character Inter needs to stop their chase from being impeded. From scoring clutch winners, producing assists or chances out of thin air, he possesses that never-give-up mentality required to wallop over stumbling blocks. Conte remains hopeful that Christian Eriksen turns out to be the X-factor his side craves in order to nudge past Juve in the title race.