What does the future hold for Wilfred Ndidi?
Where could the physical midfielder end up?
After fighting his way up the footballing ladder, it's now safe to say that Wilfred Ndidi ranks amongst the fiest defensive midfielders within the beautiful game. The one descriptive word I'd use when talking about the 22-year-old is physicality. Although not as muscular as, say, Paul Pogba, the Leicester City starlet is elite as overpowering opponents and winning back possession.
Ndidi's ball-winning ability is of the highest class. The Nigerian is a workaholic who's always on the move. He reads the game extremely well and always offers his absolute utmost. Just like what's required from a defensive midfielder, Ndidi shields Leicester's backline and significantly reduces the bombardment on Kasper Schmeichel's goal. If not for the young lad, I certainly don't see The Foxes sitting just behind Manchester City and Liverpool in the league table at the moment. He finished last season voted as the Premier League's best in his position but unsurprisingly, Ndidi is striving for me. So far this term, his interceptions, clearance, tackles, aerials won, ball-winning skills are once again up there at the very top.
Make no mistake about it, Brendan Rodgers isn't wasting Ndidi's immense talent. The Northern Irishman has built his team around the star Nigerian. Leicester currently plays a 4-1-4-1 formation, with the former Genk man single-handedly doing the dirty jobs. In turn, that allows Youri Tielemans, James Maddison et al to focus on what they do best; get forward and create chances. What epitomises Ndidi's influence the most is that he's featured in every single Premier League game thus far. The 22-year-old is the vital cog in an overachieving Foxes side.
With the way things are panning out, Ndidi's quality will attract admiration. Top teams from English soil and abroad will eventually make their move for the midfield marshal; giving him a big decision to make concerning his future...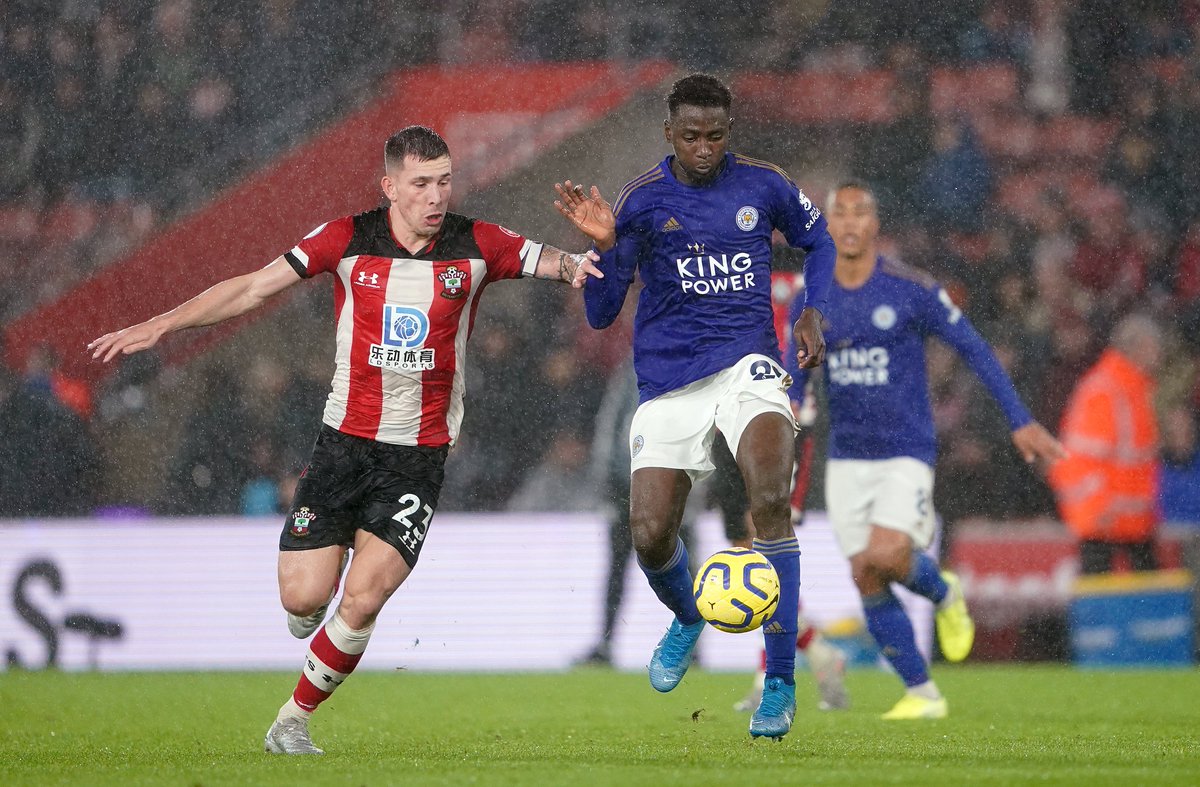 Wilfred Ndidi won more tackles (7) and made more recoveries (11) than any other player on the pitch against Southampton.
Instrumental in midfield. 💪
https://t.co/09yUaeIrEI
Sticking with Rodgers and Leicester, though, presents opportunities that might be absent elsewhere. Amongst those is regular playing time. That's guaranteed at the King Power stadium and perhaps minutes wouldn't be a certainty elsewhere. Even if Ndidi isn't playing well for Leicester, he'll be able to fight through his poor spell due to the brilliance he's shown in the past. Say he moves to Arsenal or Manchester United for example, then he has a couple of bad games, the Nigerian could be made to sit on the bench for a few weeks - maybe longer if his replacement comes in and performs well... Basically, he's safe under Rodgers while elsewhere could be a relative unknown.
The Premier League is the most competitive in the world for the most part, with Liverpool and Manchester City firmly in the driver's seat. Winning accolades seems almost impossible, and the best Leicester can realistically hope for is a top-four finish (despite their heroics four years ago). Should Ndidi hold hopes of winning trophies both on English shores and across the continent, a move away seems inevitable, eventually...
Even as early as January, teams will be asking for Ndidi's signature. Both Arsenal and Liverpool made contact last year, though neither managed to prise him away from Leicester. Expect those clubs, maybe even more, to return with more force (and a significantly larger offer)...
I can make a case for all members of the so-called Premier League top six to improve with Ndidi in their squad. Then there are riskier offers that could come from abroad. You look at Barcelona, Real Madrid, Bayern Munich, PSG and even Juventus who could all be in the running. The list of teams that could make their move for the Nigerian tells you everything you need to know. However, the higher you go the harder you fall. Failing on the highest stage could send the midfielder back to the drawing board, but succeed and the 22-year-old will be in dreamland.
Now, Wilfred Ndidi has a huge career-decision to make...