What's in store for Ian Holloway at Grimsby Town?
For Ian Holloway and Grimsby Town, the good times are only just beginning
When Ian Holloway took the hot-seat at Grimsby Town, it was an appointment few predicted, least of all the man himself. As he once said when asked if his QPR side could defeat Manchester City; "I am a football manager. I can't see into the future. Last year I thought I was going to Cornwall on my holidays but I ended up going to Lyme Regis."
Holloway is certainly a showman, someone who often distracts from on-field events with his endless stream of bizarre nonsense. It's begun already at Grimsby; he negotiated the deal to become manager in a local fish restaurant, and one of his terms was that his wife, who he claims is a pagan white witch, would be allotted land for metal detecting.
As entertaining as all this might be, Grimsby fans, spooked by a slide down the table and the encroaching spectre of relegation to the National League backwoods, will be more interested in what Holloway can do to help them out on the field rather than how much he can make them laugh.
The Mariners are in luck there. Holloway may have taken a year-and-a-half out of the game following an underwhelming spell with Queen's Park Rangers, but he's a man who knows exactly what he needs to do to get Grimsby out of their current predicament.
It's true Holloway is used to plying his trade at the higher end of the game, with teams in the top two tiers. Crystal Palace, Millwall and Leicester City are all names on the Holloway CV that make Grimsby look like a huge comedown. A manager dropping well below his natural level isn't always a good idea. The contacts, techniques and attitudes that prove successful at the higher level can prove to be woefully unsuited to the less monied, sophisticated culture in the lower leagues.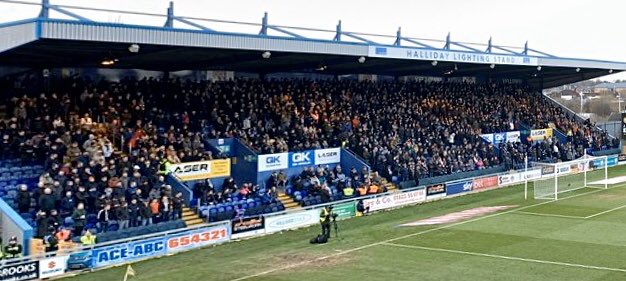 📸 1,337 Grimsby Town fans whiteness Ian Holloway's first game in charge of the Mariners at Field Mill, Mansfield 👏👏👏 #
GTFC
https://t.co/kZVVMR9LoC
Holloway won't suffer with that problem. Though he rubbed shoulders with the big beasts, he was always on the back foot, struggling with a limited budget and all of the other hindrances familiar to clubs like Grimsby. He can use his nose for a bargain and his ability to whip a team into shape to help out his new club.
Holloway's first game in charge was a sign of things to come. A hard-fought, 1-0 win over Mansfield, allowing them to leapfrog the Stags. It was a victory made all the harder by the early suspension of centre-back Luke Wall, but one Holloway's new side pulled off despite trailing in possession and shots on goal.
With two consecutive wins since the turn of the year, the Mariners now find themselves in 17th with games in hand on most teams around them. The spectre of relegation has retreated into the shadows and the sunlit uplands beckon. Holloway arrives at the perfect time, ready to further strengthen the club by dipping into the transfer market. Grimsby may not be likely to throw enormous sums around for big-name stars, but Holloway can do some wheeling and dealing, snapping up bargains on free transfers or loan deals.
Holloway could even use his reputation to secure a marquee signing or two. He's claimed former players have the phone ringing off the hook as they clamour to return to play for their former boss. Whether that's another of Holloway's classic exaggerations remains to be seen, but he's made a good start and things look set to get better. Who knows, perhaps the new man can inspire the Mariners to a Blackpool-esque rise through the ranks? Stranger things have happened, especially in the vicinity of Ian Holloway.