Where would Celtic F.C finish in the Premier League?
This is a question that has been asked by many football fans for a number of years and it arose again after Celtic won their sixth consecutive title on Sunday.

There has been a whole range of answers to this question with some claiming that the Scottish champions would find life tough in the Championship or League One and others believing they would push for the title in the English top flight.

Speaking after their 5-0 win away to Hearts, Brendan Rodgers said: "Celtic would be one of the top four, minimum top six clubs in the Premier League." He argued that they are an incredibly tough team to beat at home and because the club is so iconic, their support would grow immensely if they played in England.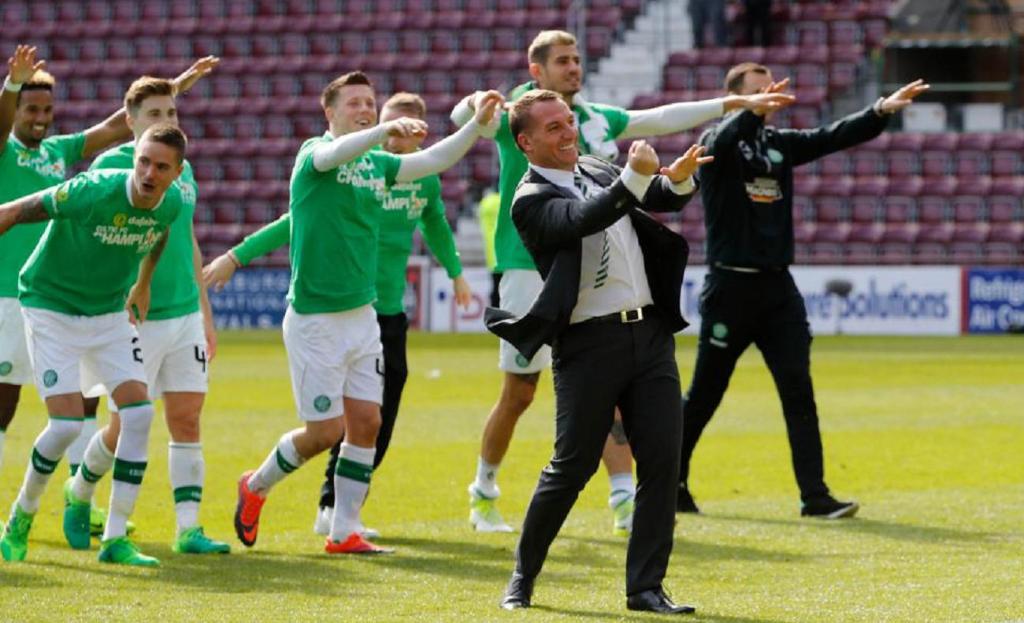 Aspects to consider when making this prediction:
Quality of the Squad


Defensively, they have a few weaknesses. Players like Dedryck Boyata and Cristian Gamboa couldn't seem to prove themselves in the Premier League and Kolo Toure is way past his peak. It almost seems like they are still struggling to find a replacement for Virgil van Dijk, who left the club in 2015.

In midfield, they have some good players. Scott Brown has been a consistent figure at Celtic and is a solid player to have in the centre of the park. Last summer they signed Scott Sinclair and he quickly turned a key man for the team, becoming their top goalscorer this season. Stuart Armstrong and James Forrest are also fine players to have in the squad and have chipped in with many goals and assists.

Celtic's best players are certainly their attackers. Despite injury stunting his season, Leigh Griffiths has been superb and is a proven goalscorer with 60 goals in 88 appearances for Celtic. As well as this, their star youngster, Moussa Dembélé has been outstanding this season. In January he was linked with a move to Chelsea after some fantastic performances and although many clubs in Europe want him, this tweet implies that he will stay at Celtic...

CHAMPIONS ! Hard work & dedication paid off ! Feels great and special to be Champion but there is still more to come Bhoys and Ghirls 💚🍀🏆
Champions League Results


Last season Celtic did not even make the group stage of the Champions League as they embarrassingly lost to Swedish side Malmö in the qualifying stages. Although they did qualify for the group stages this year, they were never really a threat and failed to win a single game.

They were humiliated 7-0 by Barcelona back in September and lost the home leg as well. Two of their three draws came against Manchester City and the Scottish side did well to match Pep Guardiola's team. Arguably, their best two performances in Europe this season came against City and they should have taken more than one point from Borussia Mönchengladbach.

Not too long ago, Celtic provided one of the greatest Champions League upsets in history when they beat Barcelona 2-1 at Celtic Park. This incredible result proves how resilient they can be at home but they are certainly not consistent enough to regularly compete against the bigger sides.


Managerial Ability


Brendan Rodgers has a lot of Premier League experience, managing Swansea and Liverpool before he made the move to Celtic. He is a positive manager who encourages attacking football from his players but he had a number of ups and downs in the Premier League.

He led Swansea to the Premier League and was given a lot of praise for not only keeping them up but finishing a respectable 11th in their first season in the top flight. In his time at Liverpool however,  he did not win a trophy in just over three seasons and only finished in the top four once. Many Reds fans felt that he was not capable of managing such a prestigious club and were glad to hear that Jürgen Klopp would be his replacement.

Although the Scottish top division is far from competitive, the fact that Celtic could be unbeaten at the end of the season is astonishing and Brendan Rodgers deserves a lot of credit for that. This achievement has only occurred a handful of times before and it highlights how focused Celtic are. Winning so many games can make a team complacent but Rodgers has always kept his side on track and impossible to beat.


Result: Mid-table.


For me, Celtic would be a mid-table team at best in the Premier League. Brendan Rodgers' men have a lot more quality than relegation candidates like Middleborough and Sunderland but would also do well to finish in the top half. Considering the weaknesses in their squad, results against bigger teams in the Champions League and the managerial ability of Brendan Rodgers, I feel they would not be able to compete with the top six in England's top flight.