Which Manchester United fringe players have chance to prove worth in Europa League?
Background Image Via: Pixabay.
Although Europa League football isn't what the Old Trafford faithful would have wanted towards last season's end, it's the hand they've been dealt. Those Thursday-Sunday match schedules can be brutal. It takes its toll on the deepest of squads. Though for some Manchester United players, continental competition presents ample opportunity.
At this stage, Ole Gunnar Solskjaer knows his regular starting line-up (for the most part). The Baby Faced Assassin will be looking to rest key faces for tonight's visit of Astana and the five group-stage games thereafter. So-called 'squad players' have a chance to make their mark. They've an opening to prove their worth. It's down to those guys to rise to the occasion.
For the fans, it's about giving youth a chance a'la Sir Matt Busby's Babes and the famed Class of 92. Mason Greenwood is the standout candidate, Solskjaer has already confirmed he'll start this evening. That news was met with obvious excitement.
Axel Tuanzebe is another. The 21-year-old will have been watching Victor Lindelof making mistakes with a gleam in his eye. Tonight, the Theatre of Dreams is his platform to make Solskjaer think even harder about replacing the Ice Man with United U18s' youngest ever captain.
Sticking with the theme, Angel Gomes will be chomping at the bit, too. His contract expires next summer so United will have to ensure they play this one correctly as to not have another Paul Pogba to Juventus situation on their hands. Tahith Chong also impressed on pre-season tour, he'll be hoping to get the nod.
The good news? All have been added to United's Europa League 'B' list squad. They're eligible to play should they be called upon. However, they have to get past some, shall we say more 'experienced' members of the Red Devils dressing room first...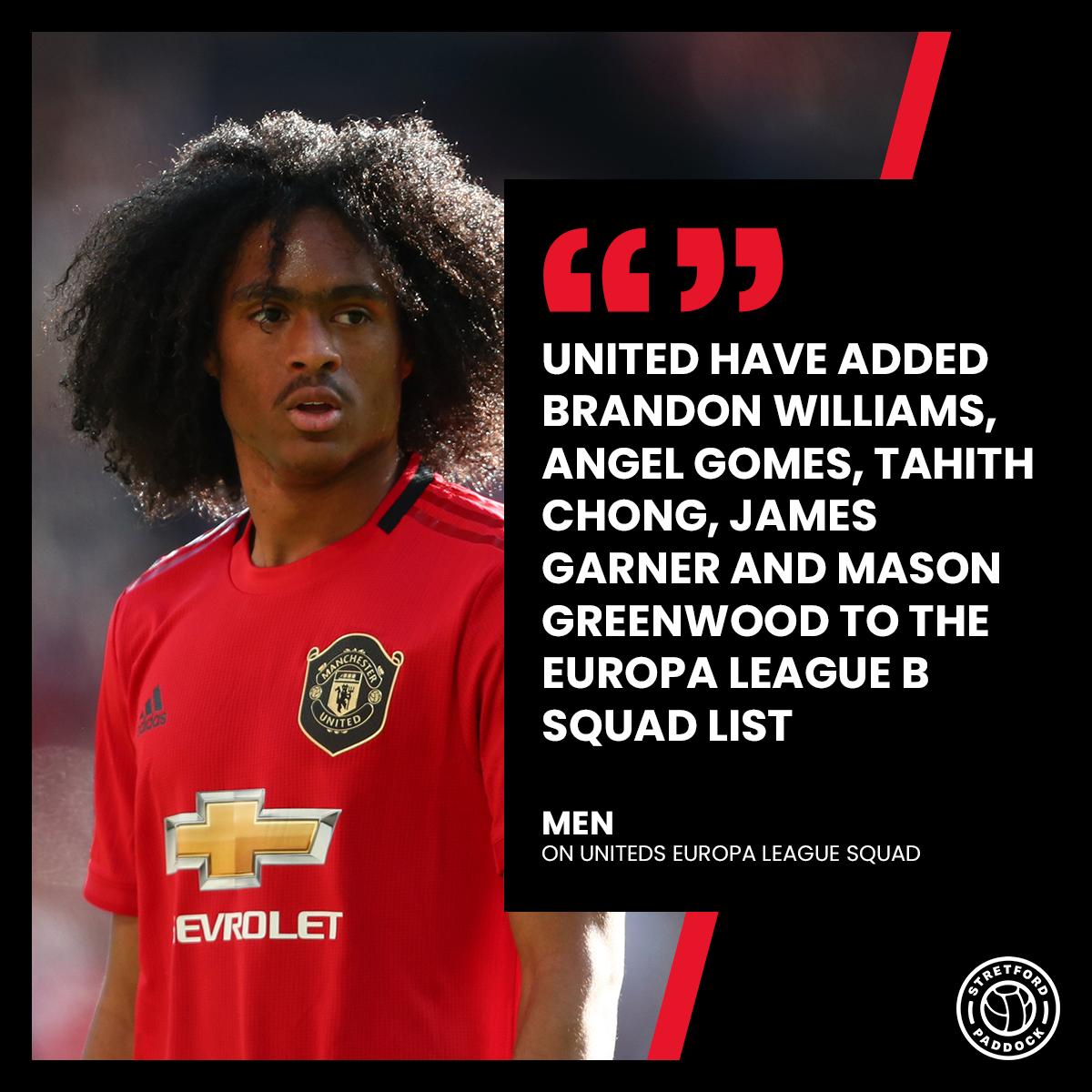 Williams, Gomes, Chong, Garner and Greenwood have been added to the Europa League B Squad.
-
Do you want to see any of them start tonight?
#MUFC #
EuropaLeague
https://t.co/9tNzipgije
It's somewhat unusual for a £50million+ signing from only a year ago to have not made a single start over a month into the season. Unfortunately for him, that's Fred's reality. I think it's fair to say his first season in England didn't go to plan, though the Brazil international will be hoping to kick on in his second season, similar to Lindelof from twelve months ago. Fortunately for the 26-year-old, United's midfield is light in terms of numbers and quality. There's an opening he'll be looking to barge through but he must get off on the right foot.
Then you have the forgotten man, Diogo Dalot. The 21-year-old Portuguese had no pre-season thanks to injury, while a positional change last term certainly didn't help. The ex-Porto man is now back in training and chomping at the bit to play. Perhaps we'll get an idea of Solskjaer's plans for the right-back this evening.
Perhaps Nemanja Matic, Juan Mata and Sergio Romero should be named on this list, too. Though I feel you know exactly what you're going to get from these guys. They're (more often than not) reliable, solid players who bring some much-needed experience to the table. The Argentine shot-stopper will play this evening. Expect him to have another solid outing.
How many will start? How many will play well? Who knows. Usually, there's one or two who'll surprise us and perform beyond their means. My guesses would be Fred, Greenwood and Gomes (if he's given the opportunity), but expect many more to disappoint and fall by the wayside. For all of them, it starts under the floodlights on one of those special European nights at Old Trafford this evening...