Can young Super Eagles find their wings against Brazil?
Victor Osimhen is among the young Nigerians with an opportunity to stake their claim against Neymar and Brazil.
On 31st July 1996, a lanky 20-year-old Nigerian striker with a touch like pure silk announced himself to world football. It was a performance that sent shockwaves across the African conrtinent. The occasion was an Olympic Games semi-final between Nigeria and Brazil. How Nwankwo Kanu snuck in like a midnight criminal to steal the show in a heated contest remains a mystery to Brazilians to this day.
The West Africans and South Americans haven't met in a competitive fixture since but Brazil has refused to let go of the grudge. When the two cross-continental football rivals met in a friendly game 16 years ago in Abuja, the Selecao thumped their way to a 3-0 victory.
Recently, Brazil decided they needed Western African opposition to begin early preparation for the 2022 FIFA World Cup Qualifiers. Senegal and Nigeria obliged.
Singapore agreed to host both games. Given their array of superstars, including Neymar Jr, Philippe Coutinho, Willian, Arthur Melo, Casemiro, Dani Alves,Thiago Silva, Ederson Moraes and Alisson Becker, any fixture against Brazil attracts media hype. For Nigeria, the feeling is déjà vu.
Young players usually crave such opportunities to shine and make a name for themselves. Many in the current Super Eagles ranks might've been too young to watch Kanu's heroics at the Atlanta Olympics but they certainly know what beating the Seleçao would mean. A fine performance on Sunday could cement a place in Gernot Rohr's team and, of course, in the hearts of Nigeria fans.
Which precocious Eagle could find his wings against the five-time world champions? Here's the shortlist.
Emilio Maduka Okoye
Two decades ago in that famous game against Brazil, a young Nigerian goalkeeper named Joseph Dosu came into the limelight. He conceded three goals on the day. But for his gymnastics in goal, his team would've allowed much more.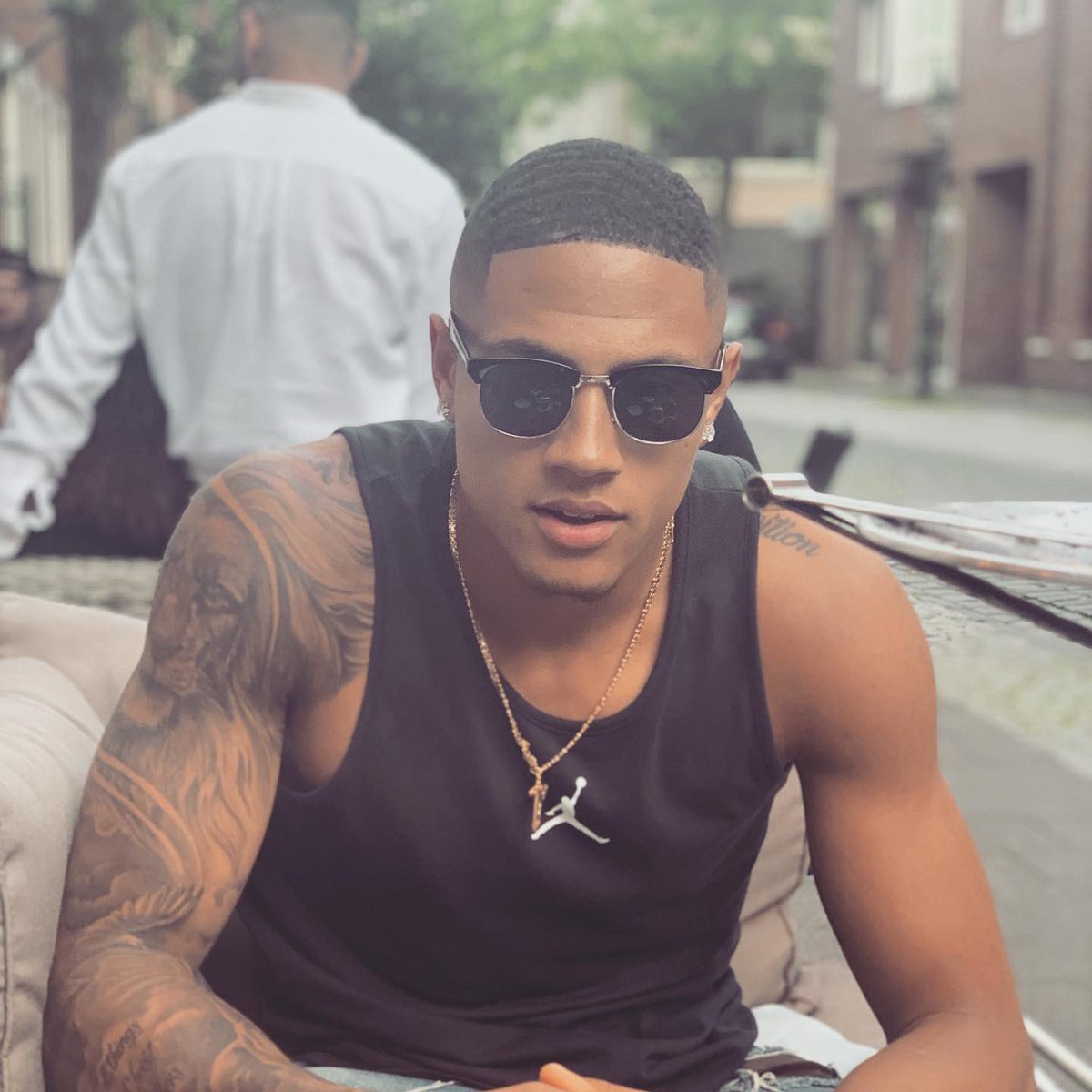 Maduka Okoye would be delighted to get the same opportunity handed Dosu. The 20-year-old netminder plays for Fortuna Düsseldorf II in the fourth tier of the German football. He is eligible to play for Germany through his mother but instead honoured the call to feature for his fatherland. No, Manuel Neuer and Marc-Andre ter Stegen had nothing to do with that.
Still, the Nigeria number one shirt is up for grabs and a fine outing against Samba Nation might make it his.
Ramon Azeez
Sunday Oliseh was the midfield dynamo that provided power for Nigeria's triumphant Olympic team. Although he didn't feature against Brazil that day, Nigeria's central and holding midfield position has since been associated with the former Eagles skipper.
When Ramon Azeez led Nigeria's under-17 team to the FIFA U17 World Cup in Nigeria, there was talk in some quarters about him becoming the next Oliseh. Nearly a decade later, Azeez is yet to become the next anything. In fact, he's only appeared four times for the senior team since. Age remains on his side, though. The midfielder is just 26.
Azeez's stock is rising exponentially in La Liga this season for Granada. His play for El Grana earned a long-awaited recall to the national team. Can he finally win over Super Eagles faithful with a stellar show against Brazil?
Emmanuel Dennis
Kanu didn't shine alone in Atlanta. Tijani Babangida terrorised the Selecao from the wings. Today, Nigeria has players like Samuel Chukwueze, Moses Simon and Samuel Kalu who constantly battle for a place in Rohr's three-pronged attack.
But there's a 21-year-old who wants to have his two cents heard. They call him Bonaventure in Belgium. To Nigerians, he's simply Emmanuel Dennis.
Dennis has been making headlines in the Belgian First Division with his performances for Club Brugge. Nigerians would love to see another Babangida. Here's a chance for the youngster to give them what they crave.
Peter Olayinka
Even though he's just 23, Peter Olayinka can best be described as a journeyman. His nomadic career has landed him at five different European clubs in less than eight years. Olayinka is finally getting the attention for which he's worked so hard. His goal for Slavia Prague against Inter Milan on matchday one of the Champions League nearly earned an unlikely win for the minnows from the Czech Republic.
Olayinka can kickstart his international career if he gets a chance against Brazil on Sunday
Honourable mention
Victor Osimhen
No player in the current crop of Super Eagles strikes a better resemblance to the legendary Kanu than Victor Osimhen. He's had to bid his time for the Eagles but it looks like it's finally come. Truth be told, the Lille goal-poacher has tongues wagging in Europe. He doesn't have much to prove against Brazil but it'll be nice to see how well he performs against a tough opponent. Maybe he can bang in a hat-trick.