Who is Juventus' latest acquisition, Dejan Kulusevski?
Dejan Kulusevski's transfer to Juventus is not rosy as it seems.
Clubs struggle to make moves in the transfer market. Just ask Arsenal and Manchester United. Then you see Juventus acquiring their targets swiftly, almost effortlessly. The Old Lady's latest addition is Dejan Kulusevski. Atalanta sold the 19-year-old for €30 million plus another seven in add-ons. He will complete his loan at Parma before joining the Bianconeri.
Played in multiple positions for Atalanta's U19s last season, the Swedish international scored 11 goals and 14 assists, earning the Campionato Primavera MVP award. He made three appearances for La Dea's senior squad, totalling 104 minutes, but never made the scoresheet.
At Parma, it's a different story. Injuries to Gervinho and Yann Karamoh forced Roberto D'Avers to move the teenager across the forward line. Still, playing primarily as a right-winger in the manager's 4-3-3, Kulusevski claims four goals and seven assists in 18 appearances, directly involving himself in a goal every 139 minutes on average.
Called up for national duty by Sweden, he can also play as a box-to-box midfielder when needed but excels in more advanced positions.
A product of an excellent Atlanta youth-setup, Kulusevski possesses a unique skill set. He is physical, agile and can run with the ball. Shades of Arjen Robben highlight his ability to drift centrally from the wing to pick a pass or have a shot at goal. Unlike the Dutchman, however, he frequently races to the touchline and whips crosses into the box.
Kulusevski's preferred position is left wing from where he tends to tuck in behing the striker. Parma's creative cornerstone, he completes 2.34 key passes per 90 in Serie A. He makes the runs and has the tricks to beat defenders, placing himself in optimal shooting positions, but he also knows the right time to pick out a pass.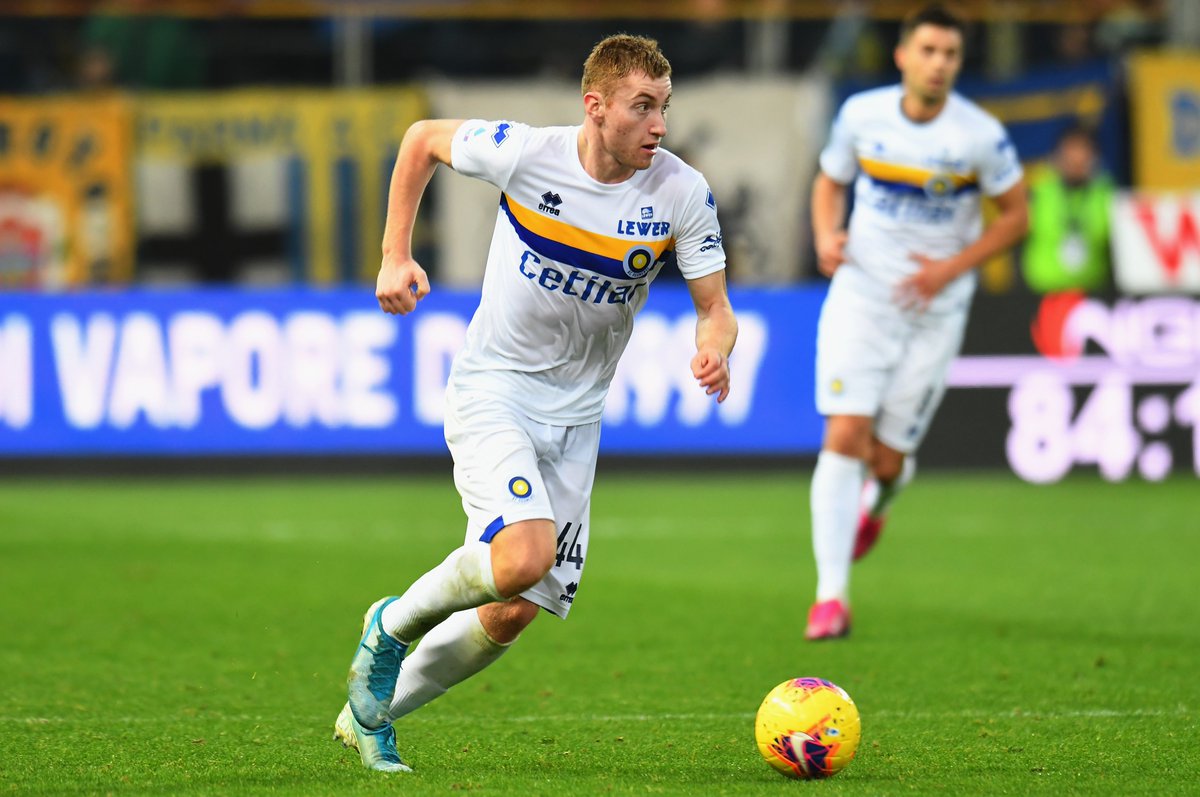 2000 - Dejan #
Kulusevski
is the youngest player to have been involved in 10+ goals in the top-5 European leagues 2019-20 (four goals and seven assists for him). Colt.
https://t.co/hbr2OtWMxI
There are areas in which he can improve. He falls victim to the classic trap all young playmakers encounter: trying to do too much. Attempting to catch one defender out, he'll take too much time on the ball, allowing help to arrive. His dribbling is highly inefficient, as well, succeeding only 55% of the time. When he is dispossessed, Parma are vulnerable to counterattacks. He'll need to correct his faults to crack Maurizio Sarri's Juventus lineup.
Opportunity exists. Federico Bernadeschi fails to charm while Juan Cuadrado and Douglas Costa turn 32 and 30 this summer. Paulo Dybala's future at the club is in doubt. Kulusevski likes to play as a trequartista. While Dybala is developing an understanding with Cristiano Ronaldo, Sarri remains unconvinced. The Bianconeri need someone to play penetrating passes further up the pitch. If his game improves, Kulusevski can fit in Sarri's system. At 19, though, it's a big if.
In addition, Sarri notoriously avoids his players' strengths. Ask N'Golo Kante. The Italian doesn't adapt. He lives and dies with his own tactics. It's clear that Kulusevski possesses all the traits to thrive under Maurizio Sarri but the manager himself may see things differently. T
here is the question of the former Chelsea boss' future in Turin as well. Juve go through managers like the Tories go through leaders. Kulusevski risks finding himself in Bernardeschi's shoes, a darling one season, unwanted the next.