Who can replace Hazard as the Premier League's shining star?
While rival Chelsea fans up and down the country will have celebrated Eden Hazard's move to Real Madrid, the Premier League itself let out a discernible groan.
Another summer transfer window has started with a top Premier League star departing for sunnier climates. England's top flight losing its best player to La Liga has become a common occurrence.
Of La Liga's five-most expensive incoming transfers ever, four arrived from the Premier League. Cristiano Ronaldo started the trend a decade ago. CR7 has been followed by Gareth Bale, Philippe Coutinho and Luis Suarez. Hazard has now joined that list, too. Of those five, only Coutinho cannot be considered as the division's top talent at the time of his move.
Hazard was undeniably the Premier League's top player before switching away recently. Some will argue against that and single out his goalscoring record as proof. They will say the Belgian's goal tally was never good enough for him to be regarded as the very best.
In some ways, those people have a point. Hazard wasn't a great Premier League goalscorer. The most he managed in a single season was 16. Moreover, in two of his seven campaigns, he failed even to make ten.
Indeed, it's not an unfair argument to suggest his failure to score more goals is the reason Hazard hasn't quite hit the levels he should have. Next season, the 28-year-old must reach such heights, the area of the game solely occupied by Cristiano Ronaldo and Lionel Messi, to be considered a success at the Bernabeu.
Hazard did not need to score goals to be brilliant, though. His magic was often weaved elsewhere. His mercurial nature elevated him far beyond the rest in the Premier League. There are many stars, but few could do it like the Chelsea winger.
They could not dribble in that elusive, illuminating manner. Nor could they continue to produce in the big moments as regular as Hazard managed. No player was as key to a team as he was to the Blues over the years. The fact he was the main man in two very different title-winning sides says it all.
Hazard was not only capable of changing direction on a whim, but he adapted to situations and playing styles on the fly. It enabled him to continue performing at the highest level. Not just that, the Belgium international had the power, precision and determination to drive his club forward, turning games in the blink of an eye. All this is what puts him above every other.
As for Hazard's scoring ability not being adequate, his 85 goals in 245 Premier League games somewhat negates such an argument. He also recorded 61 assists in that time.
The division's player to succeed Hazard must offer all his aforementioned qualities. He needs to produce big performances regularly as well as have the mercurial brilliance to set himself apart.
So, who in the Premier League can assume the vacated throne? In truth, there aren't too many candidates.
Liverpool's Sadio Mane and Mohamed Salah are both talented players. However, neither has what it takes. They are world-class footballers, without a doubt, but in a different sense to Hazard. Mane's skill is based on power and pace, while Salah has become a supreme goalscorer above all else. The Egyptian's taken his game to unbelievable levels in the last two seasons, yet he does not possess that Hazard-esque magic. Likewise his Anfield teammate.
The same can be said of Kevin de Bruyne and Sergio Aguero. The Argentine has continually proven he's a supreme goalscorer. He doesn't contribute too often in other areas, though. De Bruyne is rightly regarded as a top midfielder, among the world's best. He is capable of magic, although his game is built around power and strength rather than off the cuff elusiveness. Like Mane and Salah, then, the Manchester City pair are extraordinary but don't have that something extra special.
There is a man currently residing at the Etihad who could step up. Fresh from a sensational season, Bernardo Silva is the Premier League's top star in waiting. The Portuguese has everything in his locker to wear Hazard's crown. The dribbling ability, the finishing and that air of elusiveness. He possesses both the brilliance and consistency to match the Belgian's level.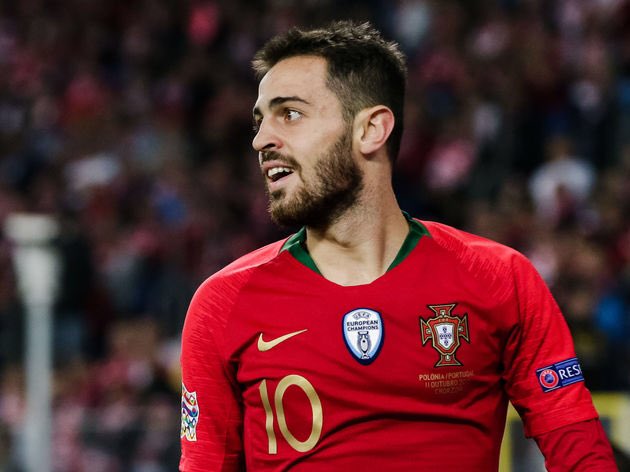 A word on Bernardo Silva also, who was absolutely wonderful to watch tonight.
This season he has won
🏆 • Premier League
🏆 • FA Cup
🏆 • League Cup
🏆 • UEFA Nations League
🏆 • Charity Shield
Individual:
🏆• Nations League Best Player
🏆• Man City Player of the Year
https://t.co/qOtrmsDEjO
This season alone Silva managed 13 goals and 14 assists. He played a starring role in City's treble success to earn the club's Player of the Year award. The 24-year-old has continued such form, shining for Portugal while outperforming Ronaldo to help win the UEFA Nations League and be named the tournament's best player.
Silva is nearing his peak. He's also playing in Europe's top side under the guidance of the world's best manager, Pep Guardiola. Everything is there for him to not only develop but become a truly world-class talent.
After Hazard's departure, the Premier League needs a new leading star. As in Westeros, there are likely to be plenty of candidates who fancy their chances. Only one is truly worthy, though. Bernardo Silva is the man most fit to take the crown.