Who should be Partick Thistle's next owner?
The other Glasgow club has a thorny issue. Should it proceed with a corporate or fan-based ownership model?
Background image: Erik Socha.
Partick Thistle will always be number three in Glasgow. The Maryhill club will never compete with Celtic and Rangers, destined as they are to bounce between the first and second tiers with little hope of ever qualifying for Europe - let alone challenging for a top spot.
But the Jags occupy an important place in Glasgow's football-obsessed landscape. Partick presents a convenient option for Glaswegian football fans unwilling to align themselves to an Old Firm club and take on the cultural baggage that comes with supporting either side. I've saved myself a battering or two by claiming allegiance to Partick. When approached by a drunken mob on a dark Glasgow backstreet demanding to know who you support, you don't want to say the wrong thing. The worst fate likely to befall a Jags fan is some light ridicule.
Millions…or billions?
Partick find themselves at a crossroads. Indifferent performances under former Oldham manager Gary Caldwell saw the club narrowly avoid a second consecutive relegation last season. Caldwell met his end in September, after winning a paltry two points from the first six games of the campaign.
Off the field, things are even worse. When chairman Jacqui Low was ousted in a boardroom coup this summer, Euromillions winner Colin Weir, who had used his lottery winnings to fund his beloved club's academy and future training ground, announced he was pulling his investment. Partick's transfer budget was pulled and the Jags looked destined to put their fate in the hands of faceless overseas investors.
Two offers are now on the table for the club. The first is from a consortium led by businessmen Chien Lee and Paul Conway, a group already in control of OGC Nice and Barnsley. Hoping to outbid the wealthy investors is Thistle For Ever, a newly formed fans' group. While it may seem a grassroots fan group would be powerless in the face of a billionaire consortium, Thistle For Ever do have one advantage; their takeover bid is fully funded by a certain Colin Weir.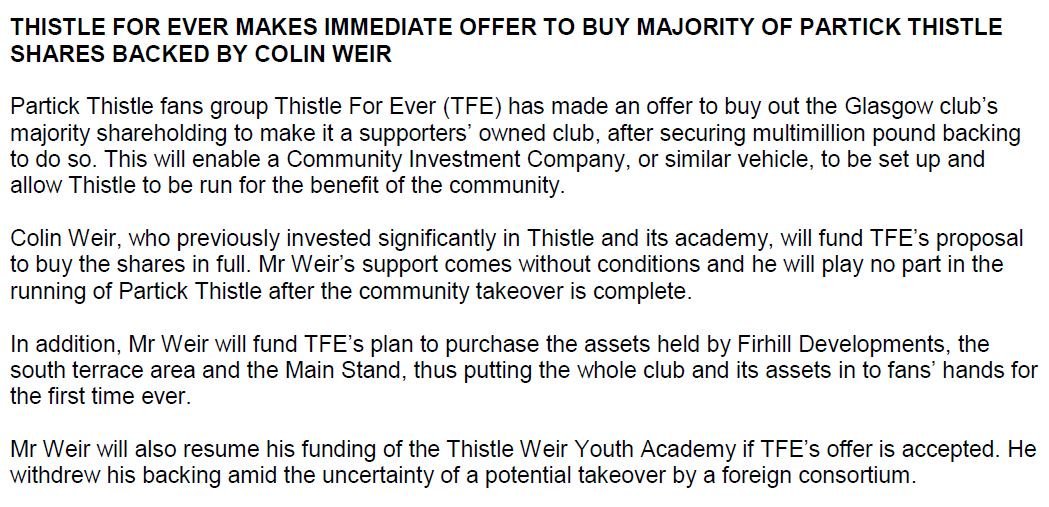 PRESS RELEASE: Thistle For Ever makes immediate offer to buy majority of Partick Thistle shares, backed by Colin Weir. 👇
https://t.co/b9jei7NSkT
Shiny new car or sound investment?
In the short term, billionaire ownership might sound good for Partick. The club could find themselves with a formidable transfer budget, bringing high profile players to Firhill to challenge the Old Firm. That's the theory anyway. Be real; no consortium is going to throw money down the drain pushing Partick Thistle to the summit of Scottish football. This is a club who drew a crowd of around 150 for a cup game on Tuesday night, and seldom open their own main stand for league games. These fabled billionaires aren't exactly philanthropists. Their primary motive in taking over Partick appears to be turning the club into a development team for Barnsley and OGC Nice youngsters. Sure, Partick are in third place when it comes to Glasgow football teams but turning into a reserve team for foreign clubs takes the biscuit.
Fan ownership is always the better model for clubs like Partick. It may not be as appealing as throwing money around, but it's absolutely the better in the long-term. It's like a teenager coming into some money and their parents advising them to invest or save. A flash car may be a more exciting option, but listen to your dad on this one, kiddo. He knows what he's talking about.
Allowing Thistle Forever to take over would be the best of both worlds for the Jags. A group committed to the prolonged, sustainable success of the club combined with the cold, hard cash Weir is putting forward. Perhaps that savings account comes with a free moped, after all.
Even if the moneyed consortium did want to splash the cash, what would the result be? A dozen seasons of modest success followed by turmoil and descent through the leagues when those detached business brains inevitably pull out. Much better to stick with that group of fans with the desire and the resources to build a training ground, an improved academy and put Firhill back in the club's hands. Sure, the club may not be challenging for Europe any time soon, but to a Thistle fan, what does It matter? Take a little more misery, failure and disappointment then add it to the bill. Fan ownership will more than cover that debt in the end...