Why a move to Turkey is the best possible for Jack Wilshere's career
The Prince of English football is poised and ready to start a new life away from the Premier League. As we speak, Jack Wilshere is in Turkey negotiating a deal with Fenerbache. At first, it looked as though West Ham were in pole position to sign the 26-year-old, but it appears the Super Lig sides' offer was too lucrative for Wilshere to refuse.
Rumours also suggest that former teammate Mesut Ozil sold the idea of Turkey to Wilshere, packaging it as an ideal destination. Many have ridiculed the Englishman for choosing the 'easy' option, but in reality, it's quite the opposite. Wilshere has chosen the most beneficial yet most challenging decision in his career to date. Don't believe me? I'll convince you...
1. Away from the spotlight
There's no media assembly in the world that loves to crucify its own like the British press. Year after year, the best English players are often subject to multiple back page attacks at their character and performances. Right now, it's Raheem Sterling's turn, before him, was Wilshere. Being labelled as Jack 'Wheelchair' must have done no favours for the Englishman's confidence; especially during his injury-ridden tenure at the Emirates.
At Fenerbache, Wilshere would finally be free to play his game without the shackles of the shameless press on his mind. No longer would his every move being scrutinised by vulture-like journalists who solely seek to tear down their own players before the British public. Perhaps with fewer eyes watching his every move, Wilshere can produce the form that will get him back into the national side just in time for Euro 2020.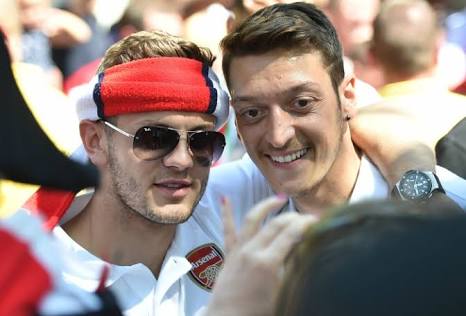 Jack Wilshere has agreed to a four-year contract with Fenerbahce
Özil, who was born in Germany to Turkish parents, reportedly told Wilshere that Fenerbahce are a 'great team' and Turkey is a 'beautiful, modern country'.
[Sporx]
https://t.co/pVrMqalvh5
2. UEFA Champions League football
On the face of it, Arsenal to Fenerbache appears to be a step-down. But for the start of the 2018/19 season, the Turks will be in the UEFA Champions League qualifying stage while Arsenal will be enjoying another year in the Europa League. In effect, Wilshere is leaving a Europa League team to play for a team playing in Europe's most prestigious competition.
In 2008, Fenerbache reached the quarter-final of Europe's premier tournament, once again, that's almost as good as what Arsenal have managed. Granted, the Turkish team have failed to reach the tournament's group stage since 2009, but hey with Wilshere in their ranks, that streak will be broken this summer.
3. Opportunity to grow
In the past, English players have been criticised for their unwillingness to play outside of the British shores. Players from all over the globe flock to the Premier League on annual basis for the spotlight and in return they adapt to a different culture of football.
If you closely analyse all the best international teams, the majority of their starting XIs do not play in their national league. For Wilshere, playing for one arguably the most prestigious team in Turkey is not only an honour, it's an opportunity to broaden his cultural horizon.
As well as embracing a new style of football, Wilshere would do well to learn about the dietary traditions amongst footballers in Turkey. It's no secret that the 26-year-old has had a torrid time with injuries in England, suffering 13 injuries during his time in North London, equating to 1,013 days on the sideline. A change of scenery could do the Englishman the world of good, both mentally and physically.
Arsenal fans can laugh at wilshere playing at Fenerbahce it's fine, it won't change the fact he will be playing in the CL and arsenal won't