Why an African team may never win Women's World Cup
No African team reached the last eight in France
The 2019 FIFA Women's World Cup ended in yet another setback for Africa. No CAF representative reached the quarter-final stage. While debutant South Africa's fate was sealed after three matches, Cameroon and Nigeria stayed longer, albeit ultimately embarrassed by England and Germany respectively.
The World Cup in France again exposed the huge chasm between Africa and other parts of the world when it comes to the women's game. After almost three decades, instead of building bridges, CAF drifted further away from the prevailing realities.
Africa was well represented when FIFA initiated the women's world cup in 1991. Nigeria participated in the 12-team event in China, finishing bottom of the group, failing to pick a point or goal. Four years later, things got even worst. The Super Falcons picked up a precious point, though conceding 14 times.
The Nigerians, however, broke new bounds in 1999. The Falcons garnered six points to finish behind the United States of America in Group A. Being a 16-team format, they advanced to the quarter-final, narrowly beaten 4-3 by Brazil after extra time. Two decades after, however, no team from the mother continent reached that level. Not even with an additional representative.
Cameroon lit up the last edition, making it past the group stage. Nigeria and the Lioness pressed hard in France. Still, there is a real sense of underachievement to the continent's body of work. This failure goes beyond just footballing ability though.
For close to three decades, Nigeria reigned largely undisputed – winning all but two Africa Women's Cup of Nations tournaments. Super Falcons legend Mercy Akide-Udoh, a member of that side, believes the lack of adequate preparation has kept her nation, and other African sides, from progressing since.
But it is a reality that most teams on the continent are forced to confront. Training camps are underfunded, brief to non-existent, and are given short shrift by the football associations. The Falcons may be the biggest and most successful international side in Africa, but they are no strangers to this phenomenon.
After winning the African title again in 2016, the Nigerian players returned, not to fanfare and a parade in the streets of the capital Abuja, but to participate in a protest over unpaid bonuses. Coach of the team Florence Omagbemi was summarily sacked for taking their side against the federation, and the team was essentially iced for a year.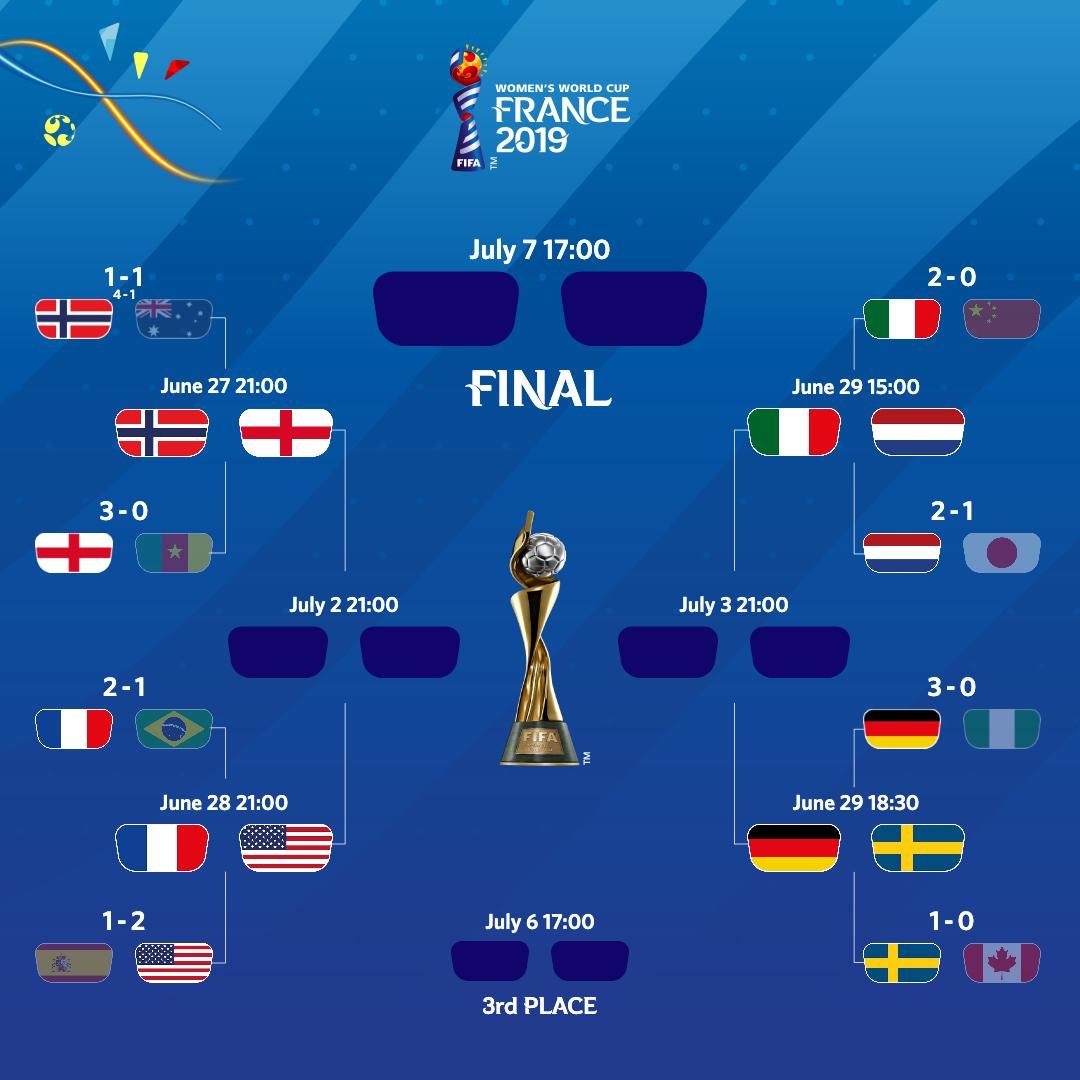 All African teams knocked out of Women World Cup in the round of 16. Cameroon and Nigeria were sent home by England and Germany respectively.
Quarter Finals to start on Thursday, 27th June.
#FIFAWWC
https://t.co/nYmF9FkXyz
Not long after, Ghana's Black Queens, who beat South Africa to finish third at the same tournament, also took to the streets to demand payment of their wages. It is a reoccurring theme in African football – not peculiar to the women.
Nigerian youth teams protest almost every competition. The most recent was the Flying Eagles - the national U20 side who refused to vacate their hotel after elimination at the FIFA U20 World Cup in June. The Falcons, similarly, last week, had a sit-in-protest over unpaid allowances and bonuses after crashing out of the World Cup.
There is still a stark divide in opportunities. Africa's best women's team are not sufficiently funded to engage in friendlies and players describe having fought patriarchy at every level to get where they are today. Ahead of the 2003 FIFA World Cup in the USA, the Falcons were given inoculations a week to their trip, which left almost the entire team sick heading into their first game. Captain Omagbemi collapsed midway through the opening game and had to be taken to hospital.
Women football in Africa was a very small enterprise compared to men's football. There is virtually no organised football in the high school or semi-professional club level. Football is played in a limited capacity due to a lack of funding. The masculine nature of football has proved a deterrent to women's involvement in football in Africa.
These days, there is more interest in the game. The stigma hasn't disappeared. In Nigeria, for instance, female footballers are considered "outcast" by family and loved ones. The belief is that the profession is majorly for men and ladies should instead pursue the so-called descent jobs or better still end up as a housewife.
The continent's FA must take a queue from Norway, offering equal support for women as the men. The local communities should encourage their daughters to develop this craft. Until these are done, Africa will keep cheering other regions at the World Cup.