Why are Argyle fans happy to see Ladapo go?
Freddie Ladapo joined Rotherham for a club-record fee after scoring 19 goals for Plymouth Argyle last season.
In December, I may have mentioned that Freddie Ladapo was underappreciated by Plymouth Argyle fans. At that point, he had 12 goals to his name. Argyle were third from bottom, four points adrift.
Without his goals, Argyle would have been in an even deeper hole. In the end, the Pilgrims were relegated on the season's final day, their League Two status confirmed by virtue of goal difference. In a vain effort to prevent that outcome, Ladapo added seven more to the dozen he had amassed before the New Year.
Last week, the former Crystal Palace striker joined the mass exodus that included Graham Carey, Ruben Lameiras, Ryan Edwards, Yann Songo'o and David Fox. Each turned down a new deal. Perhaps the biggest surprise was that Ladapo, the most reviled, was the last to go.
He signed for Rotherham for a reported £500,000 fee. While many wished him the best in his new chapter with the Millers, a significant portion of the Green Army expressed discontent with the player's contributions to the club. The general consensus is that it was better business for the Greens than for Rotherham. Funds are now more readily available at Argyle. The club has been understandably frugal since the dark days of administration in 2011.
Graham Carey's departure to CSKA Sofia along with the fee for Ladapo should, in theory, afford new Argyle gaffer Ryan Lowe financial scope to put his own mark on the club.
Carey's decision to reject an improved deal was met with almost universal despair. Many had been resigned to the fact that he would leave but it did little to soften the blow when he was photographed holding a red and white scarf in the decadent and eerie surroundings of the CSKA offices.
Ruben Lameiras decided that Brexit Britain is not the place to ply his trade and headed home to Portugal to sign for newly promoted Famalicão. News of his decision plunged Argyle fans deeper into mourning.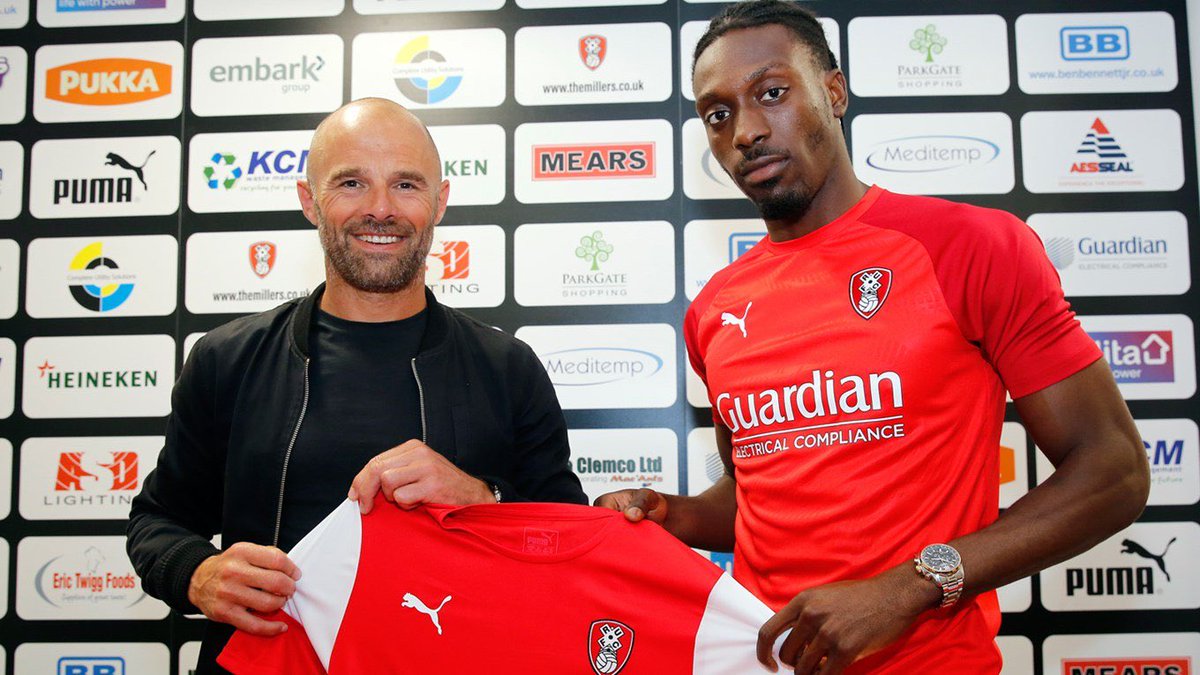 Absolutely delighted to join @
OfficialRUFC
as the club record signing, there were championship clubs interested and other league 1 teams but once speaking to Paul and Richie it was a no brainer to join Rotherham 🔴⚪️ #
UTM
https://t.co/4K6EhsYLHu
But when the Rotherham news broke, the reaction was different. Ladapo finished as Argyle's top scorer last season. With two assists, he had a hand in 21 goals in total, four more than Carey and Lameiras.
Since signing for Rotherham, Argyle supporters aired their grievances with Ladapo on social media, labelling him frustrating, lazy, wasteful and absent against the big teams.
It is true that his 18 League One goals all came against clubs outside the top seven and he only scored four times away from home. In a season during which Argyle fought for survival, he ought to be judged on his performance against the squads in the relegation battle. He scored seven goals against the other sides in the bottom seven, earning Argyle 14 points.
Ladapo was also caught up in some off-field controversies during his year at Home Park. A public falling out with former manager Derek Adams came after the Scot claimed that Ladapo had ruled himself out of a match against Barnsley. There were also rumours that Ladapo, along with teammate Lameiras, had been spotted drinking in a Plymouth nightclub the Wednesday before Argyle's Good Friday fixture away at Gillingham; a game they lost 3-1 despite a goal from the maligned forward.
What is bizarre is that Ladapo seems to have borne the brunt of the criticism for this event while the Portuguese play-maker escaped relatively unscathed.
Despite his goals, Ladapo never became a favourite among the Home Park faithful and spent much of the season enduring calls for him to be replaced by Ryan Taylor who is far less prolific in front of goal but is perceived as more of a team player than Ladapo.
@
PaytonKurt
Might have scored 19 but with chances he had should have scored 39. Not sorry to see him go, can't lead the line, too lazy when the ball needs fighting for. Delighted to get half a million for a one season wonder! Cheers 👍🏻
That Rotherham are getting a good player is in no doubt. What remains to be seen is whether the Millers' supporters decide to take Ladapo into their hearts or to use him as a scapegoat when things aren't going well.
What seems clear is that most Argyle fans were happy to accept the money and take their chances in the transfer market. Their assessment of the situation may well be cause for concern to some in South Yorkshire. It is perhaps a sign of the optimism surrounding Home Park going into the new season under Lowe's stewardship that many fans are so unconcerned about losing their top scorer.
The clock is ticking on the start of the new campaign, though, and the longer Argyle go without signing a replacement, the more that optimism will turn to worry.