Why beating Chelsea will not guarantee Marco Silva a future at Everton
Background photo: BiloBlue CC-BY-SA 3.0
That Marco Silva will be sacked by Everton is now a question of when not if. The Portuguese's future at Merseyside is as gloomy as can be. Without question, his circle of friends on the Everton board is getter thinner by the day. Sooner than later, Farhad Moshiri will make the dreaded decision.
In case you haven't noticed, Portuguese managers are taking the football sphere by storm in Europe's big leagues. Jose Mourinho was the most notable by a long shot for a while. But names like Leonardo Jardim, Nuno Espírito Santo and Sergio Conceicao have grown massively in popularity. Including Everton's Silva.
Silva's brilliant work in the Premier League is what stands him out. He was exquisite in saving Hull City from the jaws of relegation, before building a remarkable project at Vicarage Road with Watford. Everton desperately craved that talent; so badly that they paid a £4million compensation to Watford to get their man.
The Toffees didn't stop at the hefty compensation – Silva's three-year contract was sweetened with a £100million transfer war-chest. Before the end of last summer's transfer window, £86million of that money had already been lavished on new signings. Guys like Richarlison, Yerry Mina and Lucas Digne posed for toothy photographs while clinging to an Everton shirt. Andre Gomes and Kurt Zouma did the same, albeit as loanees.
No one foresaw Everton lying 11th in the League table with eight games to go in the campaign. Actually, if Bournemouth or Newcastle haven't been just as lacklustre, the Toffees should've slipped further down the table.
Everton's horrific form means they've won just one and lost four of their last six games. They were knocked out early from the domestic cup competition and find themselves in uncharted territory. Things are likely to get worse for the Blues – their next five games include fixtures against top-four contenders Chelsea, Arsenal and Manchester United. That could potentially spell three defeats for the Merseysiders.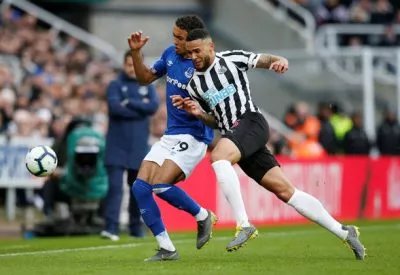 The ball stops bouncing on Silva's court. Have the cosmos conspired to make this comely manager lose face? Moshiri has given the tacticians a long rope, seemingly because he believes in him too much. Or because the owner doesn't want to transform Everton into a club with short term objectives, hiring and firing coaches per season. But Silva's side is the definition of inconsistency and lack of solidity. How do you build on that?
Silva has failed to rejuvenate his players. He's also failed on the premise of giving youth a chance. His signings, mostly newcomers to the Premier League, have struggled to make an impact on the Division. Mina hasn't performed as well as he did for Colombia at the World Cup – Zouma and Michael Keane remain better options. Even the pair still do little at preventing Everton from shipping goals.
Dominic Calvert-Lewin and Ademola Lookman – two exciting British young talents aren't getting the minutes they deserve. While the older generation, Cenk Tosun and Theo Walcott continue to underwhelm in the attack. In midfield, the silky Gomes hasn't really been the best partner for the tireless Idrissa Gueye. Everton easily gets eroded in that department; despite Gylfi Sigurdsson's best efforts.
When Everton hosts Chelsea at Goodison they'd be welcoming a side whose manager is also under intense pressure but with better firepower and better form. It's hard to fancy the Toffees coming off unscathed in that encounter. Not with the many unsolved problems poking Silva's Everton.
Silva could guide Everton to a surprise result against Chelsea – expectedly, when to desperate managers meet the table is likely to tilt either way regardless of position. However, what happens next for Marco Silva's team? The poor results are bound to return before season's end. And that would prove inimical to his job security.