Why big clubs shouldn't be deceived by Teemu Pukki
Can Teemu Pukki be satisfied at Norwich City? Unless he thinks like Jamie Vardy, the simple answer is no. With his superb form and confidence, it wouldn't be surprising if bigger Premier League clubs decide to take a chance on him at season's end. Pukki could easily become a panic buy gone horribly wrong for a decent top-tier side. No one should take the bait.
There's no denying the talent and commitment Pukki brings to the table for Norwich. Those qualities have helped him blossom in English football. In fact, Pukki's market value has quadrupled [Transfermark] since he decided to forge a career in the Queen's country a year ago. Nothing stops his value from rising even higher before this campaign concludes. For Norwich, the man is invaluable.
The thing is, Pukki is sort of a late bloomer. The Finland international turns 30 next March. When he was released by Brondby IF, at the end of the 2017/18 campaign, it could easily be assumed his career had begun the terrifying gradual eclipse. But a call from Daniel Farke changed everything. He joined Norwich, terrorised defenders, outscored every striker in the Championship and safely landed the Canaries in the Premier League.
If you're such a Premier League fan that you didn't care what happened in the Championship last season, you should know what's happening in the league now. The best two scorers from the Championship last season are holding down the same position this term. And Pukki is one strike shy of being League's best marksman.
Prolific strikers are always in high demand. Particularly in England, where elite clubs are regularly on the prowl for strikers who can hit double figures every season. Even for the most talented front-men, that level of consistency is difficult to maintain. Still, one goal-laden season is enough to get any forward in everyone's good books, especially suitors with deep pockets. From all indications, Pukki will do that this term.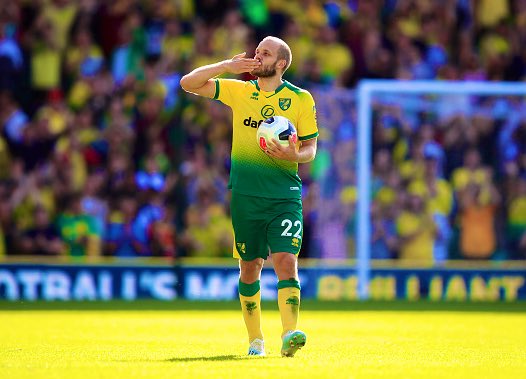 🇫🇮 Teemu Pukki this season:
🏟 5 Games
🇫🇮 2 Caps
⚽️ 8 Goals
🎯 2 Assists
✅ Goal vs Liverpool
✅ Goal vs Chelsea
✅ Goal vs Man City
✅ Winning Goal vs Greece
✅ Equalising Goal vs Italy
🏆 @
PremierLeague
POTM
🔥 Unstoppable form.
https://t.co/4zLjQ8Y6p8
But you take a second look at Pukki's age and you begin to worry a little.
We know wine gets better and sweeter with age. But that's wine, not players. And Zlatan Ibrahimovic won't take it likely if he's compared to other strikers. Neither will Cristiano Ronaldo. Others like Sergio Aguero Robert Lewandowski, Edinson Cavani and Gonzalo Higuain may care less.
Every ageing striker will absolutely love to be mentioned in the same breath as the aforementioned poachers. Can we seriously add Pukki's name there?
Well, Pukki finds himself in the same age bracket as Arsenal's Pierre-Emerick Aubameyang. But the Gabonese is way more experienced at the top level and prolific too. That's the sort of striker you won't mind your club spending money on.
Liverpool didn't get the memo when they signed 32-year-old Rickie Lambert in 2014. Though strong and physical like Pukki, fresh from a campaign which he hit double figures for Southampton; Lambert flopped terribly at Anfield, scoring thrice in his 25 appearances as a Red.
Be like Vardy
If good strikers are a rare commodity, strikers who get better with age are rarer than diamonds. Jamie Vardy is one of those. Almost identical to Pukki, he scored 16 times to help Leicester escape the Championship in 2014. We all know the ridiculous numbers he posted in the 2015/16 season.
When Arsenal triggered the release clause of the then 29-year-old, Vardy rejected the opportunity and chose to stick with the Foxes. Three seasons later, the Englishman remains a revered striker in the League. Arsenal may have forgotten they ever tabled a bid for him. Everybody won.
If Vardy had moved to Arsenal, there's no telling what could've been. Most likely, he'd have become a small fish in a large pond at the Emirates. That would've seen his numbers dwindle; probably he'll get labelled a flop, and Arsenal would end up regretting the signing, like many others.
The same goes for Pukki. Any big club who sign him based on his current form may not be doing themselves or the player any favour. A goal drought can be damaging at a new club. Better stay where you're a cult hero already.