Why Brighton must keep faith with Graham Potter
Graham Potter sits uneasily in the Brighton dugout; does he deserve more time?
Since winning their first-ever promotion to the Premier League in 2017, Brighton & Hove Albion have clung to the top tier by a hair's breadth. But there's a huge question mark over their continued stay in the elite division. The Seagulls aren't seeking a great escape, yet; if Brighton can manage to remain where they are on the league table at season's end, they'd have pulled through. Although a similar finish wasn't enough to save Chris Hughton's job, Graham Potter must be hoping it can save his.
Potter was hired with Brighton at crossroads. It was a general feeling on the south coast that the Seagulls could do better. But Hughton had overseen a hapless squad who rounded off the 2018/19 campaign with a calamitous record of three wins in 21 league games. Despite finishing 17th, and two points above the drop zone, trepidation had seeped through the Amex. The snowball effect of such horrific form saw Hughton lose his job after four-and-half years in charge. However, it seems like Brighton had addressed the symptom and not the problem by hiring Potter.
Like is usually expected when a new manager takes charge, Potter has brought visible changes to the Seagulls playing style. They now pass the ball quicker and better; they no longer sit back and invite pressure but start out on the front foot. It's made Brighton games a lot easier to watch; which in turn has brought back loud cheers to the Amex. To what end though? Almost identical to Hughton's side at this stage last season, Potter's Albion is yet to register a win in any of their last eight league games. That makes them the only team in the English top four divisions not to win a game in 2020. Peering back to December we see they've racked up a miserly two wins in their last 14 league games.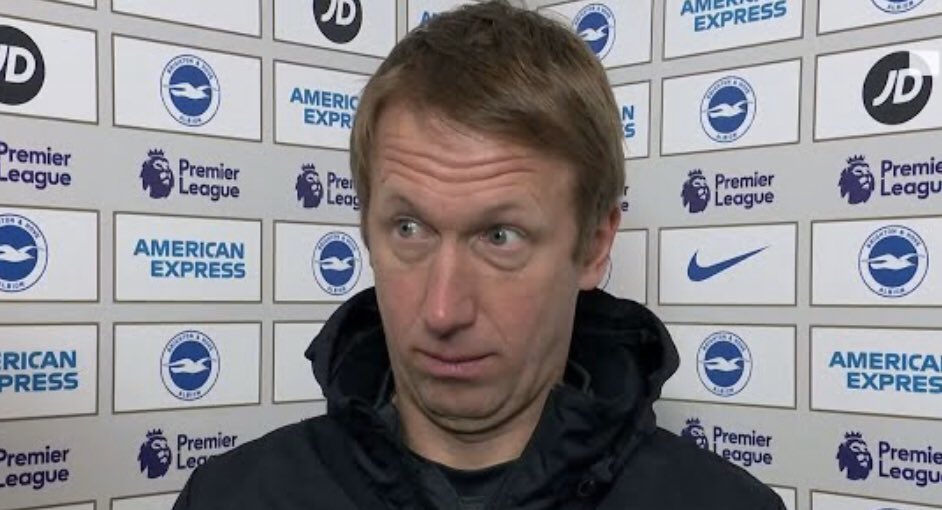 Surprisingly, Brighton still aren't in the relegation zone. The Seagulls are keeping their heads above water in 15th, one point above the drop. As Albion continues to search for their first win this year, Potter's position is under threat. Whether or not Brighton stays up, there's are no guarantees from Tony Bloom and the rest of the Brighton board. Perhaps they've already made up their minds to dismiss Potter whatever happens at the end of the season. That would be the wrong decision.
Inconsistency has cut through the 2019/20 Premier League campaign like a plague. We all thought Liverpool was immune to it, but Watford has shown us they aren't. It's why we need to cut Potter's Brighton some slack. Early in December, Brighton travelled to the Emirates and picked up a famous win against Arsenal, unfortunately, results haven't gone their way since; that big win has been accompanied by seven score draws and three narrow [1-nil] defeats; fine margins if you ask me. Those games could easily have ended in wins if Brighton strikers had done a better job at taking their chances. That invites us to take a look at how Brighton strikers have been faring.
Truth be told, Brighton forwards just aren't doing enough in front of goal to help Brighton's course. All of Glenn Murray, Neal Maupay, Pascal Groß, Alireza Jahanbakhsh, Leandro Trossard, and Aaron Connolly have combined for a paltry two goals since January 1st. That simply isn't good enough. Potter has done his bit by getting Brighton to play some free-flowing football, it now up to these players to get their acts together, start creating and scoring chances. For now, they just aren't doing that.
Finally, it's time for Brighton to cut some players lose and make some marquee signings. Someone like Murray is a club icon but at 36 he's way past his prime. Maupay is Albion's top scorer with eight, but he's scored just once in his last five games; he too needs help.
The bottom line is, Brighton & Hove Albion must spend some serious money on quality players before considering another managerial switch.