Why Cash is King in League One and Two
How much money do clubs in the Football League need to push for promotion or to even survive, Thomas Richardson takes a look.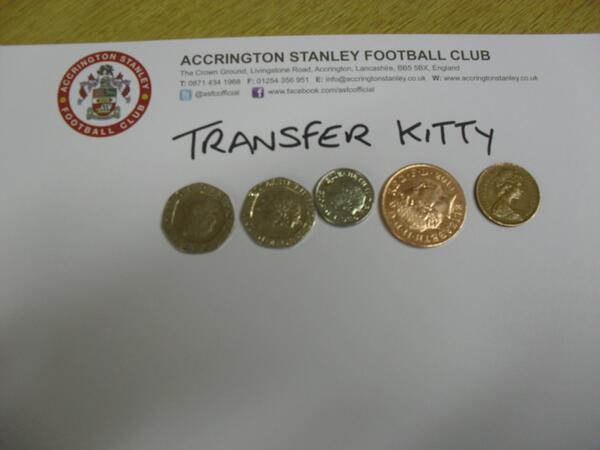 How many football fans have put themselves in the place of the chairman of their local League One or Two club and thought; "If I had the money, I could do a better job than that..."?
Of course, it would be lovely to read a true story about a fan who made it big in business, or who won a huge Euromillions jackpot and who took over his team, leading them through the divisions and into the big money Premier League. Then, instead of instant relegation, his team established themselves and earned him a nice fat return on his relatively small investment.
Such dreams however remain in the realm of fantasy for many and not solely due to a lack of money on their behalf, for in the case of many chairman and owners of League One and League Two clubs, the financial implications of their ownership do not make for particularly pleasant reading.
The Broken Game
Of course, it is hard for the average football fan to foster much sympathy for a chairman or owner who is likely to be a multi-millionaire and enjoying a lifestyle most fans can only dream of. Many fans at lower league club are quick to complain about the chairman not using their accrued millions to bankroll the team, or if they do provide funds, the fan then complains that the manager then squanders them.
But here is the big problem that faces the modern day football chairman; at its lowest level, football as a business, is broken, perhaps even beyond repair.
And the reason it is broken is down to one thing: Cash.
Furthermore, is likely the reason, along with new financial fair play rules, why a report in the Guardian stated that a third of Championship and League One Clubs may be put up for sale this season.
But before you check your bank balance in readiness to snap up your local League One team, consider the dilemma that faces most if not all League One owners.
The Owner's Dilemma
First, let's paint a positive picture; your business has gone multinational, you've won the Euromillions treble rollover or you've just become the next instant online millionaire thanks to the multi-million dollar sale of your app. Whatever the reason, you've got a bulging bank account and you've agreed to purchase your local League One club for a relatively modest fee.
Let's take Tranmere Rovers as an example. Chairman Peter Johnson has been trying to sell the club since he put it up for sale in 2002. The fee to buy the club? Well, once you have bought Mr Johnson's shares, plus negotiated a deal for the £6m loan he has in the club and then purchased all the assets, let's assume it costs you £10m.
But, hey; that's just a tenth of your fortune. Not a problem.
As the new owner, you now have a choice to make: Continue to run the club as it has been run over the last few seasons, as a break-even business, or invest your own money in a bigger squad of stronger, better players in the hope of taking the club out of League One and into the Championship.
So, let's assume your ambitions for Tranmere stretch beyond League One and you choose to invest.
Option 1: The Gamble - Invest Now in the Hope of Reward Later
What many Championship, League One and League Two clubs do, in order to try and achieve long term financial success, is gamble in the short term to achieve promotion.
Essentially, this means that you as a chairman are going to run your business at a significant loss, in the hope that the manager and the players you are paying, deliver initially promotion into the Championship and then perhaps move on to the Premier League where the real money is to be made.
So how much is this going to cost you?
Well
a report by Deloitte
revealed that in 2011-2012, the net losses made by an average League 1 club over the course of a season was £2.4m Let's assume that to ensure promotion, you spend slightly more than average, so rack up losses of £3m.
That is £3m per year for every year you remain in League One, so unless your manager and team hit the ground running and gain promotion immediately, you are looking at losses of £3m, £6m, £9m or perhaps £12m if it takes you four years to get promotion.
Suddenly, this option, without guaranteed promotion, looks slightly less inspiring.
However thing's will improve once you reach the Championship won't they and you can think about recouping back some of that cash.
Well, sadly no. In 2011-2012, Deloitte reported that only 5 Championship clubs made a profit, with the average loss of a club at this level around the £6.6m mark.
How can that be, when you Championship clubs are predicted to generate revenues, in the same report, of around £500m in the 2013-2014 season and you are likely to see increased attendances and gate receipts at your club, as well as increased TV revenue, due to promotion?
The answer is simple; players wages.
As this report from Sporting Intelligence reveals
, players wages on average in League One in 2009-2010, were £73.320, however in the Championship, they were almost THREE times as much at £211.068.
Yet the figures get more shocking; in the 2011-2012 season, all of the clubs contesting promotion from the Championship to the Premier League
paid out more in wages than they received in total turnover
. Nine of the clubs in the Championship paid out more in wages than they received in total turnover that year and worryingly, two of those clubs, Doncaster Rovers and Bristol City, were involved in the relegation battle.
For any owner, this massive increase in wages and wages as a proportion compared to turnover, represents a huge financial risk. Doncaster Rovers, in the 2011-2012 season lost just under £5m in total. Leicester City amassed losses in a single season of approaching £30m.
And the most salient point of all, is even if you are willing to risk this amount of money to achieve your dream of Premier League football, your success is entirely dependent on how your team performs and if you don't get that aspect right, then however much you spend won't matter.
Indeed, in recent years, it can be argued that only Southampton have managed to escape from the lower reaches of League One and into a safe Premiership place.
So high is the risk for many chairman, who do not have the billions of Premiership owners like Stan Kroenke, Malcolm Glazer or Roman Abramovich, that bankrolling a club to try and achieve Premier League football is seen as an almost suicidal business risk.
Yet, the pressure on owners to do this from fans increases every year. But is there another option? A more sustainable business model? There is and this is option 2.
Option 2: The Sustainable Business Model
If a team isn't willing to accept year upon year of losses chasing success, then they can cut their cloth according to their means. Tranmere Rovers and perhaps most successfully Peterborough United, are two clubs that have adopted this approach with varying degrees of success.
For Peterborough United, under manager Darren Ferguson, it has meant a period where the team has flitted between the Championship and League One. Their squad is certainly good enough to win promotion from League One, but without the additional funds required to move them on to the next level in the Championship, they struggle at that level.
Yet, if their owner Darragh MacAnthony breaks his business model, then he risks turning his break-even or profit making business, into a loss making one very quickly indeed.
Still, the Posh are enjoying success in League One and if they can establish a foothold in the Championship, they may be able to grow the club organically to challenge higher up the league, but this takes time and money.
For Tranmere Rovers, it's been a different story, after chairman Frank Corfe resigned in 1998, the club had to make drastic cuts to staff, players and every other aspect of the club in order to stop the club "bleeding to death" according to the then chairman Fred Williams.
Relegation to League One followed in 2001 and since then Rovers fortunes have dwindled. Gates have fallen from an average of around 8000-9000 to around half that currently. On the back of savage cuts, the club now barely breaks even each season.
To achieve that, the squad is a mix of the lowest paid players in the division, veteran players of young unproven players who are generally released from other teams or developed through the Tranmere Rovers youth system.
In the past, Rovers would sign promising young players to long term contracts, thus meaning if and when the bigger clubs wanted to buy them, they could rely on a decent transfer fee.
In the past the club has sold players like Steve Simonsen (£3.3m to Everton), Tony Thomas (£400,000 to Everton), Ian Nolan (£2m to Sheffield Wednesday), Jason Koumas (£2.8m to West Bromwich Albion), Steve Vickers (£900,000 to Middlesbrough) and most recently Dale Jennings (for a reported £700,000 to Bayern Munich).
Nowadays however, other than players who come through the ranks whom Tranmere can claim compensation for (such as Jennings), the players are all on short term, low paid, often 12-month contracts, meaning if they perform well, other clubs can come in for them and sign them on a free at the end of the season. Like Millwall did when they signed left back Zoumana Bakayoko in 2013.
This means a valuable source of income, transfer fees is cut off, simply because Rovers cannot afford to offer players long term contracts. The risk of signing a player to a long term deal is just too great, which means that the only players Tranmere can re-sign easily, are those who have not impressed other clubs enough to want to sign them.
The net result of this cost-effective running of the club has been a steady decline since 2000, when the club contested the League Cup Final at Wembley (losing to Leicester City). The current squad is a mix of veteran players at the end of their careers, unproven youngsters and assorted loanees borrowed from the youth and reserve squads of Premier, Championship and League One teams and a place near the foot of the League One Table.
Of course, this leads to disgruntled supporters, calls for the chairman to resign or sell the club to someone willing to take the club forward...
So yes, the sustainable business model can work to an extent but it also may not work and may even put a club on a somewhat stagnant path, where the very identity of the team is stripped bare.
So don't be fooled into thinking cash only matters when you are spending tens of millions on a top class striker, at the lower levels, cash is the primary factor that governs every decision at a club. From James Beattie tweeting his 48p transfer budget (including wages) at Accrington Stanley, to Leicester City taking a £30m loss in an attempt to secure Premier League football.