Why Chelsea must not lose Callum Hudson-Odoi to Bayern Munich
Callum Hudson-Odoi represents a bright future for Chelsea. Selling him to Bayern Munich should not be an option.
Largely thanks to Kylian Mbappe, teenagers have become hot property in the football world once again. The recently-turned 20-year-old has redefined the role of youngsters within the game. Winning the league title back-to-back with two different clubs as well as other cups, then capping it all off with the World Cup is the stuff of legend. When you are 19 and a star player in the team while even contesting for the Ballon d'Or award, you easily become an inspiration. The likes of Brahim Diaz and Chelsea's Callum Hudson-Odoi have been watching.
The young Englishman who is also a World Cup winner even if it is at U-17 level must be dreaming big too. After all, he is blessed with enormous talent and has the potential to reach dizzying heights in the game. So when his current side continues telling him to work hard and wait, it can become frustrating. At 18, that's usually great advice. But times are changing. And as already stated, age is no longer a barrier to success.
The best way for a player to show what they've got is to be on the pitch. Continuously sitting on the bench and watching from the sidelines, especially when there are no assurances of adequate game time soon can lead to an exploration of other available options to play at the top level. Manchester City has learned that the hard way in recent times, with the departure of two outstanding prospects that will have led the way for the next generation of Sky Blues. Jadon Sancho and Diaz have both left England for Germany and Spain respectively.
Hudson-Odoi could follow the same path as his former teammate at the U-17 level by dumping Chelsea for Bayern Munich. The Bavarian club is hot in pursuit of the youngster to boost the squad as some key players will be leaving soon. The likes of Arjen Robben and Frank Ribery will be departing at the end of the season, and the young Chelsea winger is viewed as an ideal replacement for either.
As if to put things in proper perspective, the player was on fire in his latest outing for the Stamford Bridge outfit pulling off a Man of the Match performance as he assisted both goals in a 2-0 FA Cup win. His intelligence and composure on the ball as well as an eye for a pass put him in a class of his own.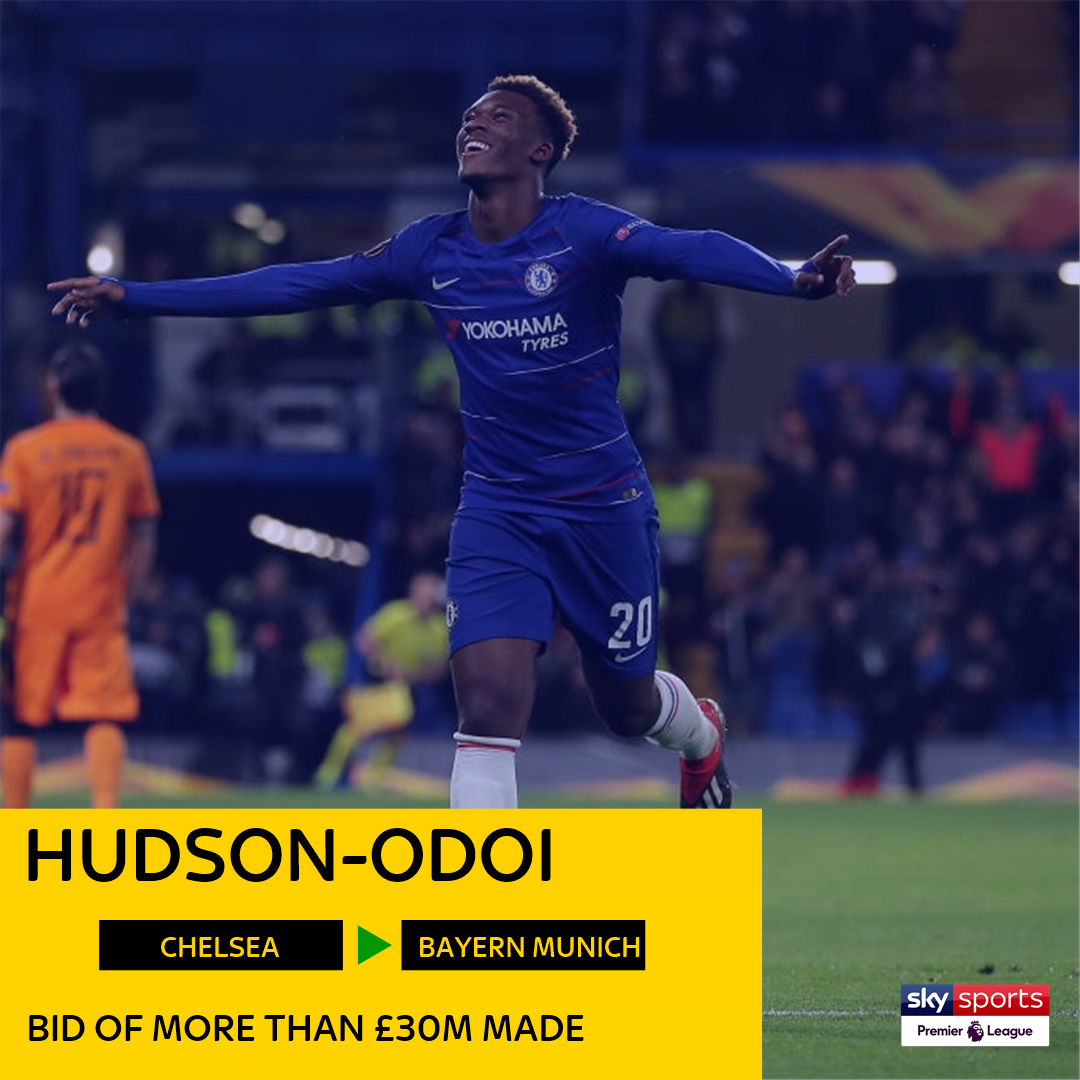 Bayern Munich are still awaiting a response on their latest bid - worth more than £30m – for Callum Hudson-Odoi, Sky Sports News understands.
📲 Follow all of today's transfer news here:
https://t.co/wcqxHX1EHQ
https://t.co/ZQ1Y3SxWNj
Eden Hazard has been the centre of attention at the Bridge for a while now. But for once another player is stealing the show. His performance on the pitch showed why.
In fact, when a club of Bayern Munich's calibre offers as much as £30million for a player who is yet to prove himself at the top level, it's time to pay attention. The perennial German champions are not known for wasting resources. They usually get it right with signings.
Like some of his youth international teammates, Hudson-Odoi has proven to be the real deal. He was a key member of the World Cup winning squad and was also part of the Chelsea youth serial FA Cup winners. He has also utilised his rare minutes with the senior team judiciously.
The success of his compatriot Sancho at Borussia Dortmund is also proof Hudson-Odoi will be a big hit if given the chance to play consistently at senior level. Unfortunately, that's something Chelsea may not be able to give him.
It is understandable then that the player is reportedly unwilling to renew his contract with the club as he weighs his options. Maurizio Sarri has come out to urge the player to stay, promising he will have a bright future with the Blues. But he has not promised him more playing time.
That makes the player's exit a possibility as he is almost guaranteed playing time at the Allianz Arena with Robben and Ribery on their way out. But Chelsea needs not to lose such a unique talent to another European rival. There are many reasons for that.
Firstly, Hudson-Odoi leaving the club will send the wrong message to other upcoming academy graduates. It will set a bad precedence signifying they can also seek moves elsewhere.
Secondly, it could also be a huge loss for the team moving forward. Chelsea has not seen such a talent come out of the academy since the days of John Terry. Keeping him will benefit the club all-round as they will be keeping a player that is not only homegrown but a fan of the club.
Like his predecessor, the 18-year-old can go on to become a legend at the club helping it achieve success in the years to come. Together with new signing Christian Pulisic, he could fit in perfectly in the wings as Willian and Pedro are nearing their exit with Hazard's future still unknown. Selling the teenage sensation will therefore, be a huge mistake.​