Why Chris Hughton deserves huge credit for Brighton's success
I've always been a big believer in consistency being key to overall footballing success. Take Brighton & Hove Albion for example, they're into their fourth season with Chris Hughton at the helm. Now, they're sitting pretty in tenth place in the Premier League table.
Don't forget, The Seagulls were only promoted into English football's top tier just last term; with the side from the South Coast already looking like they could be Premier League mainstays for years to come. For that, enormous credit has to go to their 59-year-old manager.
Hughton, for my money, has been sacked prematurely in the past. When he was at Newcastle United, they weren't hesitant at pulling the trigger when the going got tough. However, the man from Essex is certainly seeing his stock rise thanks to some excellent results recently.
The Englishman doesn't have a huge budget at his disposal, but what money he has been given, it has been spent supremely wisely. I'd argue that Pascal Gross, costing under £3million from FC Ingolstadt is nothing short of sheer genius, and although he's not everybody's cuppa' tea, a move for Glenn Murray has worked wonders. The veteran striker has scored 13 goals in 29 appearances across all competitions; an excellent return.
Albion aren't exactly playing free-flowing, expansive, take your breath away football, but I'd hardly say they're aesthetically displeasing, either. At this stage, it's all about grinding out positive results and the form guide speaks for itself. They've adapted to life in the Premier League brilliantly despite a slow start. Again, when things were going bad, they could have easily fired Hughton, but credit to the Brighton board for sticking with him. Now, they're reaping the rewards.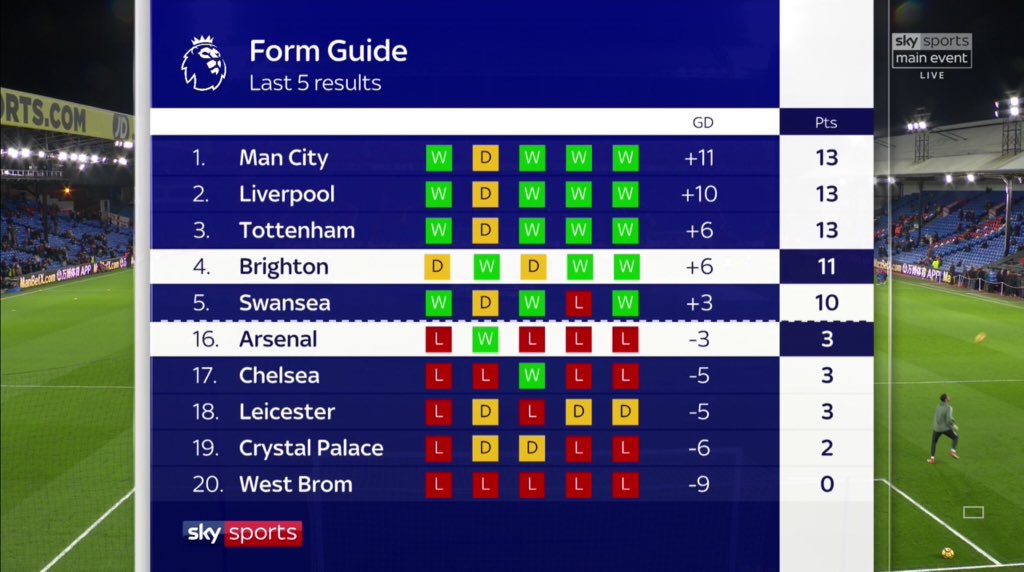 Brighton have taken 11 points since their last defeat, 4-0 at home to Chelsea on January 20.
Chelsea have taken 3 points since that day - only Crystal Palace and West Brom have taken fewer in that time
https://t.co/G9slaBGzX8
Only champions-elect Manchester City, high-flying Liverpool and the brilliant Tottenham have bettered Brighton since January 20th, that's just incredible. During their impressive run, The Seagulls have toppled Arsenal, beaten Swansea and picked up hard-fought draws away at both Stoke City and Southampton.
Currently, Hughton's side is placed brilliantly in the top-half of the Premier League table, placed higher than footballing giants like Everton, West Ham United and the aforementioned Southampton. Sitting seven points above the dreaded drop-zone, with seven teams between them and relegation, they'll probably need just one or two more wins from their remaining nine games to ensure safety.
Let's turn attention away from league football for a second, and look at the FA Cup quarter-final draw. Brighton fans have themselves a day out to remember in just over a week as they head to Old Trafford to take on England's biggest club; Manchester United. Although the hosts will be heavy favourites to progress, Hughton certainly won't make it easy for Jose Mourinho, and Brighton's players will certainly believe they can cause an upset. If they pull it off, they'll be heading to Wembley for an FA Cup semi-final, let that sink in for a second.
It sounds absolutely absurd, but Brighton's biggest issue come the summer could be ensuring that they keep ahold of Hughton. He seems a loyal man who appreciates what the club has done for him. Don't forget, though, we're in a World Cup year and when England inevitably crash out to an international minnow, no doubt the FA will be sniffing around Hughton as a potential replacement...