Why David de Gea's poor World Cup spells good news for Manchester United
After a simply stunning half-decade in Manchester United Red, I think it's widely accepted David de Gea is up there in the upper echelons when it comes to players who earn their living in between the sticks.
The Spaniard, now 27, has won three of the last four Sir Matt Busby Player of the Year awards at Old Trafford; that's just absurd. Last term, he added his first Golden Glove. In my lifetime, I'm unsure as to whether I've seen a better shot-stopper. Be it close-range or long-distance efforts, on an almost weekly basis, I'm left stunned at De Gea's unbelievable brilliance.
However, for his country, De Gea becomes the Hyde to his Jekyll. United's #1 has made 33 appearances for Spain. His time playing for La Furia Rojo has been filled with mistakes aplenty. Things come to a head immensely quickly during Russia 2018.
In Spain's opening game, uncharacteristically, De Gea let a tame Cristiano Ronaldo shot trickle through his legs into the back of the net. The nervousness from that point forward became clear for all to see. The touchpaper had been lit. The former Atletico Madrid followed that up with another unconfident couple of performances against both Iran and Morocco. Rather astoundingly, it took him until his country's third game to make his first save at the tournament.
Despite that, the European powerhouses made it through to the last sixteen, where they'd go on to meet Russia. The game finished 1-1, no mistakes were made by De Gea; that was until the penalty shoot-out. He did manage to get near or two penalties taken by the World Cup hosts, but rather unusually, he didn't palm them away with his strong hands - like he would have for Manchester United. Instead, the Russian's were left celebrating after scoring all four of their spot-kicks. De Gea and Spain were heading home.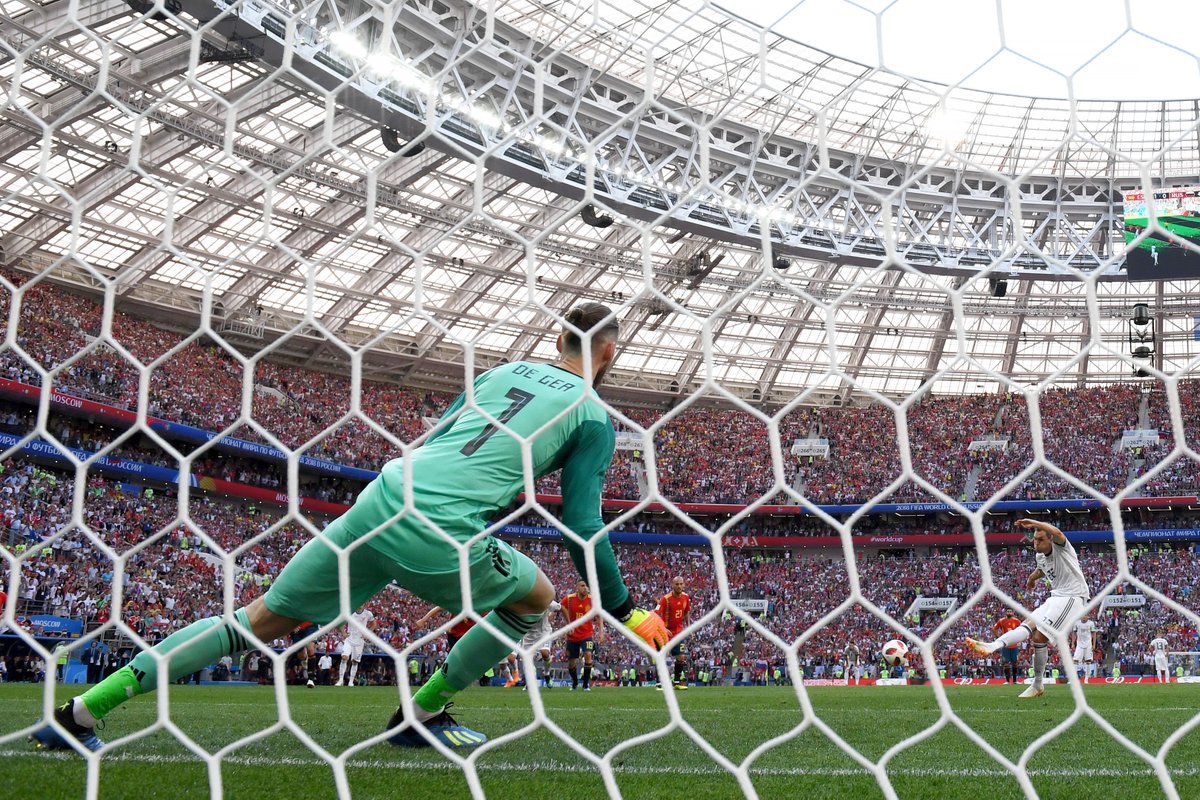 1 - David de Gea made one save at the 2018 World Cup (six goals conceded -exc. penalty shootout), fewer than any other goalkeeper in a single tournament since at least 1966 (minimum three games played). Strange.
https://t.co/AkkuklGtN8
Be it poor form or just bad luck, Spain's loss is Manchester United's gain. Thankfully for De Gea, one poor tournament doesn't define your career; just ask Lionel Messi.
For years, the Red Devils have been warding off Real Madrid's interest in De Gea. His poor World Cup could have been a huge blessing in disguise. Suddenly, Los Blancos will be looking at Keylor Navas in an extremely positive light. To be honest, you cannot really blame them. Spain's number one crumbled when the lights were at their brightest. Will United fans care? Not one iota; provided he comes back to North-West England and continues to produce the goods.
I look back to when Sir Alex Ferguson signed this 21-year-old kid back in 2011. Slim, slight, shy and unconfident. De Gea had one or two seasons where mistakes came far more often than the brilliant saves. United persisted, they knew what the young man was capable of. Now, they're reaping those rewards. I'd urge Spain to do similar, I do worry, though, it's a totally different mentality over there. Make one mistake, they're constantly on your break. Heck, even Madrid fans have booed Cristiano Ronaldo from time-to-time; that's just absurd.
Perhaps this poor summer may even change De Gea's mind about wanting to move away. He's adored by the Old Trafford faithful, they love him, they worship him like a god, he's a hero. In Madrid, I'd give it a couple of months before he's the villain. Although Spain may be his home, and trophies would come his way in abundance, sometimes, the grass isn't always greener. For now, De Gea will remain United.
He'll return to Old Trafford a hungry man, with a point to prove. Hell hath no fury like a man scorned. Don't be surprised to see De Gea go on to have his best season yet.